2014 – Why You Didn't Have a Double Digit Gain
By Casey Smith – President, Wiser® Wealth Management
As you review your annual statement for 2014, you may notice it was a great year for US stocks. The S&P 500 climbed 14%, the Dow was up 13.7%, but when you look at your overall return you see results equal to or lower than the  US market performance. Both results could lead to flawed thinking as it relates to diversification of your portfolio and long-term performance.
Diversification has a cost and a benefit
A well-diversified portfolio will contain many other asset classes than just US large cap stocks as represented by the S&P 500.  Thus comparing a diversified portfolio to only US large cap stock performance is not an apples-to-apples comparison. It's more like comparing apples grown in California to a basket of fruits from around the world. To gain a better understanding of what the global basket looks like, below is an example of a standard diversified moderate risk (60 stock/40 bond) portfolio in Figure 1.
Figure 1 illustrates that the S&P 500 (US large cap stock) was a clear global winner within the portfolio, following only behind domestic and international real estate. In order for this diversified portfolio to match the US large cap stocks, all the other asset classes would have to perform in the same manner. This is unrealistic and undesirable.
The benefit of diversification is that if one asset class performs poorly there are other asset classes that may be up or at least flat, reducing the overall portfolios losses and also reducing risk. During the financial crisis, most asset classes performed negatively but some lost less than US large cap stocks. While 2008 is a good test for a worst-case scenario; historically markets have not performed this way. Bonds, for example, will move opposite of stocks, especially US Government bonds of shorter maturity.
The downside of diversification is not being able to realize significant gains when one particular sector does well.  For example, if you had invested all of your investable assets in the S&P 500 you would have had a much higher gain in 2014. For an even larger gain, you could have picked a sector such as retail or financial stocks in hopes of earning more than the S&P 500. Picking individual stocks also has the potential of very significant gains. But with these gains come significant risk if the stocks do poorly.
Many investors, especially those who are retired, wisely choose diversification and stable portfolios vs. the risk of losing it all.  Keeping your costs low, the portfolio diversified, and focusing on the long-term will always yield the best results.
Have more questions? Email me at [email protected] or use the Contact Us page.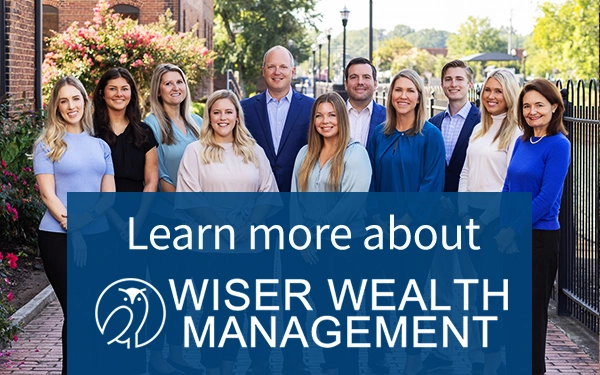 Share This Story, Choose Your Platform!
Wiser Wealth Management, Inc ("Wiser Wealth") is a registered investment advisor with the U.S. Securities and Exchange Commission (SEC). As a registered investment advisor, Wiser Wealth and its employees are subject to various rules, filings, and requirements. You can visit the SEC's website here to obtain further information on our firm or investment advisor's registration.
Wiser Wealth's website provides general information regarding our business along with access to additional investment related information, various financial calculators, and external / third party links. Material presented on this website is believed to be from reliable sources and is meant for informational purposes only. Wiser Wealth does not endorse or accept responsibility for the content of any third-party website and is not affiliated with any third-party website or social media page. Wiser Wealth does not expressly or implicitly adopt or endorse any of the expressions, opinions or content posted by third party websites or on social media pages. While Wiser Wealth uses reasonable efforts to obtain information from sources it believes to be reliable, we make no representation that the information or opinions contained in our publications are accurate, reliable, or complete.
To the extent that you utilize any financial calculators or links in our website, you acknowledge and understand that the information provided to you should not be construed as personal investment advice from Wiser Wealth or any of its investment professionals. Advice provided by Wiser Wealth is given only within the context of our contractual agreement with the client. Wiser Wealth does not offer legal, accounting or tax advice. Consult your own attorney, accountant, and other professionals for these services.
Sign up for our newsletter!
Our latest blogs, podcasts, and educational videos delivered to your inbox weekly.