In working with financial planning clients, one of the questions we ask is "What are your dreams during retirement?" About half the people will say they want to travel.  About 1 in 20 will say something beyond that: "I want to by an RV and cruise the country", or "I want to pay for my grandchild's college education," for example.  Sometimes, having that dream home or a vacation home is mentioned.
All these things take planning, yes.  But a lot of the time, people simply haven't thought about it.  Or they pick something that is generic – I mean, sure, wouldn't most people enjoy a vacation home or world traveling?    Or they decide to wait until closer to retirement to try to figure out specific dreams, when it may be too late to plan the funding.
The Life-Money Connection
Elizabeth G. Norman has a solution for this.  In her book, The Life-Money Connection, she outlines a process to first determine what your dreams are before you figure out how to fund them.
The first step in the process is to identify your values.  Values are beliefs and judgments about what is important to you.  These may be personal values, like honesty or responsibility; beliefs about religion or politics; people you hold dear; or endeavors, like education.    Values are the why of your life.  An example of a value is financial independence.
Vision defines your ideal future based on these values.  It defines the what.  It is the big picture you want to achieve.   It should inspire you.  It sets the specific direction and purpose for your life.  In the example of the value of financial independence, the vision could be defined as living independently and being financially secure.
Vision, however, does not tell you what to do.  For this you need to define your most meaning life pursuits.  These are the how of your life.  In the example we've been using, to achieve the vision of living independently and being financial secure, the most meaningful life pursuits could be paying off all debts, including the mortgage, and building adequate retirement savings.   At this point, you would need to define what "adequate retirement savings" equates to, be it a lump sum dollar figure, or a projected annual retirement income dollar need.
Out of your most meaningful life pursuits, you then determine goals.  Goals should be specific and measurable – i.e., I will save $500 a month in a retirement savings account.  They also need to be realistic and achievable.  In order to set such goals, then, you need to take stock of your financial resources.
Financial resources to be used to achieve your goals include both resources you have right now – existing retirement savings, for instance – as well as future resources.  Future resources include income you generate through employment, and what portion of them can be assigned to goals.  It also includes future earnings on investments, anticipated inheritances, and other forms of income.  Some resources can be considered more reliable than others.
This is where retirement planning software, using Monte Carlo simulation, can help you.  Taking what you determined in the most meaningful life pursuits stage – the annual dollar amount needed during retirement, for instance – such software can tell you what it will take to get there in terms of savings rate and investment risk level needed.
This then needs to be compared with your financial resources to determine if the goals are realistic.  At this stage, it is sometimes necessary to make adjustments.  Perhaps you currently don't have the necessary disposable income to fund the level of retirement income you want.  So then you need to decide if you want to plan on living on a lesser amount during retirement, if you want to be more aggressive in your investments for a time, if you would consider/are able to increase your disposable income to allow for a higher level of funding.
Out of these decisions, you develop your strategies to achieve your goals – the action items you will do.  Then it is on to implementation of these strategies, and monitoring of progress on a regular basis.
The benefit of this entire exercise is that you first define your dreams, and then determine how to get there, rather than simply letting your financial situation determine what your dreams can be.
* The Life Money Connection by Elizabeth G. Norman, with Douglas E. Norman, and Kimberly A. Norman, is published by Kanden Publishing and is available on Amazon.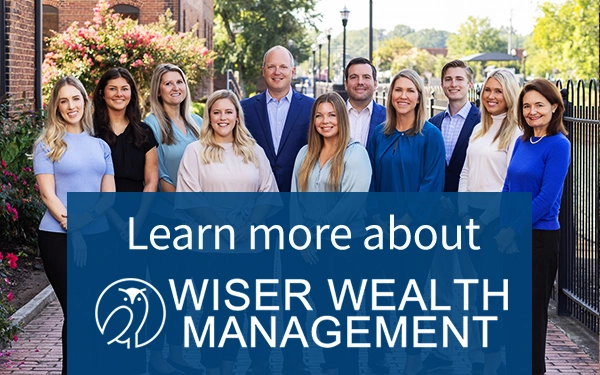 Share This Story, Choose Your Platform!
Wiser Wealth Management, Inc ("Wiser Wealth") is a registered investment advisor with the U.S. Securities and Exchange Commission (SEC). As a registered investment advisor, Wiser Wealth and its employees are subject to various rules, filings, and requirements. You can visit the SEC's website here to obtain further information on our firm or investment advisor's registration.
Wiser Wealth's website provides general information regarding our business along with access to additional investment related information, various financial calculators, and external / third party links. Material presented on this website is believed to be from reliable sources and is meant for informational purposes only. Wiser Wealth does not endorse or accept responsibility for the content of any third-party website and is not affiliated with any third-party website or social media page. Wiser Wealth does not expressly or implicitly adopt or endorse any of the expressions, opinions or content posted by third party websites or on social media pages. While Wiser Wealth uses reasonable efforts to obtain information from sources it believes to be reliable, we make no representation that the information or opinions contained in our publications are accurate, reliable, or complete.
To the extent that you utilize any financial calculators or links in our website, you acknowledge and understand that the information provided to you should not be construed as personal investment advice from Wiser Wealth or any of its investment professionals. Advice provided by Wiser Wealth is given only within the context of our contractual agreement with the client. Wiser Wealth does not offer legal, accounting or tax advice. Consult your own attorney, accountant, and other professionals for these services.
Sign up for our newsletter!
Our latest blogs, podcasts, and educational videos delivered to your inbox weekly.