Indexing Thought Brought to you by Today's Mail
My wife is taking a sabbatical from the duties of a stay at home mom. She decided to go back to work as a teacher at the request of her former employer during the month of December. I guess she understandably needed a job with less stress than watching our four and two year olds. This has left me with the responsibility of the Wiser office, my flying duties at Atlantic Southeast Airlines, carpool at our kids' preschool and of course, getting the mail.
Today was my first day on the job as stay at home dad. Well, we did not really stay home. Since the kids were in school, I got a half day in at the office and by the time I got the kids home at 1:30, our two year old was trying to climb into her crib as she was telling me "nite nite" and our four year old was equally sleepy. So, my work continued while they slept. Later, Banks, our English Springer Spaniel, informed me that the mailman had arrived and that I must act immediately. This also meant that my wife may soon be home and my first day as king of the house might end with no screaming, crying or broken bones, and the house left in better condition than when she departed at 6am this morning. Only 14 days left!
As I sorted through the mail, I noticed a postcard advertising "401K Maximizer."  This caught my eye since most 401k plans are loaded with unnecessary fees, underperforming fund managers, and are usually the most under advised assets in the industry (from a participant perspective). To further my curiosity even more, it was geared only toward airline employees, the most underpaid and overworked population outside of stay at home moms and dads, teachers and a few others.
This 401K Maximizer appears to only be available to those employed by Southwest, Northwest and American Airlines. The service chooses the best (we would say the least worst) mutual fund available in the 401K plan for that particular airline each month according to a conservative, moderate and aggressive risk strategy. The service also will measure the risk of the market and move out of the market based on certain indications. This requires a subscriber to make monthly allocation changes to their 401k.
The website boasts significant returns vs. the S&P 500 since 2001, using an investment method described as "actively upgrading" and said of passive investing, "Buy and hold asset allocation is a recipe for under performance." For example, the subscription service shows $1,000 invested in 1998 using their service now worth $5,000 vs. the S&P 500 worth just over $1,300. We must note here that back testing must have been used since a quick search on the website shows this as a relatively new product.
Citing the University of Maryland's Study on the long term performance of mutual funds managers, where only .06% actually beat their assigned index, and recent reports from Morningstar showing that even short term performance leaves little to be desired, we certainly would like to see another strategy used in 401ks other than active mutual fund management and the buying and holding of underperforming mutual funds. However, I am very skeptical that any market timing monthly trading model can hold up over a long term investment time horizon. If this is indeed it, then it would fall into the .06% of managers that can beat the market over the long term. Actually, they are not really managers, but managers of mutual funds, which would make them active traders of actively trading fund managers!
Buying and holding 12 Exchange Traded Funds in asset classes such as commodities, emerging markets, foreign treasuries, emerging market bonds and other traditional long term healthy asset classes, an investor can easily beat the S&P 500 with much less risk. This buy and hold passive approach with a investing cost less than 25bps (0.25%) has a much higher probability of long term success and is much cheaper than active investing.
To avoid repeating myself, I will refer you to my recent entry on indexing HERE.
To those of you eager to make monthly changes to your 401K plan, I urge you to do four things first.
If you have access to a brokerage link within your 401k, invest using ETFs vs. the mutual funds within your plan.
If no brokerage link is available, then email your HR Benefits department and request that a brokerage link be added in order to access lower cost, better performing ETFs. You can also request that Index Funds be added to your plan, or if you are really shooting for the moon, ask for a Vanguard 401k plan.
Resist the urge to day trade your retirement. Open a brokerage account with money you can lose and experiment with that rather than your life's savings.
If I still can't convince you, then read the disclosure page on the 401 Maximizer website:
"The publisher does not analyze the suitability of any particular fund or investment approach for individual investors nor make specific recommendations tailored for individual investors. These portfolios have significant risk and are for the sophisticated investor willing and able to assume a high degree of risk. It is up to the investor to decide their risk level and investment method. Model performance results may have inherent limitations, some of which are as follows. No representation is being made that any account will or is likely to achieve profits or losses similar to those shown. In fact, there are frequently significant differences between hypothetical performance results subsequently achieved by following a particular strategy. There are numerous other factors related to the markets in general or the implementation of any specific trading strategy which cannot be fully accounted for in the preparation of model performance results and all of which can adversely affect actual trading results. This material has been prepared or is distributed solely for informational purposes. Past performance is no guarantee of future results. Further, 401k Maximizer, Inc. does not accept any responsibility for gains for losses an individual may experience. All trading is done at your own risk".
I certainly welcome a new approach to 401k management, but I believe that it is through employer sponsored education on investing and a passive approach using index funds. I will acknowledge that the 401k Maximizer approach may achieve superior short term results, but the higher probability of success lies in the less flashy, more boring buy and hold approach. We also have the data to prove it!
Keep your investing cost low, maintain a diversified portfolio, and always invest for the long term.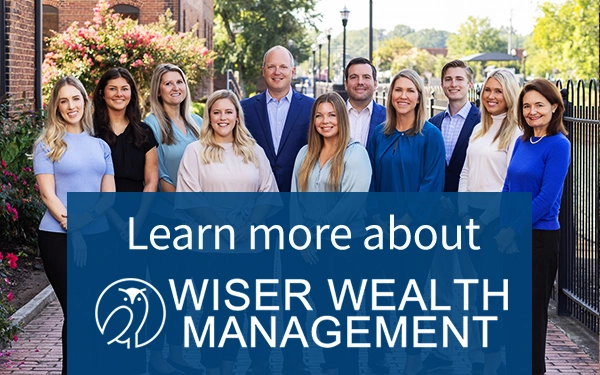 Share This Story, Choose Your Platform!
Wiser Wealth Management, Inc ("Wiser Wealth") is a registered investment advisor with the U.S. Securities and Exchange Commission (SEC). As a registered investment advisor, Wiser Wealth and its employees are subject to various rules, filings, and requirements. You can visit the SEC's website here to obtain further information on our firm or investment advisor's registration.
Wiser Wealth's website provides general information regarding our business along with access to additional investment related information, various financial calculators, and external / third party links. Material presented on this website is believed to be from reliable sources and is meant for informational purposes only. Wiser Wealth does not endorse or accept responsibility for the content of any third-party website and is not affiliated with any third-party website or social media page. Wiser Wealth does not expressly or implicitly adopt or endorse any of the expressions, opinions or content posted by third party websites or on social media pages. While Wiser Wealth uses reasonable efforts to obtain information from sources it believes to be reliable, we make no representation that the information or opinions contained in our publications are accurate, reliable, or complete.
To the extent that you utilize any financial calculators or links in our website, you acknowledge and understand that the information provided to you should not be construed as personal investment advice from Wiser Wealth or any of its investment professionals. Advice provided by Wiser Wealth is given only within the context of our contractual agreement with the client. Wiser Wealth does not offer legal, accounting or tax advice. Consult your own attorney, accountant, and other professionals for these services.
Sign up for our newsletter!
Our latest blogs, podcasts, and educational videos delivered to your inbox weekly.