Is your retirement plan ready for takeoff?
On this episode of A Wiser Retirement™ Podcast, Casey Smith is joined by guest Evan Bogan, airline captain, to talk about how flying a plane can be compared to retirement planning.
Listen or Watch:
SUMMARY:
Financial success doesn't happen by chance, it starts with a well-thought-out plan, designed by experts, and executed by someone who is diligent to make it take off. The same can be said about airplanes. Most passengers are fascinated about airplanes and how they are able to fly and are able to get us from one place to another, safely and in a timely manner. However, there is a great deal of preparation behind each trip an airplane does. Common people often have no idea about the kind of preparation that goes on behind the scenes to allow an airplane to take off. In the same way, we often don't know the planning and sacrifice it took for a wealthy person to become wealthy. Therefore, flight planning can be compared to financial planning to help us understand the need for a holistic financial plan, if success is your intention.
Assemble Your Team: The Cockpit
Each client is the captain of their life. Just as in an airplane, the pilot has a co-pilot who is an immediate support and shares responsibilities, everyone needs a team who can offer support. Aside from the co-pilot, there are dispatchers, meteorologists, and maintenance technicians, all to help the pilot make smart decisions. So, a complete financial planning team would consist of a financial planner who is part of a fiduciary fee-only firm, a CPA, an attorney, and a CDFA® (if needed).
Save Money for Emergencies and Retirement: The Wings
In airplanes, besides being crucial for the flying mechanism, the wings usually store fuel. At the time of take off, the pilot makes sure that there is enough fuel to complete the trip and also for emergencies. However, the fuel on an airplane is not a "set and forget" type of thing. Throughout the flight, pilots have to occasionally check on fuel levels, and make necessary adjustments. In the case of stronger than forecasted headwinds, pilots may need to divert to make sure they do not find themselves in a situation where they risk running out of fuel. The same is true for financial planning. We all want to be able to cover emergencies and life's curve balls, while still being able to save for retirement. That requires knowledge and flexibility to adapt and divert when needed. 
Income During Retirement: The Engines
The engines on an airplane are what keep the plane flying. They are designed very precisely so the size of the engines conforms with the size of the airplane. A small engine cannot fly a big airplane, and a bigger engine for a small airplane would be a waste. Your income during retirement is your Social Security payments, pensions, IRA, and brokerage accounts. It's important to remember that if you are going into retirement with a mortgage, car payments, and other debts, you will need "big engines" to be able to keep flying. The debt you bring into retirement can be compared to the fuselage of an airplane. Big airplanes with short wings and underpowered engines don't fly.
Your Financial Plan: What Goes into Building a Flight Plan
One would think that when airplanes fly a certain route, the flight plan is the same for all of them. For example, there are many flights a day from Atlanta to New York City, operated by different commercial carriers. Even though the route for these flights is the same, there are different aspects to each of them. The weather may change during the day, and the dispatcher may recommend different airports for emergency landing depending on weather and fuel load. Each aircraft has its own maintenance schedule that needs to be evaluated frequently. Though the route may be the same, there are specific variations in planning for each flight.
The same is true for financial planning. We all want to arrive at the same destination, which is comfortable retirement years. However, just as there is no "one plan fits all" in aviation, in financial planning that stand true, as well. Your financial plan is unique to you and your family. This is why it is so important to find a fiduciary fee-only financial planning advisor. They can design a plan that fits your needs and dreams, and also help you stay on track with your retirement plan.
Download our eBook: "Buyer Beware: Why do they keep trying to sell you that annuity?"
TIMESTAMPS:
00:00 Intro
04:00 Assemble Your Team- The Cockpit
12:15 Save Money for Emergencies and Retirement- The Wings
18:10 Income During Retirement- The Engines
26:05 Your Financial Plan- What Goes into Building a Flight Plan
LINKS:
Learn more about Casey Smith, President of Wiser Wealth Management.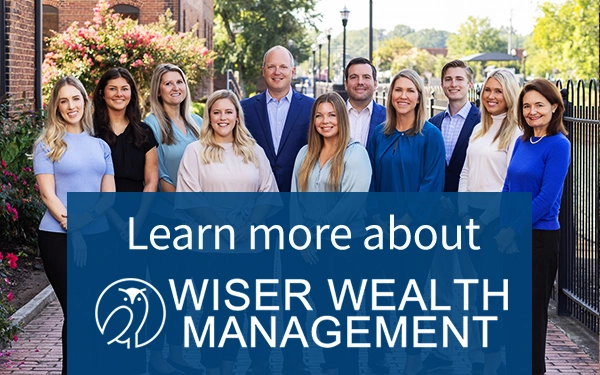 Share This Story, Choose Your Platform!
Wiser Wealth Management, Inc ("Wiser Wealth") is a registered investment advisor with the U.S. Securities and Exchange Commission (SEC). As a registered investment advisor, Wiser Wealth and its employees are subject to various rules, filings, and requirements. You can visit the SEC's website here to obtain further information on our firm or investment advisor's registration.
Wiser Wealth's website provides general information regarding our business along with access to additional investment related information, various financial calculators, and external / third party links. Material presented on this website is believed to be from reliable sources and is meant for informational purposes only. Wiser Wealth does not endorse or accept responsibility for the content of any third-party website and is not affiliated with any third-party website or social media page. Wiser Wealth does not expressly or implicitly adopt or endorse any of the expressions, opinions or content posted by third party websites or on social media pages. While Wiser Wealth uses reasonable efforts to obtain information from sources it believes to be reliable, we make no representation that the information or opinions contained in our publications are accurate, reliable, or complete.
To the extent that you utilize any financial calculators or links in our website, you acknowledge and understand that the information provided to you should not be construed as personal investment advice from Wiser Wealth or any of its investment professionals. Advice provided by Wiser Wealth is given only within the context of our contractual agreement with the client. Wiser Wealth does not offer legal, accounting or tax advice. Consult your own attorney, accountant, and other professionals for these services.
Sign up for our newsletter!
Our latest blogs, podcasts, and educational videos delivered to your inbox weekly.