Should Cryptocurrency Be In Your Portfolio?
On this episode of A Wiser Retirement Podcast, Casey Smith, Matthews Barnett, CFP®, ChFC®, CLU® and Brad Lyons, CFP® talk about if cryptocurrencies belong in an investment portfolio. They talk about some of the main cryptocurrencies, how they are being used today, the advantages and disadvantages of investing in them, and they offer advice on how to manage them in your portfolio. It is important to analyze the risks and rewards of including cryptocurrencies in your portfolio, so you can make the right decision.
Listen on Apple Podcasts or watch on YouTube:
SUMMARY:
What is Cryptocurrency?
Cryptocurrency can be defined as any form of currency that exists virtually and uses blockchains to monitor transactions. There are tens of thousands of cryptocurrencies out there, the most popular being Bitcoin and Ethereum. Two influential aspects in the market that affect cryptocurrencies are supply and demand, and storage. There is still much to be discovered about cryptocurrencies. However, we do know that the more people want them, the higher the price will be. Due to this fact, it is important to consider that these currencies are highly subject to fluctuation in price.
3 Benefits of Cryptocurrency
The three main benefits of cryptocurrency are anonymous transactions, international transfers of money without hassle, and you can circumnavigate politics or any virtual walls. These benefits allow you to use cryptocurrency with ease, but don't be fooled. With anonymity comes people with bad intentions, scammers for example. To avoid falling for a scam, it is important to be mindful of them. Becoming educated on them and researching scammer tactics could allow you to worry less and reap all the benefits of cryptocurrencies.
Storage Value
In short, storage value can be described as the ability to store wealth for later use. It is important to note storage value defines a currency. Ask yourself if the cryptocurrencies you are choosing to invest in store value. If they do, it may make sense to invest in them long-term. Since they fluctuate a lot, it may take time to see any return, which may take some patience. To better understand the timeframe, look at price fluctuation relative to other currencies.
Risks of Investing in Cryptocurrencies
As you start thinking about investing in cryptocurrencies, keep in mind the risks that come along with them. First and foremost, they are highly unregulated meaning there is no SEC (Securities and Exchange Commission) regulation. Wealthy people can manipulate the market for their own gain and it's perfectly legal. Be aware that it is also very easy to be scammed. A question to ask yourself is, is it worth it? It certainly could be if you are an early adopter. However, it usually takes hard work and perseverance to become wealthy, these early adopters are lucky. With this in mind, it is important to be frugal. Don't poor all your money into it.
Should You Invest in Cryptocurrencies?
The short answer is possibly, it is a personal decision. This is a way of investing that requires recognition. You can choose different coins, all with different risks. It is important to understand it is difficult to decipher which cryptos will be the winners in this marketplace, just like picking stocks. Cryptocurrency could be the future, and infrastructure is coming. However, put simply, the future is unknown.
Speak with a Financial Advisor
There is so much unknown when it comes to financial industry. It takes daily research to stay on top of these investments. If you think cryptocurrency is the future, speak with an advisor. Financial advisors can assist you with strategizing how to invest in them. Keep in mind, you may not need a financial advisor to manage them, but it is important to talk to them about it.
Cryptocurrencies in Your Portfolio
Since cryptocurrencies have a non-correlated return stream, they can be great for diversifying your portfolio. When thinking about the amount to invest, it would usually make sense to invest 10% of your net worth. This should not apply to cryptos. Because of the high risk, it's pertinent to only invest around 1 or 2% of your net worth. If you believe technology is going to move forward in a way where cryptos will be beneficial, put money in it. Consider your perspective and the location in which you live. Those should be the main factors of deciding if cryptos are a viable option for your portfolio.
Download our white paper on "3 Ways to Grow and Protect Your Portfolio"
TIMESTAMPS:
0:00 Intro
2:45 What are Cryptocurrencies?
7:19 Benefits of Cryptocurrencies
10:35 Storage Value
21:03 Risks of Investing
27:08 Should You Invest in Cryptos?
29:35 Speak with an Advisor
36:27 Cryptocurrencies in Your Portfolio
LINKS:
Learn more about Casey Smith and connect with him on Twitter.
Learn more about Brad Lyons.
Learn more about Matthews Barnett.
CONNECT:
Twitter, Instagram, Facebook, LinkedIn, and YouTube.
Learn more about A Wiser Retirement podcast and access previous episodes.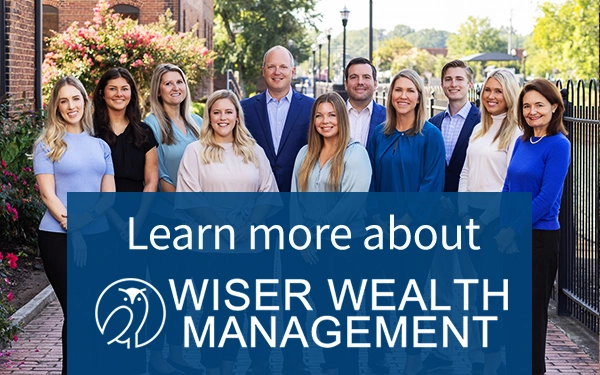 Is a high yield savings account right for you?
Casey Smith
Delta Pilots Guaranteed Variable Universal Life (GVUL) – What Action You Need to Take
Casey Smith
Share This Story, Choose Your Platform!
Wiser Wealth Management, Inc ("Wiser Wealth") is a registered investment advisor with the U.S. Securities and Exchange Commission (SEC). As a registered investment advisor, Wiser Wealth and its employees are subject to various rules, filings, and requirements. You can visit the SEC's website here to obtain further information on our firm or investment advisor's registration.
Wiser Wealth's website provides general information regarding our business along with access to additional investment related information, various financial calculators, and external / third party links. Material presented on this website is believed to be from reliable sources and is meant for informational purposes only. Wiser Wealth does not endorse or accept responsibility for the content of any third-party website and is not affiliated with any third-party website or social media page. Wiser Wealth does not expressly or implicitly adopt or endorse any of the expressions, opinions or content posted by third party websites or on social media pages. While Wiser Wealth uses reasonable efforts to obtain information from sources it believes to be reliable, we make no representation that the information or opinions contained in our publications are accurate, reliable, or complete.
To the extent that you utilize any financial calculators or links in our website, you acknowledge and understand that the information provided to you should not be construed as personal investment advice from Wiser Wealth or any of its investment professionals. Advice provided by Wiser Wealth is given only within the context of our contractual agreement with the client. Wiser Wealth does not offer legal, accounting or tax advice. Consult your own attorney, accountant, and other professionals for these services.
Sign up for our newsletter!
Our latest blogs, podcasts, and educational videos delivered to your inbox weekly.