Is work from home the new normal?
Over the past few months, working adults of all ages have been working from home and have had to learn to communicate via Zoom, GotoMeetings, Google Hangouts/Meets, WebEx and/or Microsoft Teams. We have come to realize that, while there may be better comradery and company culture in an office, the ability to have conversations with employees and bosses can still be managed from home or remote locations. After the coronavirus pandemic settles, will companies go to remote work, hybrid models or back to business as usual? In "The New Normal Isn't Remote Work. It's Better," Laurel Farrer suggests we might be moving from the "cubicle to the kitchen table."
Despina Katsikakis, who heads Cushman and Wakefield's occupier business performance division, stated that in recent years, the amount of square footage per employee has gone down from 211.4 sq. ft. in 2009 to 17.6 square feet in 2017.  However, as shown in the picture below, this trend will most likely change. Cushman and Wakefield recently introduced the concept of the "Six Feet Office" to show the adoption of new safety measures and protocols. No longer will employees be in a cubicle or desk just a few feet from another employee nor will they be sharing seats in the cafeteria or break room.
Example of Cushman & Wakefield office design
Facebook, Twitter, Square, Box, Google, Apple, Amazon and other technology-specific companies lead the way in which business is conducted. Recently, Mark Zuckerberg shared in an interview that as many as 50% of workers could be remote in 5 to 10 years. On a live Facebook feed he stated, "When you limit hiring to people who live in a small number of big cities, or who are willing to move there, that cuts out a lot of people who live in different communities, have different backgrounds, have different perspectives."
Younger or single employees enjoy the big city life and what it offers with the various restaurants, clubs, bars and activities, however most decide to eventually move to the suburbs where the cost of living is lower and there are more affordable housing options. According to a recent survey from Credit Karma, a family living in the suburbs has $3,600 in savings on average, compared to an average of $1,000 for city-dwellers. On top of that, less than 30% of people in cities report having a 401(k), compared with 40% of those outside in suburban areas. Also, in a 2017 Cost of Living report, Nationwide, Care.com and Zillow found that families living in cities spend approximately $9,073 more per year to cover childcare and basic housing expenses. The move to the suburbs, however, does come at a cost for employees as they must pay for transit or gas and spend hours of the day in traffic commuting to and from the office.
Twitter's vice president of people Jennifer Christie said, "If our employees are in a role and situation that enables them to work from home and they want to continue to do so forever, we will make that happen." Companies are realizing that they could also have a hybrid approach where employees work from home a few days and in the office a few days. But as we have seen, working from home comes with its own unique set of challenges.
Although I do not have kids, I have seen firsthand how difficult it can be to balance work and family life while working from home. Parents are having to act as teachers, parents and employees all at the same time. It is not uncommon to hear dogs barking or kids yelling in the background of a Zoom call or even see kids walk into the room to tug on their parent's arm during a meeting. Aside from the distractions at home, there is also loneliness and a lack of collaboration to contend with. It would be important in the future to create connections with others and have those face to face interactions whether that be meetings, lunch or other social outings outside of the "home office."
While I don't believe that employees will want to work from home forever. We have seen that, due to technological innovations, we can be productive and have meetings with our colleagues and clients without face to face interactions. Some companies need the high-rise buildings with their cubicles for 500+ employees. However, working from home a few days a week or a few times a month is becoming more of an option. Additionally, the satellite office and coffee shop shared spaces like the "We Work" type of offices are also being seen as more viable and affordable options.
At Wiser Wealth Management, we are now allowing clients into the office, but a majority of our meetings are still being run through GotoMeeting. Many clients have expressed that they would prefer to not come to the office, but some clients would like to have the face to face interactions. In light of this, we are maintaining space in our office and are proactive in setting safe social distancing measures when in conference rooms. As of now, we are still refraining from shaking hands or giving hugs to clients, prospects or employees. The work environment for consumers as well as employees will be altered somewhat in the future, but to what extent we will have to wait and see.
Matthews Barnett, CFP®, ChFC®, CLU®, Financial Planning Specialist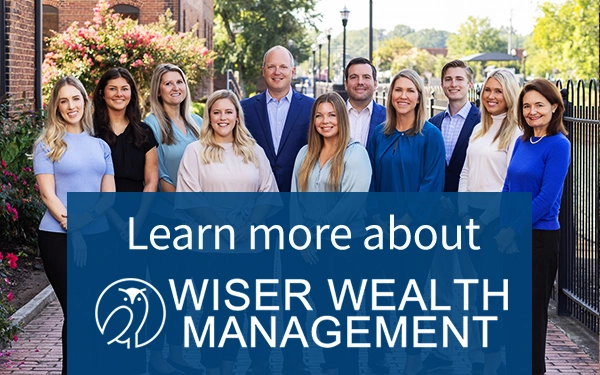 Share This Story, Choose Your Platform!
Wiser Wealth Management, Inc ("Wiser Wealth") is a registered investment advisor with the U.S. Securities and Exchange Commission (SEC). As a registered investment advisor, Wiser Wealth and its employees are subject to various rules, filings, and requirements. You can visit the SEC's website here to obtain further information on our firm or investment advisor's registration.
Wiser Wealth's website provides general information regarding our business along with access to additional investment related information, various financial calculators, and external / third party links. Material presented on this website is believed to be from reliable sources and is meant for informational purposes only. Wiser Wealth does not endorse or accept responsibility for the content of any third-party website and is not affiliated with any third-party website or social media page. Wiser Wealth does not expressly or implicitly adopt or endorse any of the expressions, opinions or content posted by third party websites or on social media pages. While Wiser Wealth uses reasonable efforts to obtain information from sources it believes to be reliable, we make no representation that the information or opinions contained in our publications are accurate, reliable, or complete.
To the extent that you utilize any financial calculators or links in our website, you acknowledge and understand that the information provided to you should not be construed as personal investment advice from Wiser Wealth or any of its investment professionals. Advice provided by Wiser Wealth is given only within the context of our contractual agreement with the client. Wiser Wealth does not offer legal, accounting or tax advice. Consult your own attorney, accountant, and other professionals for these services.
Sign up for our newsletter!
Our latest blogs, podcasts, and educational videos delivered to your inbox weekly.