Fiduciary advisors don't sell, they guide
Working with a fiduciary, at a Fee-only RIA firm which places your best interests above all else, can help you analyze the myriad of financial products and choose only those products that are designed with the specific purpose of achieving your goals – not someone else's.
All financial products including those from the banking, brokerage and insurance businesses are created for a purpose. That purpose can be thought of as either good or bad depending on your perspective. If a consumer buys a financial product and later finds the product to be insufficient for his or her needs, the product is naturally deemed to be bad. However, the product may be performing exactly as it was designed. In other words, it may be fulfilling its purpose, but its placement may not be the best fit given the situation. The consumer may have thought, or was sold the idea, that the product's purpose fit his or her situation only later to find out otherwise. This is because most financial products today are highly sophisticated and difficult to analyze for the average individual. Product disclosures are abundant, but they are written in fine print and legal-ease because they are designed to protect the provider. Once a consumer signs their name to the agreement or pays the money to buy the product or service, they may be stuck with it for a long time; Caveat Emptor, Latin for "let the buyer beware," comes to mind here.
Over the course of my 30+ year career in insurance, banking and investment consulting, I've seen thousands of investment products claiming to be exactly what consumers need. Whereas each product was actually created for a specific purpose; they were either made to make money for the people who buy them or to make money for the people who sell them. And the perceived successfulness of the product depends greatly on which side of the table you sit. As an example, the financial services companies that bundled home mortgage loans and sold them to investors prior to the Great Financial Crisis in 2008 and 2009 as safe investments (it was thought that people would sacrifice most everything else before they would stop payments on their home mortgage) made lots of money, but when people stop making their mortgage payments and walked away from their homes, investors were left with an investment in non-performing loans. Good for the companies selling the product – not so much for the investors buying the product.
Individual investors are left then with the job of figuring out which financial products will be successful at making money for them, determining which product has been specifically created for his or her purpose and situation, and arranging the product in a portfolio of other products to maximize the desired effect. No easy task. Finding the right product, at the right price, designed to produce the right effect is a full-time job. And getting it right is imperative – there are no second chances in retirement.
As a fiduciary, a Fee-only Registered Investment Advisor helps individuals buy only those products designed to make the individual money. Fee-only RIAs are net buyers of financial products, and like their clients they are on the "buy side" of the financial services business. Fee-only RIAs don't manufacture financial products, they buy products deemed to be best suited for their clients' needs. Based on those needs, RIAs scour the marketplace and analyze financial products to buy for the benefit of their clients in order to  maximize the potential for achieving their financial goals. There is no conflict of interest when a fiduciary, Fee-only RIA selects a financial product for their client.
Brad Lyons, CFP®, Investment Manager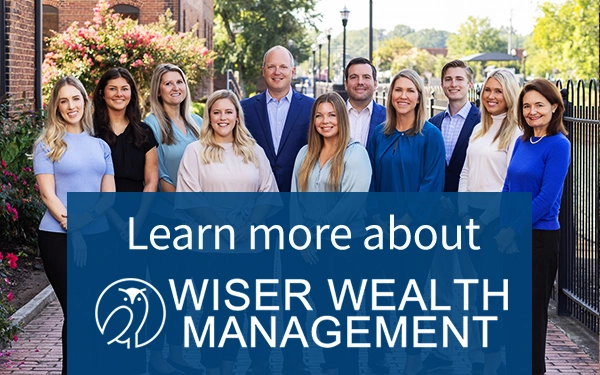 Is a high yield savings account right for you?
Casey Smith
Delta Pilots Guaranteed Variable Universal Life (GVUL) – What Action You Need to Take
Casey Smith
Share This Story, Choose Your Platform!
Wiser Wealth Management, Inc ("Wiser Wealth") is a registered investment advisor with the U.S. Securities and Exchange Commission (SEC). As a registered investment advisor, Wiser Wealth and its employees are subject to various rules, filings, and requirements. You can visit the SEC's website here to obtain further information on our firm or investment advisor's registration.
Wiser Wealth's website provides general information regarding our business along with access to additional investment related information, various financial calculators, and external / third party links. Material presented on this website is believed to be from reliable sources and is meant for informational purposes only. Wiser Wealth does not endorse or accept responsibility for the content of any third-party website and is not affiliated with any third-party website or social media page. Wiser Wealth does not expressly or implicitly adopt or endorse any of the expressions, opinions or content posted by third party websites or on social media pages. While Wiser Wealth uses reasonable efforts to obtain information from sources it believes to be reliable, we make no representation that the information or opinions contained in our publications are accurate, reliable, or complete.
To the extent that you utilize any financial calculators or links in our website, you acknowledge and understand that the information provided to you should not be construed as personal investment advice from Wiser Wealth or any of its investment professionals. Advice provided by Wiser Wealth is given only within the context of our contractual agreement with the client. Wiser Wealth does not offer legal, accounting or tax advice. Consult your own attorney, accountant, and other professionals for these services.
Sign up for our newsletter!
Our latest blogs, podcasts, and educational videos delivered to your inbox weekly.