Should I just go to cash?
What just happened? Just over a month ago, the stock market hit all-time highs and unemployment was at record lows. Now, the market has dropped over 30% from intra-year highs, there will be a recession or even talks of a depression, and unemployment claims have skyrocketed into the millions.  You may be asking yourself, should I just go to cash? This is an unprecedented time, especially in such a short period. It was caused by an exogenous event, the coronavirus, that we could not have planned for. This has been the sharpest decline in the markets (of over 30%) in history with the Great Depression holding the coveted second, third and fourth place (source: BofA Global Research).
I understand the anxiety of investors dealing with the sudden and extreme volatility. We have received calls from clients and investors asking if they should just go to cash and get back into the market later on. You rarely talk to advisors who advise getting out of the market at this time and trying to time the market. Why? Because it is about time in the market and not timing the market.
As shown below in a chart from Capital Group, missing out on the best days of the market can have a huge impact on the recovery of your portfolio values. From 1/1/10 to 12/31/19, missing out on the 10 best days, causes this portfolio to miss 33% of possible growth and missing out on the 20 best days caused a 50% reduction. No one, and I mean no one, even the most successful analysts, have a crystal ball and have the ability to always predict the bottom. Long-term investing is about staying the course and remaining invested during both the good and the bad times.
Investors have managed to get though the bulk of the selloff for 2020 with the S&P 500 dropping below 30% from intra-year highs. The coronavirus will get worse in the next few weeks and maybe months, and it will cause a disruption not only to consumer's lives, but also to the markets. We will most likely go into a technical recession (two consecutive negative quarters of GDP) this fall and the market could drop further through the summer. Having said that, most analysts suggest we can rebound after the spread of the virus clears. When will that be? Unfortunately, no one really knows.
I also realize this may be a different time for many investors than 2008 now that they are retired or nearing retirement and relying on their investments for everyday living. The most famous and dangerous words in the wealth management industry are "this time it's different." However, it rarely is.  There are just different events that cause the recessions and other bear market selloffs.
With that historically said, if you move to cash you will realize significant losses for the year and it will be tough to recover moving forward. Although you are older from when the great recession occurred, you still have a long-time horizon on your investments and those investments need to continue to grow and outpace inflation. If you try to time the market and get out now to get back in when the market recovers, you will most likely miss out on the best days of the market. That would require timing the market twice; getting out at the perfect time now before it drops further and also getting back in at the perfect time once it bottoms. I am not sure how you dealt with the great financial crisis in 2008, but I would assume these same thoughts crossed your mind then and the economy as well as the market have recovered well over the last 11 years.
We do not advocate going to cash because of this recent volatility. However, it can be a good time for investors to really review their risk tolerance and capacity for risk. If you are not able to stomach these downturns and struggling to sleep at night with the volatility, then you should consider a more conservative, balanced portfolio after this recovery. Our team at Wiser Wealth Management focus on fee-only planning and believe that the investments are a part of the bigger plan to help reach your financial goals. If you would like a second opinion on your investments or need a financial plan developed, please do not hesitate to reach out. Stay the course, and this too shall pass!
Matthews Barnett, CFP®, ChFC®, CLU®
Financial Planning Specialist, Wiser Wealth Management
Posted 3/31/2020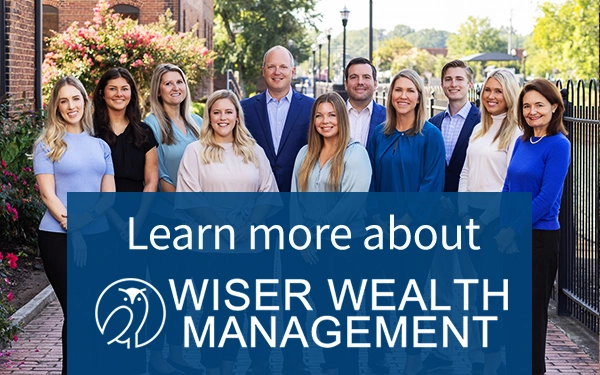 Share This Story, Choose Your Platform!
Wiser Wealth Management, Inc ("Wiser Wealth") is a registered investment advisor with the U.S. Securities and Exchange Commission (SEC). As a registered investment advisor, Wiser Wealth and its employees are subject to various rules, filings, and requirements. You can visit the SEC's website here to obtain further information on our firm or investment advisor's registration.
Wiser Wealth's website provides general information regarding our business along with access to additional investment related information, various financial calculators, and external / third party links. Material presented on this website is believed to be from reliable sources and is meant for informational purposes only. Wiser Wealth does not endorse or accept responsibility for the content of any third-party website and is not affiliated with any third-party website or social media page. Wiser Wealth does not expressly or implicitly adopt or endorse any of the expressions, opinions or content posted by third party websites or on social media pages. While Wiser Wealth uses reasonable efforts to obtain information from sources it believes to be reliable, we make no representation that the information or opinions contained in our publications are accurate, reliable, or complete.
To the extent that you utilize any financial calculators or links in our website, you acknowledge and understand that the information provided to you should not be construed as personal investment advice from Wiser Wealth or any of its investment professionals. Advice provided by Wiser Wealth is given only within the context of our contractual agreement with the client. Wiser Wealth does not offer legal, accounting or tax advice. Consult your own attorney, accountant, and other professionals for these services.
Sign up for our newsletter!
Our latest blogs, podcasts, and educational videos delivered to your inbox weekly.