Episode 2 – What is Financial Planning?
Why should everyone have a financial plan? What should a financial plan include and what are the best questions to ask your advisor? On today's podcast, the Wiser Wealth Management team discusses what to look for when you seek financial planning services.
Listen on Apple Podcasts or watch on YouTube:
SUMMARY
"By failing to prepare, you are preparing to fail." – Benjamin Franklin
In the first Wiser Roundtable Podcast, the advisors discuss the importance and process of creating a personal financial plan. We understand that many people have concerns when it comes to the idea of creating a financial plan. Reasons could be potentially having an uncomfortable conversation revealing poor financial decisions from the past or belief that they may not have enough money to even start the planning process. Our advisors understand every concern is valid and are here to make the planning process easy to navigate and address any questions along the way. It is important to note that there are many versions of a financial plan, and each client will have a unique, customized plan developed according to their individual goals and objectives.
The process starts by examining the client's background, including their age, income and past financial decisions. At this time, it is also important to define the client's overall objectives and purpose for creating a financial plan. Prioritizing goals is a way to guarantee the advisor understands what is most important to the client and allows for proper execution of the plan. Each of these factors play into the construction of a tailored financial plan that will ultimately lead the client to their primary objective, whether that be debt elimination or retirement. In other words, the plan drives the outcome. As a fiduciary firm, it is Wiser Wealth's legal obligation to work in the client's best interest. This means our advisors' number one priority is to understand the client's goals and develop a plan to achieve those goals that is in the best interest of the client.
One of the most common questions financial planners are asked is, "Do I have enough to retire?" and the answer is simple, it depends. Understanding all the factors that go into planning for the future comes with a great deal of uncertainty. Those may include property, casualty liability, life insurance, inflation rates and even deciding to pay off a mortgage. Many factors affect the execution of a financial plan with the goal of retiring. A Monte Carlo simulation performs risk analysis by building models of possible results by substituting a range of values—a probability distribution—for any factor that has inherent uncertainty. It then calculates results over and over, each time using a different set of random values from the probability functions.
So, who is a financial plan really for? The wealthy? Those nearing retirement? No, it is for everyone. Deciding to work with an advisor to create a plan tailored to your personal goals has proven to have positive effects on people of all age groups. Young graduates working on debt elimination or those 65 and over nearing retirement can both benefit from having a financial plan in place. It is proven that those with a financial plan are more confident in their future in terms of money, than those without a set plan. And today, the use of online tools and mobile apps make it easier than ever to reference and monitor that plan. So, what's the wait? Start your journey to financial freedom today.
CONNECT: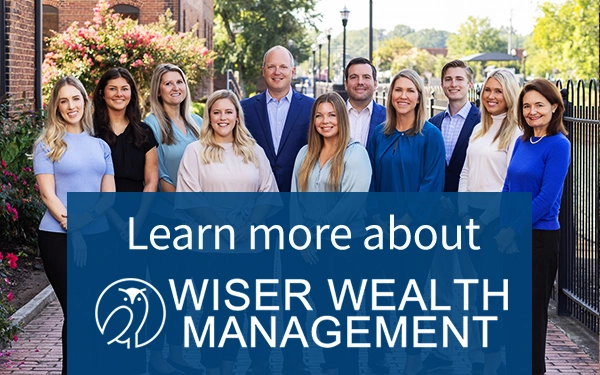 Share This Story, Choose Your Platform!
Wiser Wealth Management, Inc ("Wiser Wealth") is a registered investment advisor with the U.S. Securities and Exchange Commission (SEC). As a registered investment advisor, Wiser Wealth and its employees are subject to various rules, filings, and requirements. You can visit the SEC's website here to obtain further information on our firm or investment advisor's registration.
Wiser Wealth's website provides general information regarding our business along with access to additional investment related information, various financial calculators, and external / third party links. Material presented on this website is believed to be from reliable sources and is meant for informational purposes only. Wiser Wealth does not endorse or accept responsibility for the content of any third-party website and is not affiliated with any third-party website or social media page. Wiser Wealth does not expressly or implicitly adopt or endorse any of the expressions, opinions or content posted by third party websites or on social media pages. While Wiser Wealth uses reasonable efforts to obtain information from sources it believes to be reliable, we make no representation that the information or opinions contained in our publications are accurate, reliable, or complete.
To the extent that you utilize any financial calculators or links in our website, you acknowledge and understand that the information provided to you should not be construed as personal investment advice from Wiser Wealth or any of its investment professionals. Advice provided by Wiser Wealth is given only within the context of our contractual agreement with the client. Wiser Wealth does not offer legal, accounting or tax advice. Consult your own attorney, accountant, and other professionals for these services.
Sign up for our newsletter!
Our latest blogs, podcasts, and educational videos delivered to your inbox weekly.