4 Reasons to Travel to Switzerland in Retirement
Making the most of your golden years involves embarking on exciting adventures and exploring new destinations. Whether you are sharing this chapter of life with your spouse, children, grandchildren, or embracing it independently, you should have the opportunity to savor all that life has to offer. Here are four reasons to travel to Switzerland in retirement.
About Switzerland
Capital: Bern
Population: 8.7 Million
Official Language: French, German, Italian, Romansh
Currency: Swiss Franc CHF
What it is Known For: Chocolate, Cheese, The Alps, Clocks, Ski Resorts
1. Easy Train Transportation Anywhere in the Country
Renting a car in a foreign country can be a practical solution. However, it can also be a hassle and potentially ruin your trip if something goes wrong. Flying everywhere can get expensive and be tiring. For those reasons and many more, Switzerland has become a favorite destination for retired Americans. Switzerland is an extremely developed country, and when it comes to railways, they are definitely subject-matter experts. There are 12.3km of railroad per 100 km in Switzerland, as opposed to 1.6km of railroad per 100km in the United States. Traveling by train in Switzerland is easy, affordable, and reliable. You can easily travel between towns in Switzerland and explore the country's major cities. For example, a train ride from Geneva to Zurich lasts about 3 hours. The same one-way route can cost as low as 22CHF, which is approximately $25 USD. Switzerland has the most reliable train network in Europe. 
2. Three Cultures in One
Switzerland boasts four official languages, but the most significant cultural influences are derived from the three major languages spoken: French, German, and Italian. Visiting France, Germany, and Italy all in one trip can be quite overwhelming, but exploring three distinct regions in Switzerland over a few days is a more manageable alternative. This approach can provide you with a comparable cultural experience, allowing you to immerse yourself in facets of these diverse cultures. Picture yourself enjoying a croissant and baguette for breakfast in Geneva, savoring a wiener schnitzel for lunch in Zurich, or relishing a pasta dinner in Lugano.
3. The Outdoors are Everywhere
Switzerland is a country teeming with natural beauty, from its crystal-clear turquoise lakes to the vast expanse of lush green mountains. What's truly remarkable is that you don't need to embark on a train, car, ferry boat, or horse ride to revel in these wonders. You can enjoy these breathtaking lake and mountain views from many places in Switzerland, even the bigger cities. 
Furthermore, even if your skiing days are now a thing of the past, the Swiss Alps remain a marvel to admire at any stage in life. So, if you've ever yearned to visit renowned mountain peaks like the Matterhorn or Jungfrau, the time to embark on this adventure is now.
4. It's Never Too Crowded
Places like London, Paris, and Rome are fun cities to visit, but overly crowded streets and restaurants are not everyone's cup of tea. Rome receives on average 7 to 10 million tourists every year. On the other hand, Switzerland is never too crowded. The country receives an average of 3 to 4 million tourists each year. Regardless of what city you choose to visit or the time of year, you can expect a much lighter crowd of tourists than some of the major European cities. 
Travel to Switzerland in Retirement
These are some of the main reasons that retirees choose Switzerland as a vacation destination every year. If exploring the world is part of your vision for retirement but you aren't sure how to plan for that, feel free to reach out to one of our financial advisors. We can help you factor travel into your personalized financial plan for retirement.
Have more questions? Contact Us
Rebeca Mavromatis,
Marketing Assistant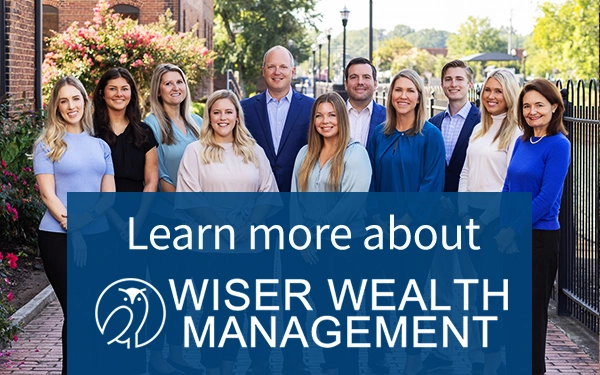 Is a high yield savings account right for you?
Casey Smith
Delta Pilots Guaranteed Variable Universal Life (GVUL) – What Action You Need to Take
Casey Smith
Share This Story, Choose Your Platform!
Wiser Wealth Management, Inc ("Wiser Wealth") is a registered investment advisor with the U.S. Securities and Exchange Commission (SEC). As a registered investment advisor, Wiser Wealth and its employees are subject to various rules, filings, and requirements. You can visit the SEC's website here to obtain further information on our firm or investment advisor's registration.
Wiser Wealth's website provides general information regarding our business along with access to additional investment related information, various financial calculators, and external / third party links. Material presented on this website is believed to be from reliable sources and is meant for informational purposes only. Wiser Wealth does not endorse or accept responsibility for the content of any third-party website and is not affiliated with any third-party website or social media page. Wiser Wealth does not expressly or implicitly adopt or endorse any of the expressions, opinions or content posted by third party websites or on social media pages. While Wiser Wealth uses reasonable efforts to obtain information from sources it believes to be reliable, we make no representation that the information or opinions contained in our publications are accurate, reliable, or complete.
To the extent that you utilize any financial calculators or links in our website, you acknowledge and understand that the information provided to you should not be construed as personal investment advice from Wiser Wealth or any of its investment professionals. Advice provided by Wiser Wealth is given only within the context of our contractual agreement with the client. Wiser Wealth does not offer legal, accounting or tax advice. Consult your own attorney, accountant, and other professionals for these services.
Sign up for our newsletter!
Our latest blogs, podcasts, and educational videos delivered to your inbox weekly.