4 Steps to Get Financially Organized Before Retirement
Getting financially organized for retirement comes down to first developing a realistic plan that reflects your personal financial situation. And second, setting up your finances in such a way that they can be easily administered. Those that don't do this will not find the peace of mind and financial success in retirement that they are looking forward to having. So, to greatly reduce financial stress in retirement, complete these four steps to get financially organized before you get there.
1. Eliminate Debt
Prior to retirement, you could be making more money than you ever have in the past, and you may think the surplus from this higher income should feed into your savings accounts. However, saving more for retirement may not be as beneficial as eliminating debt payments. Not having debt will free up cash flow for a more comfortable retirement. This is not a popular recommendation for financial advisors to make, as it reduces their revenue, but it is often in the best interest of the clients. Heading into retirement debt free is a key step to a successful retirement.
2. Build Savings
You want to do everything you can to protect your retirement portfolio from an emergency liquidation during retirement. Taking money from your portfolio in down markets can cause unnecessary realized losses, reducing your rate of return and putting your financial future in jeopardy. To help prevent this, keep about two years' worth of your portfolio withdrawals in savings. This will give you a buffer should you need to stop portfolio withdrawals while you cover one of life's financial emergencies.
3. Build and Monitor a Plan
Self-planning for retirement rarely goes well in the long run unless a family routinely lives well below their means. Fiduciary and Fee-Only financial advisors can help you develop a retirement plan that considers inflation, market volatility, market crashes (financial crisis), portfolio construction, early death of a spouse, medical costs, and a major purchase in retirement. All these factors impact the monthly amount you can safely live on so you do not run out of money before 100. Planning is an investment into your future mental and financial health. I have never had a client that considered the process a disappointment. In fact, many keep coming back year after year to tweak their plans.
4. Consolidate and Automate
To make retirement more administratively friendly, I recommend consolidating accounts as much as possible. Many clients will maintain one checking and savings account and consolidate investment accounts to one custodian like TD Ameritrade or Charles Schwab. Two logins to get into their accounts is much easier than five or more. It also makes it easier to transfer funds between accounts. For much later in life, this also makes estate settlement much easier for the executor or successor trustee.
Automatic deposits of pension and social security payments into a joint checking as well as automatic movements of funds from brokerage to checking, and even auto dividend reinvestment, allows you to monitor your cash flow much more easily and efficiently. When you make it to retirement, you'll want to spend your time enjoying it. You won't want to waste those years hovering over your nest egg.
Just like any successful venture, start with a good plan for becoming financially organized, then execute it to perfection. Maybe the plan has to be altered along the way, but the end result will still be success. We guide our clients to financial success by focusing on all aspects of the planning process. Reach out to us if you're planning your retirement and we will help guide you to financial success.
Casey Smith
President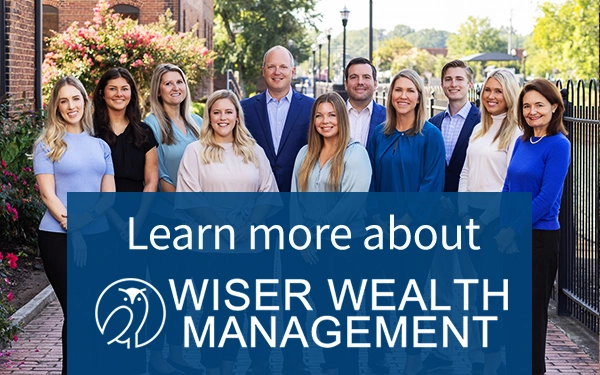 Share This Story, Choose Your Platform!
Wiser Wealth Management, Inc ("Wiser Wealth") is a registered investment advisor with the U.S. Securities and Exchange Commission (SEC). As a registered investment advisor, Wiser Wealth and its employees are subject to various rules, filings, and requirements. You can visit the SEC's website here to obtain further information on our firm or investment advisor's registration.
Wiser Wealth's website provides general information regarding our business along with access to additional investment related information, various financial calculators, and external / third party links. Material presented on this website is believed to be from reliable sources and is meant for informational purposes only. Wiser Wealth does not endorse or accept responsibility for the content of any third-party website and is not affiliated with any third-party website or social media page. Wiser Wealth does not expressly or implicitly adopt or endorse any of the expressions, opinions or content posted by third party websites or on social media pages. While Wiser Wealth uses reasonable efforts to obtain information from sources it believes to be reliable, we make no representation that the information or opinions contained in our publications are accurate, reliable, or complete.
To the extent that you utilize any financial calculators or links in our website, you acknowledge and understand that the information provided to you should not be construed as personal investment advice from Wiser Wealth or any of its investment professionals. Advice provided by Wiser Wealth is given only within the context of our contractual agreement with the client. Wiser Wealth does not offer legal, accounting or tax advice. Consult your own attorney, accountant, and other professionals for these services.
Sign up for our newsletter!
Our latest blogs, podcasts, and educational videos delivered to your inbox weekly.