5 Steps to Financial Success in Retirement
On today's episode of the Wiser Roundtable Podcast, the team goes over 5 steps to have financial success in retirement. Each step will be discussed in further detail in the weeks to come, so follow our series for more discussion on these simple yet effective strategies.
Listen on Apple Podcasts or watch on YouTube:
SUMMARY:
1. Manage Cash Flow
You want to have a clear picture of what your retirement income goals are, as well as how they correlate to your current budgetary needs. Understanding your cash flow and calculating how much you will need to last you through retirement is crucial to achieving continued financial success. Determine overall expenses as they pertain to your essential needs (i.e., food, clothing, housing, transportation, healthcare). Next, you want to factor in your discretionary items (travel, lifestyle expectations, etc.). Finally, you want to account for inflation – our firm estimates the historical average of a 2.25% increase annually. Outlining these two variables will help you get a better understanding of the steps you need to take in order to meet both your essential and discretionary needs as a retiree.
2. Build and Maintain Cash Reserves
During the accumulation phase (working years), you want to have a minimum of 3-6 months' worth of expenses set aside in your savings account for unanticipated changes to your financial situation. In the decumulation phase (retirement years), you want to focus on achieving peace of mind through the creation of a "cash bucket" – two years' worth of expenses set aside in cash-like security. Having enough cash to weather any economic storm allows you to continue participating in the market while staying protected from economic downturn.
3. Maintain Investing Discipline
While it may seem simple, focusing on continued discipline throughout your retirement years is important if you want to achieve financial freedom. Fear is a powerful motivator, so be vigilant in maintaining a diversified portfolio. Fixed income securities, while seemingly a "low-risk/steady-return investment," will not provide you with the kind of funds needed to account for annual inflation, rising healthcare costs, and desired flexibility throughout retirement. Keeping stocks in your portfolio and rebalancing, as needed, will combat these added costs.
4. Avoid Carrying Debt
Whether it's a car loan, mortgage, credit card debt or otherwise, it's essential to take the necessary steps to avoid carrying any debt into retirement. Our firm encourages all clients to aggressively pay down their mortgage prior to reaching retirement. In doing so, you allow yourself to circumvent continued interest payments. Knowing that your home and/or automobile(s) are paid for provides you with a deepened sense of financial peace.
5. Maximize Social Security
It's not just when – it's how. Maximizing social security by knowing when to start collecting, how to collect and when to spend can be complicated but knowing how to successfully navigate this territory will increase your ability to enjoy retirement. While eligible at age 62, it's not the best course of action. If claimed prior to your full retirement age (65 or 66), social security amounts are reduced in totality. Deferment (up until age 70) can provide you with an additional 8% annually, so be strategic! Over the coming weeks, our team will dive even deeper into each of these 5 steps to financial success in retirement, so stay tuned for more insightful input.
TIMESTAMPS:
1:09 Manage Cash Flow
6:01 Build and Maintain Cash Reserves
9:32 Maintain Investing Discipline
13:48 Avoid Carrying Debt
16:23 Maximize Social Security
LINKS:
Learn more about Casey Smith and connect with him on Twitter.
Learn more about Brad Lyons.
Learn more about Matthews Barnett.
CONNECT:
Twitter, Instagram, Facebook, LinkedIn, and YouTube.
Learn more about the Wiser Wealth Management Roundtable podcast and access previous episodes.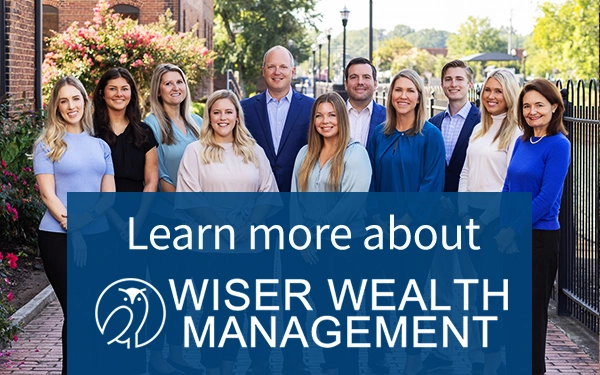 Is a high yield savings account right for you?
Casey Smith
Delta Pilots Guaranteed Variable Universal Life (GVUL) – What Action You Need to Take
Casey Smith
Share This Story, Choose Your Platform!
Wiser Wealth Management, Inc ("Wiser Wealth") is a registered investment advisor with the U.S. Securities and Exchange Commission (SEC). As a registered investment advisor, Wiser Wealth and its employees are subject to various rules, filings, and requirements. You can visit the SEC's website here to obtain further information on our firm or investment advisor's registration.
Wiser Wealth's website provides general information regarding our business along with access to additional investment related information, various financial calculators, and external / third party links. Material presented on this website is believed to be from reliable sources and is meant for informational purposes only. Wiser Wealth does not endorse or accept responsibility for the content of any third-party website and is not affiliated with any third-party website or social media page. Wiser Wealth does not expressly or implicitly adopt or endorse any of the expressions, opinions or content posted by third party websites or on social media pages. While Wiser Wealth uses reasonable efforts to obtain information from sources it believes to be reliable, we make no representation that the information or opinions contained in our publications are accurate, reliable, or complete.
To the extent that you utilize any financial calculators or links in our website, you acknowledge and understand that the information provided to you should not be construed as personal investment advice from Wiser Wealth or any of its investment professionals. Advice provided by Wiser Wealth is given only within the context of our contractual agreement with the client. Wiser Wealth does not offer legal, accounting or tax advice. Consult your own attorney, accountant, and other professionals for these services.
Sign up for our newsletter!
Our latest blogs, podcasts, and educational videos delivered to your inbox weekly.