A Million Dollar Morning Routine
On this episode of A Wiser Retirement™ Podcast, Casey Smith and Michaela Laney, talk about the components of a mentally and physically healthy morning routine, and how you can make changes in your life to create a million-dollar morning routine for yourself.
Listen on Apple Podcasts or watch on YouTube:
SUMMARY:
In previous podcasts, we've talked about artificial intelligence, more specifically chatGPT by openAI, and the amazing possibilities it offers its users when it comes to researching different topics. We've recently tried Bard by Google, and it is a very close competition to chatGPT. The constant development of technology impacts our lives on a daily basis. We consume technology in all its various forms 24/7, we can't argue that a lot of it is very beneficial and has helped us become more connected, informed and aware. As with everything in life, the "consumption of technology" also comes with its disadvantages. Using too much of the wrong resources can impact us in a negative way, and bring negativity into our lives, which then can reflect as un-productivity. For this reason, today we are talking about changes you can make in your life to create a million dollar morning routine.
Be Selfish With Your Mornings
Our mornings are what often determine how the rest of our day will go. It's important to have a morning routine that focuses on you, so you can go throughout your day being the best version of yourself for others. The same goes for what you consume in the first hours of your day. Just as we try to have breakfast that's nutritious to our bodies, we should nourish our minds the same way. Negativity will affect your mood, drive your productivity down, and even affect your decision making ability.
Be Consistent
Striving for a consistent routine might be one of the best things you'll ever do for yourself. Going to bed at the same time everyday and waking up early can improve your mood, metabolism, and focus. It also allows your mind to be sharper and more productive at work.
Choose Positivity
This goes back to how you start your mornings. Checking your phone as soon as you wake up can often generate the complete opposite of positivity. Staring at your phone to read Wall Street Journal headlines, an endless list of emails, and overshared Facebook posts will definitely start your day with the weight of the world on your shoulders. Instead, choose to partake in meditation, a quick morning yoga session, a morning run, or even write an entry on your gratitude journal. 
Get Moving
Getting your blood pumping in the morning reduces anxiety, depression and stress. It has also been proven to generate better sleep and attention span during the day.
Set Your Priorities
People in the business world know that you don't go into any meeting without knowing exactly what your accomplishment priorities are for that meeting. Having that vision for your day, week, month and year, can be crucial for achieving your goals. Eliminate the noise and focus on your goals and how you plan to achieve them.
Did you notice that we never mentioned checking your investment portfolio? Checking your portfolio daily will not increase its performance. Save yourself the headache and remember that as long as you are invested for the long term, whatever is happening in your portfolio right now won't change the fact that in 10 years from today, you will have made money with your investments.
Download our eBook on "Buyer Beware: Why do they keep trying to sell you that annuity?"
TIMESTAMPS:
0:00 Intro
09:44 Be Selfish With Your Mornings
13:50 Be Consistent 
19:15 Choose Positivity
21:00 Get Moving
24:30 Set Your Priorities
LINKS:
Learn more about Casey Smith and Michaela Laney
CONNECT:
Twitter, Instagram, Facebook, LinkedIn, and YouTube.
Learn more about A Wiser Retirement™ podcast and access previous episodes.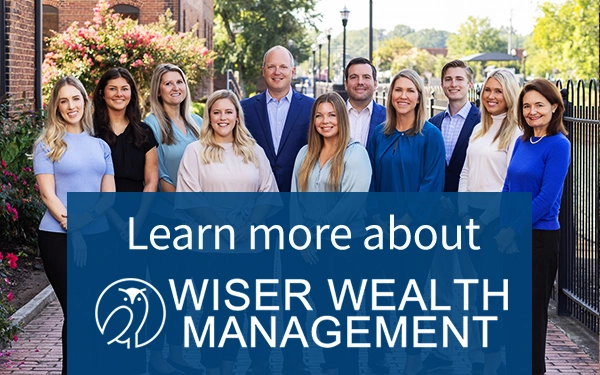 Share This Story, Choose Your Platform!
Wiser Wealth Management, Inc ("Wiser Wealth") is a registered investment advisor with the U.S. Securities and Exchange Commission (SEC). As a registered investment advisor, Wiser Wealth and its employees are subject to various rules, filings, and requirements. You can visit the SEC's website here to obtain further information on our firm or investment advisor's registration.
Wiser Wealth's website provides general information regarding our business along with access to additional investment related information, various financial calculators, and external / third party links. Material presented on this website is believed to be from reliable sources and is meant for informational purposes only. Wiser Wealth does not endorse or accept responsibility for the content of any third-party website and is not affiliated with any third-party website or social media page. Wiser Wealth does not expressly or implicitly adopt or endorse any of the expressions, opinions or content posted by third party websites or on social media pages. While Wiser Wealth uses reasonable efforts to obtain information from sources it believes to be reliable, we make no representation that the information or opinions contained in our publications are accurate, reliable, or complete.
To the extent that you utilize any financial calculators or links in our website, you acknowledge and understand that the information provided to you should not be construed as personal investment advice from Wiser Wealth or any of its investment professionals. Advice provided by Wiser Wealth is given only within the context of our contractual agreement with the client. Wiser Wealth does not offer legal, accounting or tax advice. Consult your own attorney, accountant, and other professionals for these services.
Sign up for our newsletter!
Our latest blogs, podcasts, and educational videos delivered to your inbox weekly.