Are Digital Currencies Right for You?
On today's episode of the Wiser Roundtable podcast, Casey Smith and Brad Lyons sit down to discuss digital currencies with Robert Swarthout. Robert is a serial tech entrepreneur and has a passion for researching and understanding digital currencies. The team discusses the different types of digital assets, how they are similar and different, plus tips on purchasing digital currencies.
Listen on Apple Podcasts or watch on YouTube:
SUMMARY:
Digital currency, also known as blockchain, crypto or digital assets, is a system of recording information that makes it difficult to change, hack or cheat the system. It is a type of database that tracks transactions. The database is secure and a primary feature is that it is never edited or changed. The memory of the transactions are linked in a time sequence and each transaction has a reference to the previous transaction.
There are around 4,600 digital currencies available. In essence, anyone can create a cryptocurrency, but the currency has little value unless people see a need for that particular currency. The digital currency must provide a value to the user or owner.
Bitcoin was the first cryptocurrency developed in the summer of 2009. It was initially a proof of concept and has risen to be the most well known cryptocurrency. Bitcoin is the number one currency based on market cap size. Ethereum is ranked number two and is a smart contracts platform called Ether (ETH). Ethereum is open access to digital money and data-friendly services for everyone – no matter your background or location. It's a community-built technology behind the cryptocurrency Ether (ETH).
XRP, created by the company Ripple, was created to help bring the speed down of cross border remittance. It is the native digital asset on the XRP Ledger—an open-source, permissionless and decentralized blockchain technology that can settle transactions in 3-5 seconds. VeChain is another firm that has developed the currency VET and VTHO. The VeChainThor blockchain platform is a public blockchain intended for "mass business adoption." VET is the VeChain token that is used to carry value or "smart money" from smart contracts. In other words, transactions on decentralized applications occurring on VeChain's blockchain will use VET. It is available for investing by the general public. Tether is another digital asset (USDT) whose sole purpose is to try to represent one tether equal to one US dollar. It's not a security, it calls itself a bridge asset.
With Bitcoin and many others, once you purchase the currency, typically on an exchange, you own them and can transfer them to other Bitcoin accounts. The Bitcoin network is a very computing intensive network because the system uses a great deal of math to prove each transaction occurred. Because of this, Bitcoin has a reputation of being bad for the environment due to the amount of electricity it uses to prove these transactions.
Digital currencies are transforming how companies like MoneyGram, Western Union and banks do business. These firms are being forced to evolve in the age of digital currencies. Other uses for digital currencies include the ability to sell stock more quickly. Another use is to prove that something is legitimate. For example, tracking the owners of fine wine or luxury goods. There are also blockchain companies that allow you to buy and sell real estate in blockchain transactions.
The team discusses whether digital currencies are speculative and the difference between buying digital assets versus going to a casino. The digital currency world relies on trust and digital currencies only work if they create value to their owners. Those digital assets that use technology to lower cost, increase security or improve efficiency will win in the long-term. Digital assets may also help those that are under-banked or do not use any form of banking today.
To purchase digital currencies, Robert recommends you use coinbase.com or uphold.com.  The team discusses when it makes sense to invest in digital assets and how much you should consider investing.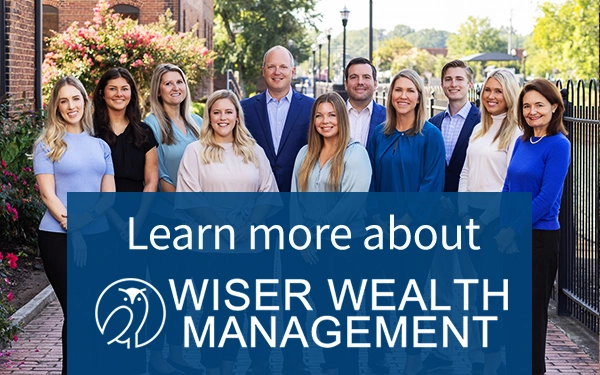 Share This Story, Choose Your Platform!
Wiser Wealth Management, Inc ("Wiser Wealth") is a registered investment advisor with the U.S. Securities and Exchange Commission (SEC). As a registered investment advisor, Wiser Wealth and its employees are subject to various rules, filings, and requirements. You can visit the SEC's website here to obtain further information on our firm or investment advisor's registration.
Wiser Wealth's website provides general information regarding our business along with access to additional investment related information, various financial calculators, and external / third party links. Material presented on this website is believed to be from reliable sources and is meant for informational purposes only. Wiser Wealth does not endorse or accept responsibility for the content of any third-party website and is not affiliated with any third-party website or social media page. Wiser Wealth does not expressly or implicitly adopt or endorse any of the expressions, opinions or content posted by third party websites or on social media pages. While Wiser Wealth uses reasonable efforts to obtain information from sources it believes to be reliable, we make no representation that the information or opinions contained in our publications are accurate, reliable, or complete.
To the extent that you utilize any financial calculators or links in our website, you acknowledge and understand that the information provided to you should not be construed as personal investment advice from Wiser Wealth or any of its investment professionals. Advice provided by Wiser Wealth is given only within the context of our contractual agreement with the client. Wiser Wealth does not offer legal, accounting or tax advice. Consult your own attorney, accountant, and other professionals for these services.
Sign up for our newsletter!
Our latest blogs, podcasts, and educational videos delivered to your inbox weekly.