Biden's Student Loan Forgiveness Plan
As we discussed in a podcast last year, Americans owe over $1.7 trillion in student loan debt spread out over 44 million borrowers. This is now over $700 billion more than credit card debt which has also skyrocketed. Additionally, college costs can increase at over 6% per year and total costs can be crippling. Applying for student loans can cover these costs, but they can also add up and become a big problem for students trying to start their lives once they graduate. One plan discussed by Biden during his campaign run, and now that he is in office, is the forgiveness of certain public student loans. During the election, Biden vowed to forgive $50,000 in federal loan debt. Since being elected, he is getting pushback on the $50,000 amount and support is more likely to forgive $10,000 in student loan debt.
According to SavingforCollege.com, among the class of 2019, almost 69% of students took out student loans and graduated with an average of $29,900 including various private and public debts. In addition, 14% of parents took out over $37,000 in parent Plus Loans.
Some 56% of seniors graduating from public and nonprofit colleges in 2019 had student loan debt. Average debt at graduation from public and nonprofit colleges was around $28,800. Also, 75% of graduates from private, nonprofit colleges had loans with debt of $32,300. (Data via TICAS.org here, here, and here, and the College Board here.)
Below is the breakdown of how these various federal student loan programs work.
Source: Federal Student Aid
Although nothing has been proposed officially on the forgiveness plan, the Biden administration is stating we should know more by the end of this month. The Cares Act first stopped federal student loan payments during the middle of the pandemic until Sept. 30, 2020. It was then decided that things were not improving in the economy and it was extended through January 31st, 2021. In his first $1.9 trillion stimulus package, Biden did not include details of the plan, but he did immediately address continued suspension until September 20th, 2021.
Usually, when other loans like public service loans are forgiven for various reasons in the public sector, the person has to pay certain taxes on the amount forgiven. Biden is proposing a way to make this a nontaxable event. Kiplinger wrote that the future plan could also include limiting student loan payments to 5% of a person's discretionary income over $25,000, forgiving student loans for those with over 20 years of payments. He also called for two-year community college, as well as other specialty associate programs, to be free and to make public college tuition free for all families with incomes below $125,000.
We typically encourage our clients to pay off all debts as soon as possible, but with changes expected from Biden's plan, we are navigating this a bit differently until a decision is made. Since there are no federal student loan payments required at this time and interest is not accruing, we are advising our clients to divert what you would pay toward your student loan and pay down other debt or build up an emergency savings. If student loans are forgiven in October, that will put you in a good financial position, but even if not, you will be ready to start paying again while still being in a better spot financially.
College planning as well as debt analysis are all part of the financial planning process. Debt can sometimes seem overwhelming, but having a proper plan in place allows for peace of mind, options for retirement savings and financial freedom by paying your future self and not others.
Click here to schedule a complimentary consultation to learn more.
Matthews Barnett, CFP®, ChFC®, CLU®
Financial Planning Specialist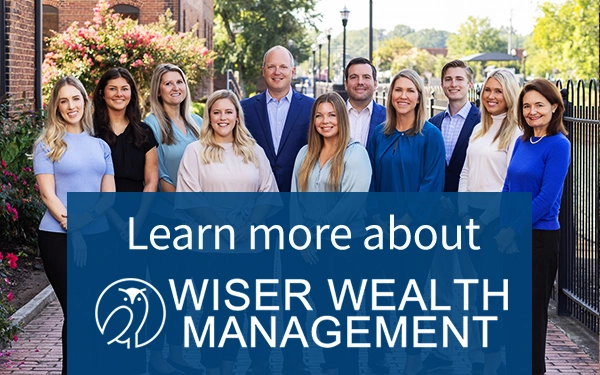 Share This Story, Choose Your Platform!
Wiser Wealth Management, Inc ("Wiser Wealth") is a registered investment advisor with the U.S. Securities and Exchange Commission (SEC). As a registered investment advisor, Wiser Wealth and its employees are subject to various rules, filings, and requirements. You can visit the SEC's website here to obtain further information on our firm or investment advisor's registration.
Wiser Wealth's website provides general information regarding our business along with access to additional investment related information, various financial calculators, and external / third party links. Material presented on this website is believed to be from reliable sources and is meant for informational purposes only. Wiser Wealth does not endorse or accept responsibility for the content of any third-party website and is not affiliated with any third-party website or social media page. Wiser Wealth does not expressly or implicitly adopt or endorse any of the expressions, opinions or content posted by third party websites or on social media pages. While Wiser Wealth uses reasonable efforts to obtain information from sources it believes to be reliable, we make no representation that the information or opinions contained in our publications are accurate, reliable, or complete.
To the extent that you utilize any financial calculators or links in our website, you acknowledge and understand that the information provided to you should not be construed as personal investment advice from Wiser Wealth or any of its investment professionals. Advice provided by Wiser Wealth is given only within the context of our contractual agreement with the client. Wiser Wealth does not offer legal, accounting or tax advice. Consult your own attorney, accountant, and other professionals for these services.
Sign up for our newsletter!
Our latest blogs, podcasts, and educational videos delivered to your inbox weekly.