Building a Legacy Beyond Stocks and Bonds
Truett Cathy, the founder of Chick-fil-A, has left a profound legacy for his family, friends, and broader community. While his name may bring your attention to the chicken the United States has come to love, his legacy extends far beyond his contributions to the fast-food industry. Cathy has raised his family to remember that family, business, and church are one-in-the-same. His legacy is not one established on his wealth, but one that is established on the values he has and the foundation of success he has laid for his family.
Building a Legacy
Most of us have not accumulated wealth like that of the Cathy's, however, all of us will leave a legacy one day. The joy is we get to choose if our legacy is a positive impact unto others or a negative one. When you think of your grandma or your dad, you won't think of the times they stayed late at work or the times they gave you a neat gift. More than likely, you'll think of a moment where they made you feel loved, seen, and cherished. You can leave a legacy beyond material wealth; you can leave a legacy of memories.
A Family Home
You may not have the real estate giant that is Chick-fil-A. But, you may have a lake house by the water, a cabin in the mountains, or a farmhouse in the country… all places where families can gather to build memories. Right now, with the wave of Airbnb and VRBO rental properties, it is easier as ever to get a vacation home that doubles as a second income. This is a great opportunity to not only have the dream property you've always wanted, but to make it a place for your family to share special moments. This is a home that could be passed down for generations. It will likely continue to appreciate in a growing real estate market. When it comes time to pass it down, make sure the property is on a step-up basis at death to then be applied for a 1031 Exchange. This will help the recipient not have to carry such a large tax burden.
Recipe Book and Family Bonds
Grandparents always have the best home cooked meals. My granny makes the best Chicken'n'Dumplings. She learned the recipe from her mom who learned it from her mom and now five generations later I am getting to learn the very same recipe to pass on to my children one day. You may not be the inventor of the Baptist Bird of Chick-fil-A, but that dish you make for every family potluck will be a piece of your legacy. Pass it on to the next generation so that they can share the same generational and familial bonds.
Instilling Values in the Next Generation
Children are receptors, young and old. They receive everything we give them, even the things we don't want them to have. As you navigate intentionally passing down your legacy be sure to make your family mission statement known. If you want more information about forming a family mission statement, read our previous blog. The Cathy's family mission statement coincides with their business mission statement of, "To glorify God by being a faithful steward of all that is entrusted to us." This statement has given the expectation and standard for future generations as they become family heirs. Don't shy away from uncomfortable conversations, one day you will wish you had them.
Leave More than Monetary Inheritance
At the end of the day, remember that your monetary inheritance to your family is slim compared to that of your emotional and mental contributions. Your family will not remember you for the success you had at your job or the time you cut their sandwiches into stars like all the cool Pinterest mom's. They'll remember your legacy by being the person that cared for them and stood by their side as they walked through life by answering the call with their favorite meal, a wise word, or a much-needed escapade to the mountains with family. Lean into those moments, those are the ones you won't get back. That's your legacy.
Have more questions? Contact Us
Michaela Dowdy
Financial Planning Associate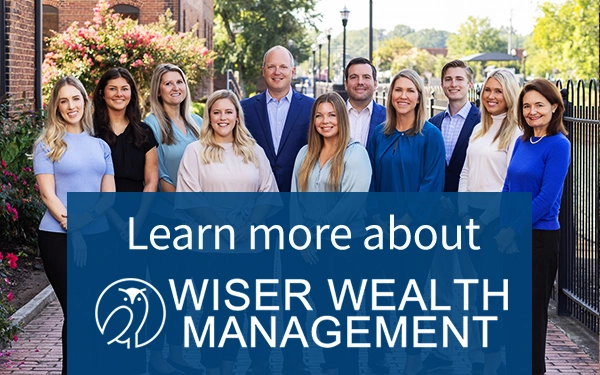 Share This Story, Choose Your Platform!
Wiser Wealth Management, Inc ("Wiser Wealth") is a registered investment advisor with the U.S. Securities and Exchange Commission (SEC). As a registered investment advisor, Wiser Wealth and its employees are subject to various rules, filings, and requirements. You can visit the SEC's website here to obtain further information on our firm or investment advisor's registration.
Wiser Wealth's website provides general information regarding our business along with access to additional investment related information, various financial calculators, and external / third party links. Material presented on this website is believed to be from reliable sources and is meant for informational purposes only. Wiser Wealth does not endorse or accept responsibility for the content of any third-party website and is not affiliated with any third-party website or social media page. Wiser Wealth does not expressly or implicitly adopt or endorse any of the expressions, opinions or content posted by third party websites or on social media pages. While Wiser Wealth uses reasonable efforts to obtain information from sources it believes to be reliable, we make no representation that the information or opinions contained in our publications are accurate, reliable, or complete.
To the extent that you utilize any financial calculators or links in our website, you acknowledge and understand that the information provided to you should not be construed as personal investment advice from Wiser Wealth or any of its investment professionals. Advice provided by Wiser Wealth is given only within the context of our contractual agreement with the client. Wiser Wealth does not offer legal, accounting or tax advice. Consult your own attorney, accountant, and other professionals for these services.
Sign up for our newsletter!
Our latest blogs, podcasts, and educational videos delivered to your inbox weekly.