Rick Bemis joins the podcast today to discuss struggling through a job loss.  Rick owns Rick Bemis Counseling services and previously worked for Delta Airlines as a regional manager for the Delta Employee Assistance program.  Rick was also Assistant Director of the Faculty Staff Assistance program at Emory University and Healthcare.  He joins the show today to discuss how to handle the stress of a job loss, the pandemic and election.
Listen on Apple Podcasts or watch on YouTube:
SUMMARY
On today's episode we discuss job loss and coping with the stress of economic uncertainty, the pandemic, home schooling and more.  Rick Bemis is a counselor who has spent his career helping people through difficult times.  Wiser Wealth Management has many clients that work in the aviation industry.  Aviation has been hit particularly hard by the pandemic.  Many airlines have announced early retirement programs and furloughs.  Specifically, major US regional carrier ExpressJet Airlines ceased operations on September 30 of this year. Between the pandemic and election people are feeling very anxious and struggling with the stress of the current environment.  There is a lot of negativity at the moment that can impact your mental health.  The idea of avoiding toxic exposure is important along with surrounding yourself with positivity and positive people.
How to avoid toxic exposure?
Reading and watching the news can heighten our stress levels.  The best way to avoid this type of toxic exposure is to avoid the news throughout the day.  One strategy is to get a little news in the morning, but then go about your day and avoid reading and watching the news for the rest of the day.
When you are coping with a loss of career you are also coping with the loss of an identity.  For pilots, it can be incredibly difficult because of the responsibility of the job.  In addition to a loss of identity, there is also the stress related to loss of income.
How do you avoid substance abuse during difficult times?
Increased use of nicotine and alcohol is something to be aware of during stressful times.  During the pandemic, many people are finding themselves drinking more due to being at home more.  Substance abuse is typically masking anxiety and/or depression.  One tip for how to avoid anxiety and depression is think about the things you really enjoy doing or think about what you loved doing as a child and find those outlets that are meaningful to you and get out and do them.
During stressful times, you are bound to ruminate more on problems than solutions.  Make sure you fill your time with people and things you enjoy.
Finding a new job or making a career change
When dealing with a job loss, it is important for you to think about what transferrable skills you have.  As a pilot, leadership is an excellent skill that could be exploited in a new career.  You never know what path your life will lead.  Looking for a job without a job is a little more difficult but it is important to remember that it is due to the pandemic, not due to your job performance.
It is also important that we support one another and help one another during these challenging times.  Oftentimes people just need someone to listen to them and provide affirmation.  If you know someone that recently experienced a job loss, Rick recommends you ask them how they are doing.  Be supportive and encouraging.
People can also turn to the counseling community for help.  In many situations, mental health and counseling services are part of your health benefits.  For example, Delta offers 7 free counseling sessions through the Employee Assistance Program.  Don't be afraid to use these benefits.  Counseling is a great way to work with someone on problem solving and discuss what is going on.
Wiser Wealth is committed to your fiscal health
Wiser Wealth Management is committed to helping you with your fiscal health.  We can assist you with your overall financial health to include debt management, unemployment benefits, COBRA, etc.  We offer a complimentary meeting to assess your financial health and help you create a path forward.
As always, please call our office and schedule an appointment if you have any questions about your financial health in these difficult times.  We are happy to sit down with you to review your financial plan and provide guidance.
CONNECT:
Twitter, Instagram, Facebook, LinkedIn, and YouTube.
Learn more about A Wiser Retirement podcast and access previous episodes.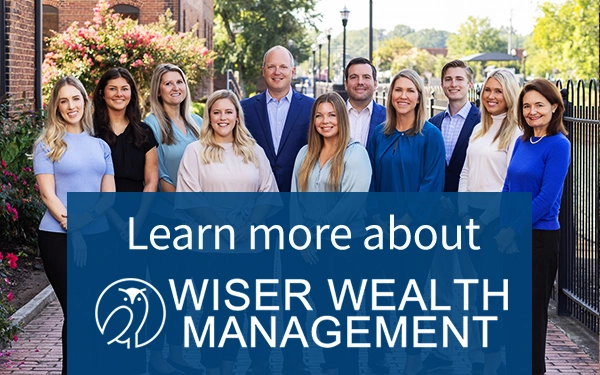 Share This Story, Choose Your Platform!
Wiser Wealth Management, Inc ("Wiser Wealth") is a registered investment advisor with the U.S. Securities and Exchange Commission (SEC). As a registered investment advisor, Wiser Wealth and its employees are subject to various rules, filings, and requirements. You can visit the SEC's website here to obtain further information on our firm or investment advisor's registration.
Wiser Wealth's website provides general information regarding our business along with access to additional investment related information, various financial calculators, and external / third party links. Material presented on this website is believed to be from reliable sources and is meant for informational purposes only. Wiser Wealth does not endorse or accept responsibility for the content of any third-party website and is not affiliated with any third-party website or social media page. Wiser Wealth does not expressly or implicitly adopt or endorse any of the expressions, opinions or content posted by third party websites or on social media pages. While Wiser Wealth uses reasonable efforts to obtain information from sources it believes to be reliable, we make no representation that the information or opinions contained in our publications are accurate, reliable, or complete.
To the extent that you utilize any financial calculators or links in our website, you acknowledge and understand that the information provided to you should not be construed as personal investment advice from Wiser Wealth or any of its investment professionals. Advice provided by Wiser Wealth is given only within the context of our contractual agreement with the client. Wiser Wealth does not offer legal, accounting or tax advice. Consult your own attorney, accountant, and other professionals for these services.
Sign up for our newsletter!
Our latest blogs, podcasts, and educational videos delivered to your inbox weekly.