Crypto News Update: SBF Using 10x Leverage on His Bail
On this episode of The Wiser Crypto Investor Podcast, Casey Smith and Robert Swarthout talk about the latest news from SBF, Binance looking for a new auditor, the Celsius bankruptcy case, the new Netflix documentary, and DCG.
Listen or Watch:
SUMMARY:
Binance is Looking for a New Auditor
Binance, is looking for a new auditor since the big four accounting firms have all declined to audit their business even though all four have an extended history of working with Coinbase. One of the reasons could be that Binance doesn't have a headquarters, therefore no physical address. They claim to be an online company that is simply everywhere. There are rumors that Binance has ties to the Chinese government, but nobody has been able to prove those rumors to be true.
Sam Bankman-Fried (SBF) Update
Bail
Sam Bankman-Fried has been extradited and released to house arrest on a $250M bail. The way bail works is, 10% must be put up front as collateral. So, his parents put up their house, which is worth roughly $4M. In addition, two mystery friends completed the remainder needed of the $25M, which makes up 10% of the whole amount.
Not Guilty
Roughly a week after he was home, he had a hearing in court where he pled not guilty to the fraud crimes committed. This was done after Caroline Ellison pled guilty to 7 charges and faces a sentence of 110 years. Additionally, Gary Wang too pled guilty to 4 charges and faces 50 years in prison. Sam's strategy seems to be that he believes the court will not fully understand the problem. He will then try to portray it as things just got away from him too quickly and became too complex. It is obvious that he will definitely be charged for something, but he probably hopes that he'll be convicted and sentenced to much less than if he came clean 100%.
The Law and its Enforcers
There are rumors that the prosecutors from the Southern District of New York have been telling attorneys involved in this case that it is likely that they will exhaust all their resources in this case because it's that vast and complex. It could take someone's whole career time to fully unravel the whole case. Furthermore, the judge originally assigned to the SBF case stepped down because her husband's law firm has done work for FTX in the past. $456M worth of Robinhood shares owned by SBF, which were likely purchased with customers' funds, were seized by the DOJ. Finally, as if the whole story didn't have enough complexity, to add to it, it is known that SBF's attorney is married to an SEC enforcement attorney. One can only hope that one fact won't influence the other.
Celsius Bankruptcy Case
There is also a Celsius bankruptcy case that has been going on. The judge taking care of the case just this last week ruled that the assets that were deposited to earn interest became assets of the estate. This means that the customers do not have the right to them in bankruptcy.
"Trust No One: The Hunt for the Crypto King"
The Hunt for the Crypto King is a very interesting documentary on Netflix. It talks about this Canadian-based crypto company (QuadrigaCX) and its owner, who suddenly and mysteriously passed away while on vacation. With him went the passwords to some of the funds. Interestingly enough, last week the five wallets attributed to QuadrigaCX that were thought to be lost forever, started moving Bitcoin.
Genesis- DCG- Gemini
DCG is the parent company to Genesis. They are all into a very big mess. DCG has Bitcoin trust, and it is trading at a huge discount. People that have bought into that are probably never going to get made whole. SEC has regulated it in some level. However, part of what DCG did is they took out a loan from one of their other subsidiaries, to buy what they thought were discounted shares in the Bitcoin trust but they've continued to go down in value. For the industry's sake, the hope is that they contain this mess and don't let it spill out to the whole market.
In conclusion, the takeaway from today's news update is that without regulation there's less transparency and therefore more insecurity from investors. The hope for 2023 is that the pending frauds and illegal proceedings from 2022 will be solved as soon as possible so the second half of 2023 will look brighter for crypto investors.
Download our eBook: "Top Reasons Most Financial Plans Fail"
TIMESTAMPS:
0:00 Intro
01:05 Binance
07:45 Sam Bankman-Fried (SBF)
17:15 Celsius
24:17 "Trust No One: The Hunt for the Crypto King"
27:16 Genesis- DCG- Gemini
LINKS:
Learn more about Casey Smith, President of Wiser Wealth Management.
Learn more about Robert Swarthout, Founder, CEO & Portfolio Manager of Teton Crypto Capital.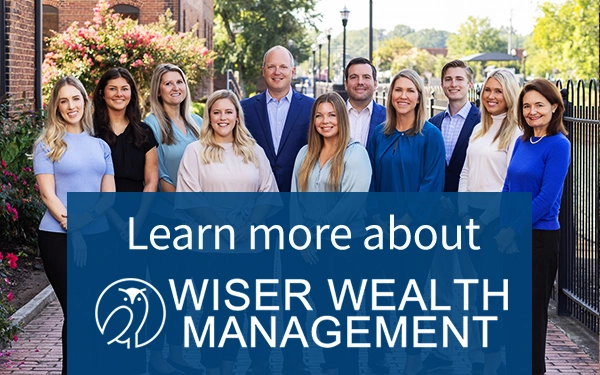 Is a high yield savings account right for you?
Casey Smith
Delta Pilots Guaranteed Variable Universal Life (GVUL) – What Action You Need to Take
Casey Smith
Share This Story, Choose Your Platform!
Wiser Wealth Management, Inc ("Wiser Wealth") is a registered investment advisor with the U.S. Securities and Exchange Commission (SEC). As a registered investment advisor, Wiser Wealth and its employees are subject to various rules, filings, and requirements. You can visit the SEC's website here to obtain further information on our firm or investment advisor's registration.
Wiser Wealth's website provides general information regarding our business along with access to additional investment related information, various financial calculators, and external / third party links. Material presented on this website is believed to be from reliable sources and is meant for informational purposes only. Wiser Wealth does not endorse or accept responsibility for the content of any third-party website and is not affiliated with any third-party website or social media page. Wiser Wealth does not expressly or implicitly adopt or endorse any of the expressions, opinions or content posted by third party websites or on social media pages. While Wiser Wealth uses reasonable efforts to obtain information from sources it believes to be reliable, we make no representation that the information or opinions contained in our publications are accurate, reliable, or complete.
To the extent that you utilize any financial calculators or links in our website, you acknowledge and understand that the information provided to you should not be construed as personal investment advice from Wiser Wealth or any of its investment professionals. Advice provided by Wiser Wealth is given only within the context of our contractual agreement with the client. Wiser Wealth does not offer legal, accounting or tax advice. Consult your own attorney, accountant, and other professionals for these services.
Sign up for our newsletter!
Our latest blogs, podcasts, and educational videos delivered to your inbox weekly.