Latest in Crypto News- December 2022
On this episode of The Wiser Crypto Investor Podcast, Casey Smith and Robert Swarthout talk about the latest in crypto news as of December 2022, the continued drama with the FTX fallout, The Block, SEC x Ripple update, and the Binance audit.
Listen or Watch:
SUMMARY:
Sam Bankman-Fried (SBF) and FTX
Sam Bankman-Fried was arrested on the night of December 12, 2022, in the Bahamas. While a lot has happened in the last month since the initial FTX meltdown, SBF has continued to give interviews. The This case is different from anything we've seen before.
The current FTX CEO, John J. Ray, who testified before congress, said that since the beginning of FTX.com, Alameda, and FTX.us, everything was run as one account. Due to this, we can tell that the FTX terms of use that customers agreed to is not what was truly happening.
Alameda Research's CEO, Caroline Ellison, was spotted in Manhattan at the beginning of December 2022. Although she likely has some degree of responsibility in the FTX case, she may be in Manhattan to talk about SBF. SBF has been claiming on his "media tour" that Alameda was the problem all along, so we can infer that Caroline Ellison has the motivation to say what she knows regarding the case.
Terra Luna
Spring of 2022 is when Terra Luna crashed. They had an algorithmic Stablecoin, which is backed by assets. Meaning, the algorithm tries to balance the assets. At the time, Terra Luna may have been taken out by Alameda and FTX, but if we fast-forward to November 2022, the loss that Alameda may have accrued by trying to take Terra Luna down, could have been one of the reasons why they lacked enough assets in the bank. Probably more will come out of this as the bankruptcy proceeds.
The Block: News and Research on Digital Assets
The Block is a new new website with the latest news and research on digital assets. Their website usually has quality content regarding crypto, as opposed to other websites that are poorly written and formatted. However, it came out that SBF had been sending money to the CEO/owner of The Block and was funding the whole business. This then brings to question the impartiality of The Block and its longevity. The business partners and CEOs of the company claim to not know this was going on. So, now they are trying to figure out how to proceed to save the company.
SEC x Ripple Update
As of December 3, 2022, Ripple has filed its reply to the SEC's opposition to Ripple's motion for summary judgment. The case is in the judge's hands at this point, and she could rule on it at any time. Most likely that won't happen until sometime in the first quarter of 2023.
Gary Gensler, chair of the U.S. Securities and Exchange Commission, gave an interesting interview recently at Yahoo Finance talking about crypto regulations. In this interview, he also likened crypto to crypto casinos, saying they should come into compliance with the law. It seemed as if he was trying to associate crypto with gamblers and have a negative connotation. However, the irony of this analogy is that casino chips are not securities. Many agree that there should be regulations and more laws regarding cryptocurrencies. It seems like there's a motivation in the house of representatives to create some type of regulation around cryptocurrencies.
Stablecoin USDC
The Stablecoin USDC could soon have access to the Fed window for RRP. This would be done through a separately managed government-only money fund. Rumors are that 80% of the USDC reserves that are backing the token would be moved into this fund.
Across the globe, China announced that their digital yuan has an expiration date, so users must use the funds and not be allowed to save. This might be a trial they're running because they want to ensure that people are using it. However, they're still proving that they can make your money expire.
The Binance Audit
Binance, the company responsible for the exposure of FTX, released an audit stating they have reserves to cover all customer liabilities. The auditor of the results would not vouch for the method that Binance requested they use. This is the risk with investments where other people hold your money, they can take your assets even if there may be an agreement saying they won't. It's important to self-custody your assets. These audits are something that needs to happen regularly to make sure that there's consistency all across.
TIMESTAMPS:
0:00 Intro
04:40 Sam Bankman-Fried (SBF) and FTX
14:14 Terra Luna
16:02 The Block: News and Research on Digital Assets
23:48 SEC x Ripple Update
32:30 Stablecoin USDC
36:13 The Binance Audit
LINKS:
Learn more about Casey Smith and connect with him on Twitter.
Learn more about Robert Swarthout.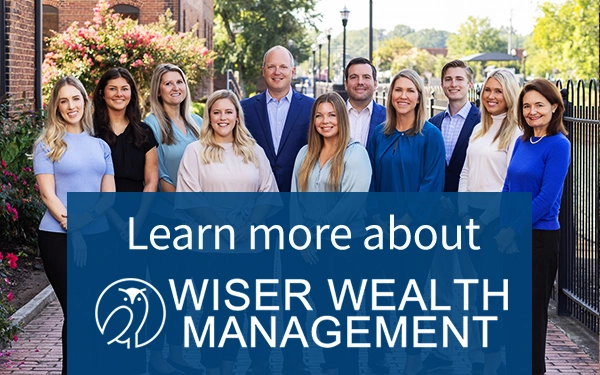 Is a high yield savings account right for you?
Casey Smith
Delta Pilots Guaranteed Variable Universal Life (GVUL) – What Action You Need to Take
Casey Smith
Share This Story, Choose Your Platform!
Wiser Wealth Management, Inc ("Wiser Wealth") is a registered investment advisor with the U.S. Securities and Exchange Commission (SEC). As a registered investment advisor, Wiser Wealth and its employees are subject to various rules, filings, and requirements. You can visit the SEC's website here to obtain further information on our firm or investment advisor's registration.
Wiser Wealth's website provides general information regarding our business along with access to additional investment related information, various financial calculators, and external / third party links. Material presented on this website is believed to be from reliable sources and is meant for informational purposes only. Wiser Wealth does not endorse or accept responsibility for the content of any third-party website and is not affiliated with any third-party website or social media page. Wiser Wealth does not expressly or implicitly adopt or endorse any of the expressions, opinions or content posted by third party websites or on social media pages. While Wiser Wealth uses reasonable efforts to obtain information from sources it believes to be reliable, we make no representation that the information or opinions contained in our publications are accurate, reliable, or complete.
To the extent that you utilize any financial calculators or links in our website, you acknowledge and understand that the information provided to you should not be construed as personal investment advice from Wiser Wealth or any of its investment professionals. Advice provided by Wiser Wealth is given only within the context of our contractual agreement with the client. Wiser Wealth does not offer legal, accounting or tax advice. Consult your own attorney, accountant, and other professionals for these services.
Sign up for our newsletter!
Our latest blogs, podcasts, and educational videos delivered to your inbox weekly.