Crypto Special: Crypto is Here to Stay
On this special crypto episode of The Wiser Retirement™ Podcast, Casey Smith and Robert Swarthout talk about how cryptocurrency is here to stay, crypto proof of work, staking, and recent news in the crypto market. Robert is the Founder, CEO, and Portfolio manager of Teton Crypto Capital. He will be joining Casey once a month for a special crypto episode.
Listen or Watch:
SUMMARY:
If you are not very familiar with crypto but listen to financial news, you have probably heard a lot of negative information about the topic lately. That is primarily because of the FTX scandal, and other companies declaring bankruptcy. Nonetheless, financial services experts have proclaimed that crypto is here to stay. Therefore, it is important to learn about it, even if it is not a form of investment you are interested in. It is very clear that 2022 was not the year for crypto. But the truth of the matter is that even so, crypto didn't go away. 
Who's buying crypto now?
Many late investors who heard of crypto investments from friends and acquaintances claim to have lost a lot of money in 2022. This created a common fear among the general public.  You might ask yourself then, who are the people who are still interested in investing in cryptocurrencies today? The answer is, mostly high-net-worth individuals. 
What's the best strategy for buying Crypto in 2023?
When buying crypto, it's important to consider funds that solve commercial problems. As opposed to the big push for crypto to have a presence in the retail world, business problems will be the first movers to start using crypto. A simple example of how crypto can solve business problems are international wire transfers. Currently, in the United States, we use a system called Swift. This system was developed in the '70s. Crypto has the potential to reinvent the whole system, making it much faster and cheaper to send and receive money to and from other countries. "Your margin is my opportunity." Jeff Bezos. This essentially means being willing to work at a thin margin where others have been working with a more significant one. This allows you to succeed when others feel like they're struggling. 
In addition, to make a smarter crypto investment find a market that you're passionate about or interested in. Start small, don't buy a lot in the beginning, and remember if your perspective is less than a year it's better to go buy a lottery ticket. Keep in mind that all investments need time, so give it at least 3 to 5 years. 
"First, they ignore you, then they laugh at you, then they fight you, then you win." Mahatma Gandhi.  The crypto market seems to be in the fighting stage. Therefore, even though the volatility in crypto has been 2 to 3 times higher than Nasdaq, crypto is here to stay, and we hope for the winning phase to come soon.
What is Stacking?
Bitcoin was the first blockchain and it is proof of work. Proof of work means, computers doing very complex math guessing numbers, and basically trying to win the lottery in a set period of time. A block in bitcoin takes roughly around 10 minutes and it tries to guess numbers to win a reward.  The reward, in this case, would be bitcoin. 
Proof of stake is a yet more advanced technique. It consists of staking the tokens you hold, or basically delegating the voting power to a validator. A validator runs a server or a computer on the network, and they usually have to have so many tokens to be considered a validator. As part of the transactions that they process, as true transactions, the validator receives rewards or part of the transaction fees. They then share with the people that stake their tokens with them. They get paid in the same kind of coin, from the network. 
Why is all this important? The SEC clearly thinks it's important. In fact, the reason why we chose to talk about staking this week versus all other education topics on crypto is because the SEC sued Kraken specifically over their staking services. Kraken did not admit any wrongdoing but they have made the decision to shut down their staking services for US customers only, in addition to paying U$30M fine. The SEC is acting as if this is a win when in fact the US consumer is definitely at a loss. Coinbase which is a publicly traded company has similar practices to Kraken. However, the difference between Kraken and Coinbase is that Kraken was apparently promising returns that appeared to be higher than the network was producing. Coinbase's chief council claims that what they do is divergent from what Kraken was doing. 
An SEC commissioner put a press release out on the website and talked about the case with Kraken. She said it was paternalistic and lazy to do what they did.
Where do we stand in having digital currency in the US?
The US is a 2 tier banking system. The US will probably be the last one to adopt SBDC. On the surface SBDC will be much like some of the services we already use such as Venmo, and Zelle. The risk that we currently don't have is the transaction data being reported. China is much farther ahead in trying out the SBDC, the government knows everything citizens are buying. When money becomes programmable other possibilities come with it, good and bad. 
Download our eBook: "Top Reasons Most Financial Plans Fail"
TIMESTAMPS:
00:00 Intro
06:15 Who's buying Crypto Now?
07:35 What Would Be Considered the Best Strategy for Buying Crypto in 2023?
14:35 What is Staking?
38:35 Where do We Stand in Having a Digital Currency in the US?
LINKS:
Learn more about Casey Smith, President of Wiser Wealth Management.
Learn more about Robert Swarthout, Founder, CEO & Portfolio Manager of Teton Crypto Capital.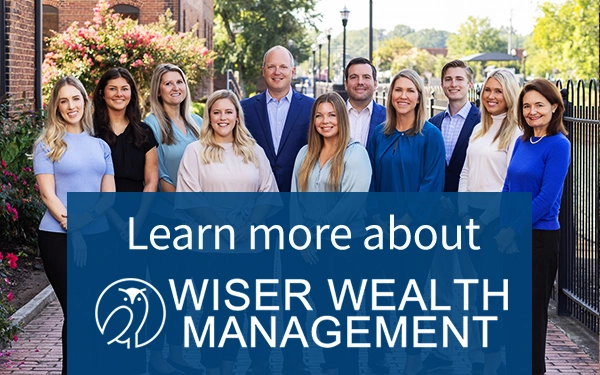 Share This Story, Choose Your Platform!
Wiser Wealth Management, Inc ("Wiser Wealth") is a registered investment advisor with the U.S. Securities and Exchange Commission (SEC). As a registered investment advisor, Wiser Wealth and its employees are subject to various rules, filings, and requirements. You can visit the SEC's website here to obtain further information on our firm or investment advisor's registration.
Wiser Wealth's website provides general information regarding our business along with access to additional investment related information, various financial calculators, and external / third party links. Material presented on this website is believed to be from reliable sources and is meant for informational purposes only. Wiser Wealth does not endorse or accept responsibility for the content of any third-party website and is not affiliated with any third-party website or social media page. Wiser Wealth does not expressly or implicitly adopt or endorse any of the expressions, opinions or content posted by third party websites or on social media pages. While Wiser Wealth uses reasonable efforts to obtain information from sources it believes to be reliable, we make no representation that the information or opinions contained in our publications are accurate, reliable, or complete.
To the extent that you utilize any financial calculators or links in our website, you acknowledge and understand that the information provided to you should not be construed as personal investment advice from Wiser Wealth or any of its investment professionals. Advice provided by Wiser Wealth is given only within the context of our contractual agreement with the client. Wiser Wealth does not offer legal, accounting or tax advice. Consult your own attorney, accountant, and other professionals for these services.
Sign up for our newsletter!
Our latest blogs, podcasts, and educational videos delivered to your inbox weekly.