Differences between Medicare A, B, D, Medigap and Advantage
On this episode of A Wiser Retirement Podcast, Casey Smith, Matthews Barnett, CFP®, ChFC®, CLU®, and Brad Lyons, CFP® talk about the differences between Medicare A, B, D, Medigap and Advantage. They also explain Medicare for employees, the process of switching from Advantage to Medigap, and offer advice on how often to review your plan.
SUMMARY:
Medicare for Employees
Pay close attention to how many employees the company you work for has so you know whether you need to apply for Medicare or not. If you work for a firm that has less than 20 employees, Medicare will become primary and your group coverage secondary. If your company has over 20 employees, you have the option of deferring and taking your primary group coverage up until you retire. It is important to apply within eight months of no longer working for that employer to be eligible for Medicare. To avoid high premiums, make sure to apply within three months after you turn 65.
Medicare Part A
Medicare Part A covers any services you can receive through a hospital. This would include in-patient care, skilled nursing, and hospice care. If you have paid into social security for a certain number of quarters and are age 65, you can receive Part A with no premium.
Medicare Part B
Medicare Part B covers any out-patient services. This would include X-rays, minor surgeries, routine physicals, and more. Part B premiums are frequently more expensive than Part A and have risen significantly in the last year. These premiums are commonly based on income.
Medicare Part D
Medicare Part D covers prescription drugs. If you use Part D, it is important to reevaluate it each year because they often switch out the prescriptions that are covered.
Advantage Plans
The advantage plan can be considered a one size fits all plan. It is in-network, the least expensive, and in some cases includes vision and dental coverage. If you travel a lot or have certain specialists, another plan may work better for you because it does not cover out of network coverages.
Medigap Options
If you choose the Medicare A,B, and D plan, it is important to have a Medigap policy. There are many Medigap options to choose from that will get you full coverage, the most popular being Medigap G. Without Medigap, there will be a 20% co-insurance gap to fill in, which could be detrimental if there is a medical emergency.
Is it possible to switch from Advantage to Medicare A,B,D, and Medigap?
It is possible to switch from Advantage to Medicare A,B,D, and Medigap. However, you have to be careful because there is a certain time period in which you are eligible for Medigap policies. If you miss that time period, Medigap coverage is not guaranteed. This could cause a 20% co-insurance gap.
Renew Your Plan Annually
If you select the Medicare A,B,D plan, it is important to evaluate Part D because the prescriptions that are covered change annually. This is why you should renew your plan and keep an eye out for changes.
Speak with a Specialist
Finding a plan that is right for you is a complicated process. That's why we use Medicare specialists to assist our clients. Here at Wiser Wealth Management, we have software that can analyze the cost differential between A,B,D, & Medigap versus the Medicare Advantage plan. It is important to speak with a specialist because it allows you to create an insurance plan tailored to your unique lifestyle.
Download our white paper on "Your Pre-Retirement Checklist"
TIMESTAMPS:
0:00 Intro
1:18 Medicare for Employees
3:38 Medicare Part A
4:12 Medicare Part B
7:46 Medicare Part D
8:18 Advantage Plans
10:19 Medigap Options
11:50 Is it possible to switch from Advantage to Medigap?
12:38 Renew Your Plan Annually
13:54 Speak with a Specialist
LINKS:
Learn more about Casey Smith and connect with him on Twitter.
Learn more about Brad Lyons.
Learn more about Matthews Barnett.
CONNECT:
Twitter, Instagram, Facebook, LinkedIn, and YouTube.
Learn more about A Wiser Retirement podcast and access previous episodes.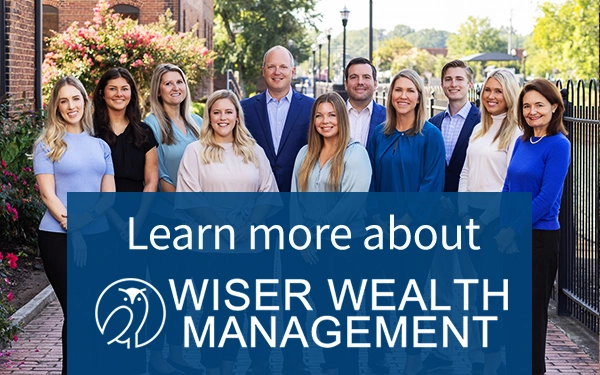 Share This Story, Choose Your Platform!
Wiser Wealth Management, Inc ("Wiser Wealth") is a registered investment advisor with the U.S. Securities and Exchange Commission (SEC). As a registered investment advisor, Wiser Wealth and its employees are subject to various rules, filings, and requirements. You can visit the SEC's website here to obtain further information on our firm or investment advisor's registration.
Wiser Wealth's website provides general information regarding our business along with access to additional investment related information, various financial calculators, and external / third party links. Material presented on this website is believed to be from reliable sources and is meant for informational purposes only. Wiser Wealth does not endorse or accept responsibility for the content of any third-party website and is not affiliated with any third-party website or social media page. Wiser Wealth does not expressly or implicitly adopt or endorse any of the expressions, opinions or content posted by third party websites or on social media pages. While Wiser Wealth uses reasonable efforts to obtain information from sources it believes to be reliable, we make no representation that the information or opinions contained in our publications are accurate, reliable, or complete.
To the extent that you utilize any financial calculators or links in our website, you acknowledge and understand that the information provided to you should not be construed as personal investment advice from Wiser Wealth or any of its investment professionals. Advice provided by Wiser Wealth is given only within the context of our contractual agreement with the client. Wiser Wealth does not offer legal, accounting or tax advice. Consult your own attorney, accountant, and other professionals for these services.
Sign up for our newsletter!
Our latest blogs, podcasts, and educational videos delivered to your inbox weekly.