Exploring France During Your Retirement Years
It is not uncommon for many people to feel lost as they approach retirement, as it can be a confusing season filled with change. One way to not let your golden years pass by is to get out of your comfort zone and explore the world. At Wiser Wealth Management, we always talk about financial success being intentional. We recognize that it can take a lifetime of discipline to ensure a comfortable retirement. Since no retirement plan is the same, people have different retirement goals and circumstances. However, if seeing the world has always been a part of your plan, now is the time to experience the best life can offer. Therefore, this blog will spotlight traveling to France in retirement. We point out towns and regions that should be on your retirement bucket list for a variety of reasons!
About France
Capital: Paris
Population: 68.042 Million
Official Language: French
Currency: Euro €
What it is Known For: Paris (7th most visited city in the world). Art, pastries, film festivals, the Alps, wine, and cheese.
Why is France a great place to visit in retirement?
When you think of France, you might instantly think of Paris. While no one can argue that "Paris is always a good idea," we want to bring retirees a less busy route that is sure to please anyone.
Renew Your Patriotism in Normandy
As proud Americans, we all have learned about D-Day and the Allied forces defeating Nazi Germany during World War II. D-Day took place on June 6, 1944, and still is the largest amphibious invasion in history. As a retiree and part of a seasoned generation, you may feel a stronger connection to these events, based on accounts from parents, grandparents, and other relatives who either fought in the war or lived during that time.
So, if your goal when traveling is to be inspired and changed, visiting Normandy and its sights and memorials embodying American bravery will surely do that for you. When in Normandy, you should see Omaha Beach, which is ground zero for all of the most important events of D-Day. Overlooking Omaha Beach is the American Cemetery, which will certainly bring tears of gratitude to your eyes. Another must is the Caen Memorial Museum, which many consider the best WWII museum in France. You can also find well-preserved wreckage, defense bunkers, and other remnants of the invasion scattered throughout the coast.
Wine, Whiskey, and World Heritage Sites in Bordeaux
If your idea of a perfect retirement is to relax and sip wine, Bordeaux is the place for you to visit. In roughly a 2-hour train ride from Paris, you can find yourself in Bordeaux, also known as the city of wine. This region of France is known for producing some of the best wines in the world. In fact, 80% of its land mass is dedicated to wine production. While in Bordeaux, you can visit their wine museum and participate in different workshops. There are also many vineyards outside of the city that provide tours and wine tasting such as the Château de la Ligne. A small castle with a vineyard on the property and rooms available for an overnight stay.
But don't worry, if you are more of a whiskey person, there is something in Bordeaux for you too. The Moon Harbour Distillery offers tours and tastings at their very unique facility. The distillery was a bunker used during WWII. However, since it was too big to destroy, it was completely repurposed and became a famous whiskey distillery.
Additionally, Bordeaux is not only for wine and whiskey lovers; it is also a beautiful city with medieval buildings that are under careful preservation. Because of that, it is the second city in France with the largest number of preserved buildings and UNESCO World Heritage sites (losing only to Paris).
Soak Up the Sun and a Slower-Paced Life on the French Riviera
In contrast to the previous two destinations, the Côte-d'Azur, also known as the French Riviera (a coastal region bordering the Mediterranean Sea, in the Southeast of France) offers the slow-paced relaxation, and the jaw-dropping sea views you always dreamt of, but never had the time or means to actually go.
Many of the most well-known cities in France are located in this region, such as Nice, Cannes, and Marseille. However, maybe the main attraction is the charming small towns. This is a place where many people from all over Europe choose to retire. The reason for that is mostly driven by the provincial feel, mild winters, and hearty country cuisine that is difficult to find anywhere else in France. So as a plus, going to the French Riviera for vacation will make you feel at ease as you will likely be around people in the same phase of life, which may even make way for new across-the-globe friendships.
If traveling to France, or exploring the world is part of your vision for retirement, our fiduciary fee-only advisors can help you factor travel into your personalized financial plan for retirement.
Have more questions? Contact Us
Rebeca Mavromatis
Marketing Assistant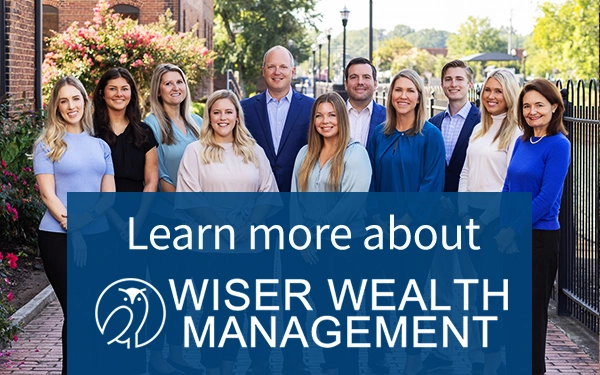 Is a high yield savings account right for you?
Casey Smith
Delta Pilots Guaranteed Variable Universal Life (GVUL) – What Action You Need to Take
Casey Smith
Share This Story, Choose Your Platform!
Wiser Wealth Management, Inc ("Wiser Wealth") is a registered investment advisor with the U.S. Securities and Exchange Commission (SEC). As a registered investment advisor, Wiser Wealth and its employees are subject to various rules, filings, and requirements. You can visit the SEC's website here to obtain further information on our firm or investment advisor's registration.
Wiser Wealth's website provides general information regarding our business along with access to additional investment related information, various financial calculators, and external / third party links. Material presented on this website is believed to be from reliable sources and is meant for informational purposes only. Wiser Wealth does not endorse or accept responsibility for the content of any third-party website and is not affiliated with any third-party website or social media page. Wiser Wealth does not expressly or implicitly adopt or endorse any of the expressions, opinions or content posted by third party websites or on social media pages. While Wiser Wealth uses reasonable efforts to obtain information from sources it believes to be reliable, we make no representation that the information or opinions contained in our publications are accurate, reliable, or complete.
To the extent that you utilize any financial calculators or links in our website, you acknowledge and understand that the information provided to you should not be construed as personal investment advice from Wiser Wealth or any of its investment professionals. Advice provided by Wiser Wealth is given only within the context of our contractual agreement with the client. Wiser Wealth does not offer legal, accounting or tax advice. Consult your own attorney, accountant, and other professionals for these services.
Sign up for our newsletter!
Our latest blogs, podcasts, and educational videos delivered to your inbox weekly.