How much money do you need to retire?
On this episode of A Wiser Retirement™ Podcast, Casey Smith, Missie Beach, CFP®, CDFA®, and Michaela Laney, discuss retirement planning and demystify the "right amount of money to retire" expectation.
Listen on Apple Podcasts or watch on YouTube:
SUMMARY:
When talking to the general public, there's no way to generalize the right amount for retirement savings. Occasionally, you will find those who will tell you a specific amount is how much you should have by the time you retire. Many online calculators claim to have it figured out, and will try to tell you that you should  have 65% of what you make or 75% of what your salary used to be at a certain age. When you're faced with one of those generic rough estimates, don't fall for it. Instead, you should ask yourself, how can they know how much I need if they have no idea when I want to retire, or what I want to do during retirement? Even though we are not able to give you an exact number for your retirement, we can help you figure out what that number should be.
Eliminate Stupid Debt
Since retirement is all about cash flow, the first step is always to eliminate any and all debt. Credit cards may seem like a good deal if you think about the "free" airline miles they offer or the cash-back program. But if you're spending more than you should and paying interest rates on an outstanding amount, work hard to pay it off, and start buying your own airplane ticket. Using a budget calculator can help you stay on top of your expenses.
Another type of debt to avoid and/or try to eliminate is car loans. Car financing rates are currently very high, but people are still buying financed cars. Car payments can eat up a big chunk of your monthly income and it's totally unnecessary. 
One more expense we counsel our clients to not have during retirement is a mortgage. Not having that monthly mortgage payment will free up a lot of cash, and will allow you to get closer to having cashflow freedom during retirement.
How can you calculate how much you'll need for retirement?
To exemplify a rough calculation, we will assume an average monthly spending of $80,000 per year. If a couple makes $200,000 during working years, they would be getting $2,500 each from Social Security. Taking into account inflation and taxes, this couple would need around $600,000 in portfolio investments to cover the rest of their expenses. This calculation is done by taking your guaranteed income and subtracting it from your expenses. Then, take the difference and multiply it by 12, and finally divide that number by 4%. Even though this is a rough theoretical calculation, this is already more comprehensive than an online calculator.
Leave the Planning to the Specialists
Most Americans actually believe that to be ready for retirement they would need around $2M. It is reassuring to know that you don't need an astronomical amount of money to be able to live comfortably during retirement. However, it is easy to make the math on the back of a napkin and retire tomorrow, but it is hard to remain retired after 10 years because of inflation rate fluctuation. This is why it is so important to have your retirement planning  done by a fiduciary fee-only financial advisor who will be able to bring a much higher accuracy to your plan and adjust it from time to time in order to adapt to different economic conditions.
Download our eBook on "Buyer Beware: Why do they keep trying to sell you that annuity?"
TIMESTAMPS:
0:00 Intro
06:44 Eliminate Stupid Debt
17:00 How can you calculate how much you'll need for retirement?
22:45 Leave the Planning to the Specialists
LINKS:
Learn more about Casey Smith, Michaela Laney, Missie Beach, CFP®, CDFA®
CONNECT:
Twitter, Instagram, Facebook, LinkedIn, and YouTube.
Learn more about A Wiser Retirement™ podcast and access previous episodes.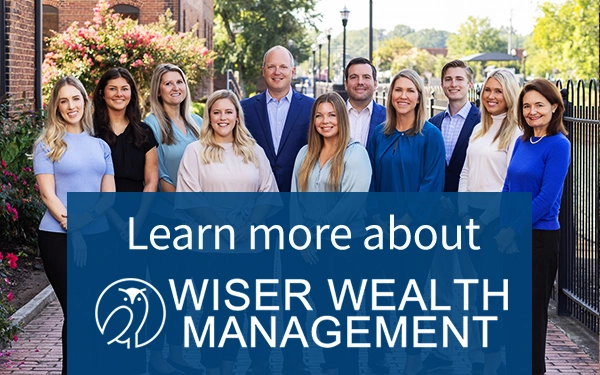 Share This Story, Choose Your Platform!
Wiser Wealth Management, Inc ("Wiser Wealth") is a registered investment advisor with the U.S. Securities and Exchange Commission (SEC). As a registered investment advisor, Wiser Wealth and its employees are subject to various rules, filings, and requirements. You can visit the SEC's website here to obtain further information on our firm or investment advisor's registration.
Wiser Wealth's website provides general information regarding our business along with access to additional investment related information, various financial calculators, and external / third party links. Material presented on this website is believed to be from reliable sources and is meant for informational purposes only. Wiser Wealth does not endorse or accept responsibility for the content of any third-party website and is not affiliated with any third-party website or social media page. Wiser Wealth does not expressly or implicitly adopt or endorse any of the expressions, opinions or content posted by third party websites or on social media pages. While Wiser Wealth uses reasonable efforts to obtain information from sources it believes to be reliable, we make no representation that the information or opinions contained in our publications are accurate, reliable, or complete.
To the extent that you utilize any financial calculators or links in our website, you acknowledge and understand that the information provided to you should not be construed as personal investment advice from Wiser Wealth or any of its investment professionals. Advice provided by Wiser Wealth is given only within the context of our contractual agreement with the client. Wiser Wealth does not offer legal, accounting or tax advice. Consult your own attorney, accountant, and other professionals for these services.
Sign up for our newsletter!
Our latest blogs, podcasts, and educational videos delivered to your inbox weekly.