Get Rid of Debt Before You Retire
On this episode of A Wiser Retirement Podcast, Casey Smith and Brad Lyons, CFP® talk about the importance of getting rid of debt before you retire. They talk about credit cards, managing student loans, real estate, and the snowball method. It is important to take control of your debt and find a payment strategy that works for you so you can have enough income to sustain yourself in retirement.
SUMMARY:
Live Debt Free
As you are approaching retirement, it's important to eliminate as much debt as possible. This includes having credit cards paid off as well as auto payments, mortgage payments, and other existing balances. Living a debt free life is a part of our core belief system here at Wiser Wealth Management because it can help you live a stress free life and save for the future.
Beware of Credit Cards
Advertising and consumerism often depict loans and credit cards as another source of income. It is important to realize that they are not. Credit card companies advertise rewards programs and cash back, which can seem like a nice added benefit. This makes it easy to spend money that isn't yours. Tread carefully and make sure you can pay off what you spend. Also, keep in mind credit cards should not be used as an emergency reserve. They should only be used if you have the resources to pay it off in the future.
Advice for Students
An optimal plan for students would be to leave college with no debt or student loans. With the rising prices of tuition, this may be a challenge. However, it can be done if you apply for scholarships, work during college, and pay them off as you go. The main benefit of this is that it gives you the resources to start putting away money into a 401k or savings. Unfortunately, student loan debt often defers decision making. It can make it more difficult for future decisions such as marriage or starting a business. This is why it is important to keep loans to a minimum. If you need to take out loans, make sure you have the resources to pay them off in the future.
Minimize Debt with Real Estate
Real estate can assist you in staying debt free. The main way this can be done is renting out real estate properties you own. The best thing about using real estate to eliminate debt is that it's essentially always a good time to buy vacation homes and you can increase your nightly rate if people will pay it. To begin this process, pick a good location. Then, make sure you set aside money for emergencies. It is important to pick a home you can afford, so if something happens where you can't rent it out, you can still pay for it.
The Snowball Method
The snowball method is one of the best strategies to pay off your debt. It can be defined as paying off the smallest balance first and then working your way towards paying off the larger balances. This is important because it eliminates more debt at a faster rate. On the other hand, if you decide to go after the biggest first, there is a potential loss of interest. Overall, paying off debt one by one, and starting with the small balances first can change your life. Put yourself in a good position for the future by using this tried-and-true method.
If you would like to begin the process of eliminating debt, email us at [email protected].
Download our white paper on "Your Pre-Retirement Checklist"
TIMESTAMPS:
0:00 Intro
3:22 Live Debt Free
15:14 Beware of Credit Cards
24:02 Advice for Students
32:55 Minimize Debt with Real Estate
42:56 The Snowball Method
LINKS:
Learn more about Casey Smith and connect with him on Twitter.
Learn more about Brad Lyons.
Learn more about Matthews Barnett.
CONNECT:
Twitter, Instagram, Facebook, LinkedIn, and YouTube.
Learn more about A Wiser Retirement podcast and access previous episodes.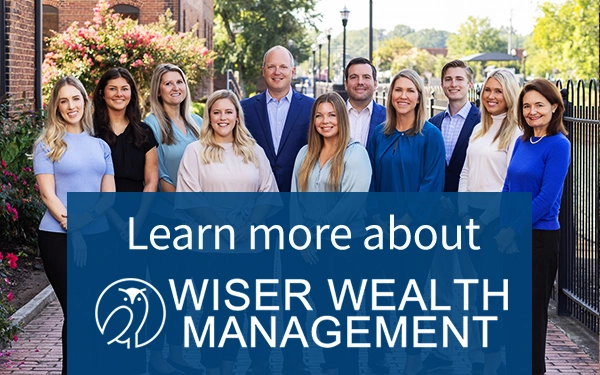 Share This Story, Choose Your Platform!
Wiser Wealth Management, Inc ("Wiser Wealth") is a registered investment advisor with the U.S. Securities and Exchange Commission (SEC). As a registered investment advisor, Wiser Wealth and its employees are subject to various rules, filings, and requirements. You can visit the SEC's website here to obtain further information on our firm or investment advisor's registration.
Wiser Wealth's website provides general information regarding our business along with access to additional investment related information, various financial calculators, and external / third party links. Material presented on this website is believed to be from reliable sources and is meant for informational purposes only. Wiser Wealth does not endorse or accept responsibility for the content of any third-party website and is not affiliated with any third-party website or social media page. Wiser Wealth does not expressly or implicitly adopt or endorse any of the expressions, opinions or content posted by third party websites or on social media pages. While Wiser Wealth uses reasonable efforts to obtain information from sources it believes to be reliable, we make no representation that the information or opinions contained in our publications are accurate, reliable, or complete.
To the extent that you utilize any financial calculators or links in our website, you acknowledge and understand that the information provided to you should not be construed as personal investment advice from Wiser Wealth or any of its investment professionals. Advice provided by Wiser Wealth is given only within the context of our contractual agreement with the client. Wiser Wealth does not offer legal, accounting or tax advice. Consult your own attorney, accountant, and other professionals for these services.
Sign up for our newsletter!
Our latest blogs, podcasts, and educational videos delivered to your inbox weekly.