Lessons from the Spanish Flu
There are lessons from the 1918 influenza flu pandemic (commonly called the Spanish Flu) that we can use to mitigate adverse economic consequences. Primarily, the use of non-pharmaceutical interventions (NPIs) such as social distancing.
Instead of watching baseball on sunny days, gathering with friends for backyard barbecues and going to concerts like we had assumed we'd be doing, we are "sheltering in place" missing birthdays, graduations, weddings and in some cases funerals. Additionally, economic reports released earlier this week show GDP contracted by 4.8% at an annual rate in the first quarter of this year – the first decline in GDP in six years – and 30 million people find themselves out of work. Our country cannot afford an extended recession.
However, there are lessons from the 1918 influenza flu pandemic (commonly called the Spanish Flu) that we can use to mitigate these adverse economic consequences. Primarily, the use of non-pharmaceutical interventions (NPIs) such as social distancing. In a study submitted in April, researchers were able to find positive correlations in the 1918 Flu Pandemic between NPI practices by populations in different cities. Research showed that those cities practicing NPIs early and deliberately experienced faster economic recoveries than those slower to practice NPIs.
Social distancing practices in 1918 such as closing schools, theaters and churches, banning large gatherings and funerals, quarantining those with suspected cases, limiting travel, restricting business hours and wearing masks were all shown to have no adverse effect on local economies. Cities that intervened early and aggressively experienced a relative increase in economic activity after the pandemic. Indeed, the stricter the NPIs during the pandemic the better their economies performed in the year after the pandemic.
NPIs haven't changed that much since 1918, but what has changed is our ability to communicate across an entire nation in real time. NPI recommendations were communicated to the nation and implemented much earlier in this pandemic than in 1918. In 1918, it was difficult to communicate the effectiveness of practicing NPI behavior. Many US cities didn't implement NPIs until the flu had gripped their community and overwhelmed their healthcare facilities. Yet the NPIs still had a positive effect on reducing the rate of transmission.
Actions to enforce NPIs by those in 1918 provide us in 2020 a glimpse into our future. By social distancing, wearing protective gear when in public and protecting the most vulnerable, we are promoting healthy interactions and a quicker economic recovery.
Our country, states, and cities are taking measured steps to re-open businesses and allow many outdoor activities to resume. The caveat is we need to continue practicing NPIs while re-engaging in social and economic activities. The curve has flattened, but cases still remain and the spread continues. We cannot afford a relapse leading to a spike in the number of new coronavirus cases. Here in Georgia we are told there is additional hospital capacity should a spike in new cases occur, but why test it?
NPI measures enacted in 1918 were shown to limit the spread of the pandemic without adversely affecting the economy. The pandemic itself had an adverse effect on the economy, but it was not worsened by NPIs. On the contrary, the study suggests that early and effective implementation lowers mortality and may even have the economic merits of mitigating the adverse impact on the economy caused by the pandemic.
Brad Lyons, CFP®
Posted 5/13/2020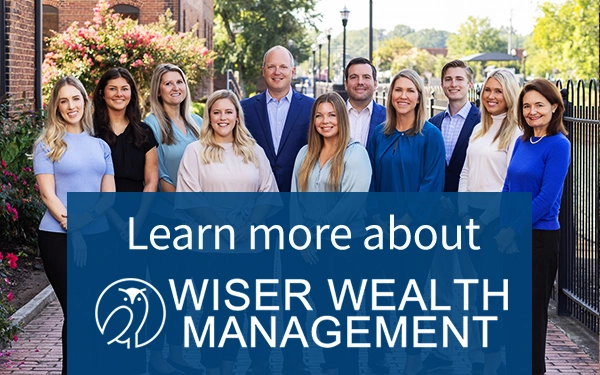 Share This Story, Choose Your Platform!
Wiser Wealth Management, Inc ("Wiser Wealth") is a registered investment advisor with the U.S. Securities and Exchange Commission (SEC). As a registered investment advisor, Wiser Wealth and its employees are subject to various rules, filings, and requirements. You can visit the SEC's website here to obtain further information on our firm or investment advisor's registration.
Wiser Wealth's website provides general information regarding our business along with access to additional investment related information, various financial calculators, and external / third party links. Material presented on this website is believed to be from reliable sources and is meant for informational purposes only. Wiser Wealth does not endorse or accept responsibility for the content of any third-party website and is not affiliated with any third-party website or social media page. Wiser Wealth does not expressly or implicitly adopt or endorse any of the expressions, opinions or content posted by third party websites or on social media pages. While Wiser Wealth uses reasonable efforts to obtain information from sources it believes to be reliable, we make no representation that the information or opinions contained in our publications are accurate, reliable, or complete.
To the extent that you utilize any financial calculators or links in our website, you acknowledge and understand that the information provided to you should not be construed as personal investment advice from Wiser Wealth or any of its investment professionals. Advice provided by Wiser Wealth is given only within the context of our contractual agreement with the client. Wiser Wealth does not offer legal, accounting or tax advice. Consult your own attorney, accountant, and other professionals for these services.
Sign up for our newsletter!
Our latest blogs, podcasts, and educational videos delivered to your inbox weekly.