Selecting the Best Technology ETF for Your Portfolio
On this episode of A Wiser Retirement Podcast, we talk about what an ETF is, how ETFs operate, and important things to know about ETF tradability. Casey Smith, Matthews Barnett, CFP®, ChFC®, CLU® and Brad Lyons, CFP® also walk through how to select the best technology ETF for your investment portfolio.
Listen on Apple Podcasts or watch on YouTube:
SUMMARY:
What is an ETF?
An ETF is fairly straight forward. The first ETF was SPY back in 1993. ETFs have only really been used since the 2000s, making them a lot newer than mutual funds. An ETF is a basket of securities, that trades on the exchange daily, and is more tax efficient than mutual funds. It has a significantly lower cost since it is on a passive index. You can diversify by using various ETFs over various asset classes.
Growth of ETFs
Professional investment managers look at all sorts of data points on a regular basis, and utilize that information in decision making. Back in 2011, there was approximately 1 trillion dollars invested in ETFs, as of 2021, there is over 7 trillion dollars invested in ETFs. The number of ETFs for investors to choose from 2,200. There is a lot of variety, and many ways to chose to invest your money.
When we first started building all ETF portfolios in 2004, the idea was to use broad based ETFs for accounts less than a certain amount. That evolved very quickly, and we realized that core ETF models can out perform a lot of more active strategies. We also realized that ETFs could allow firms to scale. We continued to service high net worth individuals, as well as began working with a younger generation.
When selecting an ETF to invest in, you are selecting to participate in the growth of an entire industry or sector. This is a great way for investors to put forth their money into their hypothesis or ideas.
Technology ETFs
There are different types of technology ETFs that all get different types of exposure. ETF.com has a screener you can use to compare ETFs. When you use this screener to screen for US technology ETFs, you end up with 18 ETFs. You can sort those results by expenses, individual person, etc. When selecting an ETF, the first thing you want to look at is the underlying index. The size of an ETF is also very important, it gives an indication of its daily volume and number of investors out there willing to buy and sell at any given time. Overall, you want to take into consideration the index, the size, the number of securities, the cost, and the expected return of that ETF.
ETF Tradability
Make sure you're always using limit orders when trading ETFs. Do not put a market order in for an ETF, ever. Let's say you're buying 10,000 shares of something, and the current market price is $50.00 a share. However, at $50.00 a share there may only be 2,000 shares available. If you put in a market order, you'll get those first 2,000 shares at $50.00, but after that it will start climbing up the price ladder to fulfill your market order. Typically, what you'd do is place your trade, and put a limit order in place for 1 cent above the market order.
Download our white paper on "3 Ways to Grow and Protect Your Portfolio"
TIMESTAMPS:
0:00 Intro
5:49 What is an ETF?
9:15 Growth of ETFs
16:45 Technology ETFs
30:34 ETF Tradability
LINKS:
Learn more about Casey Smith and connect with him on Twitter.
Learn more about Brad Lyons.
Learn more about Matthews Barnett.
CONNECT:
Twitter, Instagram, Facebook, LinkedIn, and YouTube.
Learn more about A Wiser Retirement podcast and access previous episodes.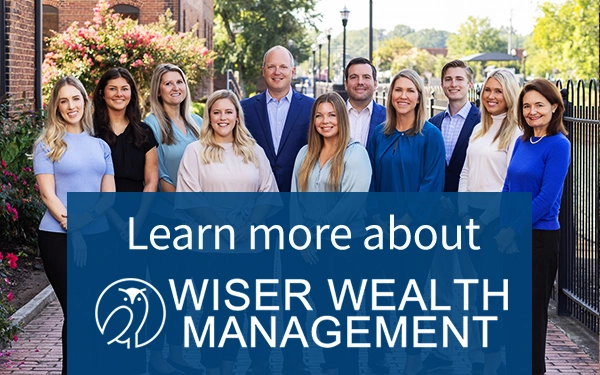 Is a high yield savings account right for you?
Casey Smith
Delta Pilots Guaranteed Variable Universal Life (GVUL) – What Action You Need to Take
Casey Smith
Share This Story, Choose Your Platform!
Wiser Wealth Management, Inc ("Wiser Wealth") is a registered investment advisor with the U.S. Securities and Exchange Commission (SEC). As a registered investment advisor, Wiser Wealth and its employees are subject to various rules, filings, and requirements. You can visit the SEC's website here to obtain further information on our firm or investment advisor's registration.
Wiser Wealth's website provides general information regarding our business along with access to additional investment related information, various financial calculators, and external / third party links. Material presented on this website is believed to be from reliable sources and is meant for informational purposes only. Wiser Wealth does not endorse or accept responsibility for the content of any third-party website and is not affiliated with any third-party website or social media page. Wiser Wealth does not expressly or implicitly adopt or endorse any of the expressions, opinions or content posted by third party websites or on social media pages. While Wiser Wealth uses reasonable efforts to obtain information from sources it believes to be reliable, we make no representation that the information or opinions contained in our publications are accurate, reliable, or complete.
To the extent that you utilize any financial calculators or links in our website, you acknowledge and understand that the information provided to you should not be construed as personal investment advice from Wiser Wealth or any of its investment professionals. Advice provided by Wiser Wealth is given only within the context of our contractual agreement with the client. Wiser Wealth does not offer legal, accounting or tax advice. Consult your own attorney, accountant, and other professionals for these services.
Sign up for our newsletter!
Our latest blogs, podcasts, and educational videos delivered to your inbox weekly.