Ways Blockchain Will Change the World
On this episode of A Wiser Retirement™ Podcast, Casey Smith is joined by Robert Swarthout, Founder, CEO, and Portfolio Manager of Teton Crypto Capital, to talk about how Blockchain will change the world. Beyond just a database, we examine how Blockchain is set to redefine security features, smart contracts, and the potential for digital voting.
Listen or Watch:
SUMMARY:
What is a Blockchain?
A Blockchain is a form of database, ​​also known as distributed ledger technology. It consists of a sequential recording history that's not editable. Each block refers to the previous block and it goes forward in that manner. This allows for a system that people can rely on because there isn't somebody altering values in the database.
Understanding Blockchain Technology
A simple example of a Blockchain application would be using it in banks for bank accounts. These are not yet in Blockchain, but we can expect them to be sooner than later. Since you can't go back and change something that happened in the past in the world of Blockchain, an account balance becomes more than just a number. For example, if you at a determined point in time have an account balance of $1,000, that'd be a summation of all the history that had happened in your account up to that point. Then, you would add a positive or negative entry to that to affect your balance. 
What makes Blockchain more secure?
The way the systems work ensures the safety of the process. It uses computers that together come to a consensus through complex math operations to prove that the transaction did what it was supposed to do. In a lot of cases, that process is called confirmation. It also helps to think of a block in Blockchain as a subset of time. Some Blockchains are measured in minutes, some in seconds, some are even down to under a second. During that block of time, it collects all the different things that happened.
It's Still the Beginning for Blockchain and Crypto
We are just now starting to see the capabilities of Blockchain and crypto. People are still often confused about crypto and how it works. Currently, some people think they know how Blockchain and crypto can be used in the finance world, but it is still too early to fully understand the different ways it can be used down the road. 
Daily Uses for Blockchain
Identities are currently on different electronic databases, but certainly not a Blockchain. Digitalizing state-issued IDs in a blockchain would help citizens in so many areas, such as avoiding identity theft, avoiding unnecessary exposure of personal information, and avoiding misplacements of ID cards.
Another way that Blockchain could be used would be for titles, deeds, and ownership tracking. It could have the use of tracking car history, real estate titles, and even something as specific as horse titles.
The medical world can also benefit from the use of Blockchain, which could turn medical records and patient history into something that's available to doctors nationally, instead of a PDF printout or a portal that belongs to one practice. 
Finally, the uses for Blockchain are endless and its application to daily life has the potential of simplifying life as we know it in another whole new level that we have yet to discover. 
Download our eBook: "Buyer Beware: Why do they keep trying to sell you that annuity?"
TIMESTAMPS:
00:00 Intro
01:48 What is a blockchain?
03:20 Understanding Blockchain Technology
07:45 It's Still the Beginning for Blockchain and Crypto
22:45 Daily Uses for Blockchain
LINKS:
Learn more about Casey Smith, President of Wiser Wealth Management.
Learn more about Robert Swarthout, Founder, CEO & Portfolio Manager of Teton Crypto Capital. Click here to send Robert an email.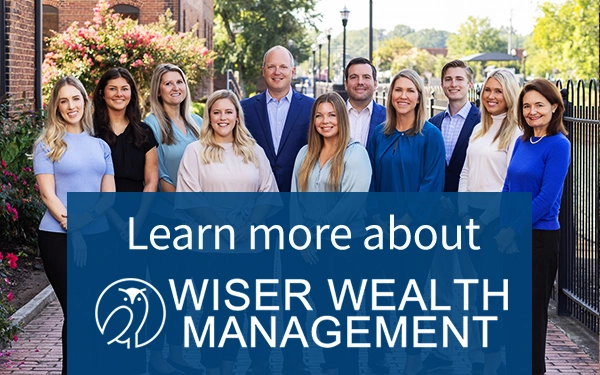 Is a high yield savings account right for you?
Casey Smith
Delta Pilots Guaranteed Variable Universal Life (GVUL) – What Action You Need to Take
Casey Smith
Share This Story, Choose Your Platform!
Wiser Wealth Management, Inc ("Wiser Wealth") is a registered investment advisor with the U.S. Securities and Exchange Commission (SEC). As a registered investment advisor, Wiser Wealth and its employees are subject to various rules, filings, and requirements. You can visit the SEC's website here to obtain further information on our firm or investment advisor's registration.
Wiser Wealth's website provides general information regarding our business along with access to additional investment related information, various financial calculators, and external / third party links. Material presented on this website is believed to be from reliable sources and is meant for informational purposes only. Wiser Wealth does not endorse or accept responsibility for the content of any third-party website and is not affiliated with any third-party website or social media page. Wiser Wealth does not expressly or implicitly adopt or endorse any of the expressions, opinions or content posted by third party websites or on social media pages. While Wiser Wealth uses reasonable efforts to obtain information from sources it believes to be reliable, we make no representation that the information or opinions contained in our publications are accurate, reliable, or complete.
To the extent that you utilize any financial calculators or links in our website, you acknowledge and understand that the information provided to you should not be construed as personal investment advice from Wiser Wealth or any of its investment professionals. Advice provided by Wiser Wealth is given only within the context of our contractual agreement with the client. Wiser Wealth does not offer legal, accounting or tax advice. Consult your own attorney, accountant, and other professionals for these services.
Sign up for our newsletter!
Our latest blogs, podcasts, and educational videos delivered to your inbox weekly.