5 Common Financial Myths Debunked
On this episode of A Wiser Retirement™ Podcast, Casey Smith and Michaela Dowdy unravel some of the most common financial myths, including the actual limits of 401K contributions and how an HSA can serve as a handy retirement tool and a resource to cover Medicare premiums. Additionally, they also discuss the age-old debate of renting vs. buying. With the changing dynamics of the housing market, you might be surprised which side they're rooting for.
Listen on Apple Podcasts or watch on YouTube:
SUMMARY:
An article published on July 20th, 2023 by CNBC referred to a now former Morgan Stanley broker in Wilmington, North Carolina who stole over $7M dollars from clients. Over the space of several years, he convinced clients to leverage their portfolios. Through Morgan Stanley, these clients bought products that allowed them to borrow money against their brokerage account. Clients handed him the money personally, with the expectation that he would be investing that money in different things. However, there were no checks and balances. Additionally, Morgan Stanley did not know this was happening until a client realized that something didn't look right and brought the case to light. 
Unfortunately, The barrier to entry in the financial advisory business is very low, and anybody can do it, or thinks they can. For this reason, we have a lot of people in this business that are dishonest and ill-intentioned. To make things worse, a lot of them are legally dishonest. For example, most of the advisors selling annuities.
Morgan Stanley is one of the biggest stock brokers and they're refusing to have any ownership in this. While this is a very sad situation for these clients, it is certainly avoidable. A couple of ways to avoid it would be first knowing that you should never write a check to your wealth management firm unless you are paying for an hourly service. Another way is by having checks and balances between TD Ameritrade and Schwab. At Wiser Wealth Management there's a wall between us and these two institutions. Every single penny is accounted for.
Financial Myths
We will talk about 5 financial misconceptions clients bring to us on a daily basis.
1. Maximizing a 401(k) is Contributing Up to the Employer's Match
Probably the most common one lately is about maximizing a 401(k). Many people believe that meeting the max on their 401(k) means matching their employer match. Of course, any amount that you contribute to your future is great. However, that's not the maximum you can contribute to a 401(k). You can actually contribute $22,500 for 2023, and if you're over 50 you can contribute an additional $7,500, bringing the amount up to $30,000 a year.
2. If You Are Contributing to an HSA, that Money needs to be Used
You don't necessarily have to use the money you contribute to your HSA. You can let the account build for retirement. It can work almost as a Roth for health care. It keeps building and once you hit retirement you can use the money in the HSA toward Medicare premiums. Statistics show that healthcare cost is growing at an average of 5% per year. That's a major expense for anyone to be taking on if doing privatized health care in retirement. 
3. Renting is Throwing Money Away
Buying a house is not what it used to be even 5 years ago, and especially 10-15 years ago. It has become a struggle to get into home ownership with interest rates being so high. It is not wise to acquire huge debt and high monthly payments to buy a house just for the sake of it. In reality, if renting is the season of life you're in, then that's a great benefit. Not having overhead household expenses that so many people forget to factor in can allow you to save more and look for other investment options. If we look at the trend in housing prices, it's astronomical compared to the growth in wages. So, owning a house is good, but it might not be the best option for everyone.
4. Rental Properties Can Make You Rich Fast
We work on helping our clients understand that while rental properties are great, and can be a good way to diversify your portfolio, they are not purely passive income. For most people, buying a rental property or vacation home involves getting a mortgage and then managing the property. Depending on the house you buy, a lot of time and money might need to be invested before you start making a profit on it.
5. Expenses Decrease in Retirement
This varies by person to person, and it is why there is no such thing as the right amount to have at the time of retirement. While some will choose to live a calm life without many extra expenses, others wait for retirement to do exactly the opposite, travel, move, and so for these people their expenses might actually increase in retirement.
TIMESTAMPS:
0:00 Intro
07:45 Maximizing a 401(k) is Contributing Up to the Employer's Match
10:00 If You Are Contributing to an HSA, That Money Needs to be Used
12:15 Renting is Throwing Money Away
18:25 Rental Properties Can Make You Rich Fast
24:00 Expenses Decrease in Retirement
LINKS:
Learn more about Casey Smith and Michaela Dowdy.
CONNECT:
Twitter, Instagram, Facebook, LinkedIn, and YouTube.
Learn more about A Wiser Retirement™ podcast and access previous episodes.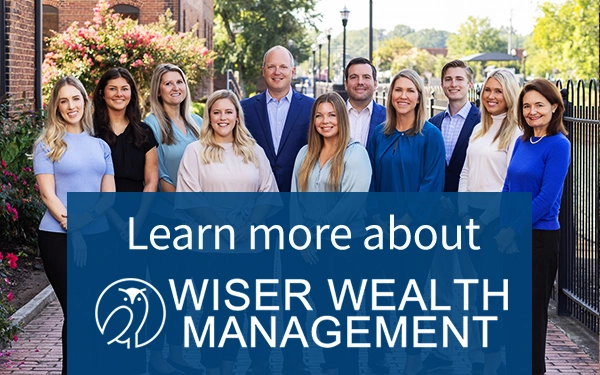 Share This Story, Choose Your Platform!
Wiser Wealth Management, Inc ("Wiser Wealth") is a registered investment advisor with the U.S. Securities and Exchange Commission (SEC). As a registered investment advisor, Wiser Wealth and its employees are subject to various rules, filings, and requirements. You can visit the SEC's website here to obtain further information on our firm or investment advisor's registration.
Wiser Wealth's website provides general information regarding our business along with access to additional investment related information, various financial calculators, and external / third party links. Material presented on this website is believed to be from reliable sources and is meant for informational purposes only. Wiser Wealth does not endorse or accept responsibility for the content of any third-party website and is not affiliated with any third-party website or social media page. Wiser Wealth does not expressly or implicitly adopt or endorse any of the expressions, opinions or content posted by third party websites or on social media pages. While Wiser Wealth uses reasonable efforts to obtain information from sources it believes to be reliable, we make no representation that the information or opinions contained in our publications are accurate, reliable, or complete.
To the extent that you utilize any financial calculators or links in our website, you acknowledge and understand that the information provided to you should not be construed as personal investment advice from Wiser Wealth or any of its investment professionals. Advice provided by Wiser Wealth is given only within the context of our contractual agreement with the client. Wiser Wealth does not offer legal, accounting or tax advice. Consult your own attorney, accountant, and other professionals for these services.
Sign up for our newsletter!
Our latest blogs, podcasts, and educational videos delivered to your inbox weekly.