On this episode of the Wiser Wealth Roundtable podcast, the team delves into five topics in the news this week.  Those include a summary of an interesting Wall Street Journal article, COVID relief part two, Bitcoin mania, the GA special elections and market volatility.
Listen on Apple Podcasts or watch on YouTube:
SUMMARY:
Wall Street Journal Article
The first topic the team tackles this week is an article in the Wall Street Journal by Mellody Hobson and John W. Rogers Jr. The article, How to understand this crazy year in investing and what to do now, caught the attention of Casey and he shared with Brad. The writers predict the high growth that technology stocks experienced in 2020 will come to an end in 2021. The authors recommend we should move our investing focus to small-cap and value stocks. Casey and Brad both found this strategy interesting, and also in complete contradiction to reliable industry sources and their own research. Upon further investigation, the team learned Hobson and Rogers both work for an investment management firm that specializes in small-cap and value stock investing.
The writers recommendation is based on their perspective of the marketplace and their bias. As an investor who is gathering information about the market and making decisions for themselves, it is important to consider the perspective of the advice giver, or author in this case. Casey and Brad were both reminded to consider the source, do your research and question information you read in the news and on social media.
COVID Relief Part 2
There is still a great deal of confusion about the second relief bill passed for pandemic relief. What we do know is that the new plan offers a few tax benefits. First, business owners can now receive a full tax deduction for client entertainment and meals. The assumption is that this deduction may help spur growth in the restaurant industry; one hard hit by the pandemic. For 2021, there is now a charitable tax deduction of $600. The pair were excited about this change as we interviewed two leaders of nonprofits in the Marietta area this year. Orrin "Checkmate" Hudson and Christy Carr Betz are doing great work in our community as leaders of nonprofits and we are hopeful that this tax change will benefit them and those like them.
The new round of COVID relief also included a stipulation that there will be no tax on any stimulus payments received as part of COVID relief. Unemployment benefits were also extended. Lawmakers also increased the Federal amount paid for unemployment on top of the state unemployment amount. This is also good to see, as there are many industries and workers that have been decimated by the pandemic. Unemployment relief puts money in the pockets of those directly impacted by job loss related to the pandemic.
Bitcoin Mania
Bitcoin and digital currency mania continue! However, the utility of Bitcoin has not been proven yet. If you bought Bitcoin and expected to make purchases immediately, there is risk because you could lose buying power overnight; as the valuation fluctuates by 15-20%. At Wiser, we are warming to the idea that possibly 1% of a portfolio could include digital currencies. We still view it as a speculative investment. Digital currency is better than the lottery, but not better than long-term asset classes.
GA Special Election
We are watching the results of the GA special elections for two US Senators, but most of what usually happens with the election results have very little impact on your investments. Because we build our investments on long-term healthy asset classes, the short-term market volatility related to election results or other factors is already accounted for in our financial planning tools. Be careful when you read headlines or social media posts that claim the market will be negatively impacted by a Democratic win. The facts just don't bear that out.
Market Volatility
We expect to see market volatility in the future that includes massive highs and massive lows. We expect this in Q1 because of Q4 earnings announcements, GDP results and the coronavirus vaccine rollout. There may be a correlation related to vaccine adoption and economic performance in 2021. One thing is for certain, it will be an interesting year. Brad and Casey both agree that despite everything, they anticipate a positive market performance in 2021.
LINKS:
Learn more about Casey Smith and connect with him on Twitter.
Learn more about Brad Lyons.
Learn more about Matthews Barnett.
CONNECT:
Twitter, Instagram, Facebook, LinkedIn, and YouTube.
Learn more about A Wiser Retirement podcast and access previous episodes.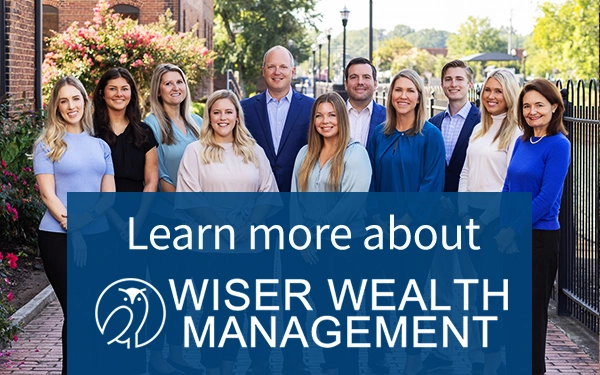 Share This Story, Choose Your Platform!
Wiser Wealth Management, Inc ("Wiser Wealth") is a registered investment advisor with the U.S. Securities and Exchange Commission (SEC). As a registered investment advisor, Wiser Wealth and its employees are subject to various rules, filings, and requirements. You can visit the SEC's website here to obtain further information on our firm or investment advisor's registration.
Wiser Wealth's website provides general information regarding our business along with access to additional investment related information, various financial calculators, and external / third party links. Material presented on this website is believed to be from reliable sources and is meant for informational purposes only. Wiser Wealth does not endorse or accept responsibility for the content of any third-party website and is not affiliated with any third-party website or social media page. Wiser Wealth does not expressly or implicitly adopt or endorse any of the expressions, opinions or content posted by third party websites or on social media pages. While Wiser Wealth uses reasonable efforts to obtain information from sources it believes to be reliable, we make no representation that the information or opinions contained in our publications are accurate, reliable, or complete.
To the extent that you utilize any financial calculators or links in our website, you acknowledge and understand that the information provided to you should not be construed as personal investment advice from Wiser Wealth or any of its investment professionals. Advice provided by Wiser Wealth is given only within the context of our contractual agreement with the client. Wiser Wealth does not offer legal, accounting or tax advice. Consult your own attorney, accountant, and other professionals for these services.
Sign up for our newsletter!
Our latest blogs, podcasts, and educational videos delivered to your inbox weekly.