Crypto Special: Tips to Secure Your Passwords and Cryptocurrency Assets
On this special crypto episode of A Wiser Retirement™ Podcast, Casey Smith and Robert Swarthout talk about digital security in the sense of protecting your identity and passwords.  They also discuss how that translates into securing digital assets as well.
Listen or Watch:
SUMMARY:
Tips to Secure Your Passwords
With life becoming more digitalized with time, it's important to be extra careful with identity and password theft. The idea of having one password for all of your accounts and having it memorized has become very antiquated and quite unsafe. For this reason, password managers are becoming increasingly popular, since they not only safely store passwords, but also generate unique passwords for each account and platform. You need to remember your password to log into your password manager and then inside the password manager there will be all these different passwords that have nothing to do with your birthday, wedding anniversary, or kids' names.
Additionally, two-step verification can be helpful in helping you keep your accounts safe, although it is not the sole solution. When it comes to two-factor authentication, you should opt to token-based authentication, since there are so many ways people can steal your phone number.
Digital Security and Crypto Advice
The crypto industry has been seeing an increase in crypto theft, which gives us more reason to talk about this and warn listeners to better protect their accounts. There are many safety options that come embedded with technology. Turn on all of those options because the more resources to provide digital security, the better.
Crypto Custody and ETFs
It's always worth spending the time to understand what it means to custody your own assets. If you have cash that you keep in your wallet, it's no different than having crypto and using a hardware wallet. For example, if the SEC sued your favorite exchange, the laws in the United States right now are set up in a way that if they go through bankruptcy court because your assets are not your assets, you functionally have lent them, even though it's not a lending arrangement. It's not in a trust, so you're in line with the creditors and probably behind senior creditors. Therefore, you'd likely not get back one-to-one what you put in. Use an exchange as a drive-through, not a destination. This would mean you get your stuff, you leave, and custody it yourself. 
The user experience of managing your own wallet is slowly getting better. Because it has come from a very technical place it just takes evolution and the more people that come into crypto, the easier it gets. A rule of thumb is you always buy it directly from the manufacturer. Some reputable manufacturers are Ledger and Trust Wallet. 
Crypto Landscape and Regulation
It is odd the amount of time and resources the SEC has been spending on the crypto market when there's so much outside of crypto that the SEC should be dealing with. We have covered in previous podcasts all of the lawsuits against crypto companies by the SEC, and how unreasonable a lot of them are. However, there is a lot of good that's happening in the crypto industry, that's serving as building blocks. Unfortunately, they don't make the headlines as often as the negative news, but we are keeping high hopes for this fast-developing industry.
Download our eBook: "Buyer Beware: Why do they keep trying to sell you that annuity?"
TIMESTAMPS:
00:00 Intro
01:00 Tips to Secure Your Passwords
12:20 Digital Security and Crypto Advice
19:15 Crypto Custody and ETFs
17:00 Crypto Landscape and Regulation 
LINKS:
Learn more about Casey Smith, President of Wiser Wealth Management.
Learn more about Robert Swarthout, Founder, CEO & Portfolio Manager of Teton Crypto Capital.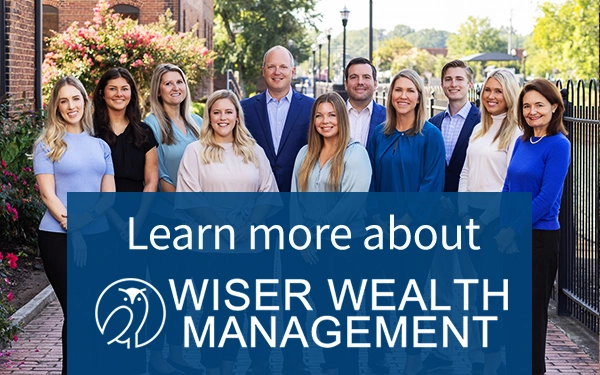 Share This Story, Choose Your Platform!
Wiser Wealth Management, Inc ("Wiser Wealth") is a registered investment advisor with the U.S. Securities and Exchange Commission (SEC). As a registered investment advisor, Wiser Wealth and its employees are subject to various rules, filings, and requirements. You can visit the SEC's website here to obtain further information on our firm or investment advisor's registration.
Wiser Wealth's website provides general information regarding our business along with access to additional investment related information, various financial calculators, and external / third party links. Material presented on this website is believed to be from reliable sources and is meant for informational purposes only. Wiser Wealth does not endorse or accept responsibility for the content of any third-party website and is not affiliated with any third-party website or social media page. Wiser Wealth does not expressly or implicitly adopt or endorse any of the expressions, opinions or content posted by third party websites or on social media pages. While Wiser Wealth uses reasonable efforts to obtain information from sources it believes to be reliable, we make no representation that the information or opinions contained in our publications are accurate, reliable, or complete.
To the extent that you utilize any financial calculators or links in our website, you acknowledge and understand that the information provided to you should not be construed as personal investment advice from Wiser Wealth or any of its investment professionals. Advice provided by Wiser Wealth is given only within the context of our contractual agreement with the client. Wiser Wealth does not offer legal, accounting or tax advice. Consult your own attorney, accountant, and other professionals for these services.
Sign up for our newsletter!
Our latest blogs, podcasts, and educational videos delivered to your inbox weekly.