Fee-Only Advisors Are Upholding the Fiduciary Standard and Triumphing Over Broker-Dealers
I recently chatted with a pilot who was told by a Northwestern financial advisor that he should stop contributing to his 401k plan and his company's newly formed Market-Based Cash Balance Plan. Instead, he was advised to purchase a whole-life policy. Immediately, I thought, "Wow, broker advisors aren't just selfish, they are aggressively selfish." To be clear, the broker's advice was terrible for the pilot's overall financial health. The tax implications alone should ban this broker from having a license to advise in the industry. Thankfully, the pilot had been listening to our podcast, A Wiser Retirement™, and reached out for a second opinion.
When it comes to managing your finances, the choice of a financial advisor can significantly impact your wealth and financial security. In the landscape of financial advising, the distinction between fee-only advisors and broker-dealers operating under Regulation Best Interest (Reg BI) is crucial. The marketing of big brokerage firms and the advisors of these firms drinking the firms' kool-aid would want you to think that they are working in the best interest of their clients. Unfortunately, the lines between best interest and sales are often blurred with broker-dealer firms.
After I finished my chat with that pilot, I thought, "It's time to refresh our wider community on the Fee-Only vs Broker distinctions."
Understanding the Fiduciary Standard
Fee-only advisors adhere to the fiduciary standard, a legal and ethical obligation to act in their client's best interests above all else. This standard ensures that every piece of advice given, every investment recommended, and every decision made is made with the client's utmost benefit in mind. Fee-only advisors operate with transparency, putting their client's needs ahead of their own, and avoiding conflicts of interest.
The Shortcomings of Regulation Best Interest (Reg BI) in the Broker-Dealer World
Who Are Broker-Dealers?
Broker-dealers are financial firms or individuals that are registered with the SEC and are in the business of buying and selling securities, such as stocks, bonds, and mutual funds, on behalf of customers. They can also offer investment advice, but they operate under different standards than fee-only advisors. Broker-dealers often receive commissions based on the financial products they sell, creating potential conflicts of interest when providing advice. Common broker-dealer names are Edward Jones, Merrill Lynch, UBS, and Morgan Stanley.
Regulation Best Interest, introduced in 2019 by the U.S. Securities and Exchange Commission (SEC), is a framework designed to enhance investor protection. However, it falls conspicuously short of the fiduciary standard embraced by fee-only advisors. Here's why:
Vague Standards
Reg BI requires broker-dealers to act in their customers' "best interest," but the term remains ambiguous. This lack of clarity leaves room for interpretation, potentially allowing broker-dealers to prioritize their interests over those of their clients.
Conflicts of Interest
Under Reg BI, broker-dealers are not mandated to eliminate all conflicts of interest. Instead, the expectation is for them to mitigate them, which may not be enough to ensure that the advice given is free from bias. Fee-only advisors, in contrast, avoid conflicts altogether by refusing commissions and incentives.
Sales-Driven Culture
Broker-dealers often operate within a sales-driven culture where they sell financial products for commissions. This culture can lead to recommendations that benefit the bottom line of the broker-dealer more than the client's financial well-being.
The Unwavering Integrity of Fee-Only Advisors
Fee-only advisors, on the other hand, receive compensation directly from their clients and do not receive commissions from financial product sales. This fee structure gives clients confidence that the advice they receive is objective and unbiased, which is better with the fiduciary standard. Fee-only advisors prioritize long-term financial goals, providing comprehensive, tailored advice that takes into account their client's unique situations, risk tolerances, and aspirations.
Making an Informed Choice
In the realm of financial advising, the distinction between fee-only advisors and broker-dealers under Regulation Best Interest is clear. Fee-only advisors, by embracing the fiduciary standard, offer clients a level of integrity, transparency, and personalized service that sets them apart. When choosing a financial advisor, opt for the unwavering commitment to your best interests that fee-only advisors provide. By doing so, you invest not only in your financial future but also in a relationship founded on trust, transparency, and the pursuit of your long-term prosperity.
FAQs:
1. What is the fiduciary standard, and how does it differ from Regulation Best Interest (Reg BI)?
– The fiduciary standard requires fee-only advisors to always act in their clients' best interests. Reg BI, in contrast, is a framework for broker-dealers, often seen as vague and potentially allowing for conflicts of interest.
2. How do broker-dealer advisors differ from fee-only advisors?
–  Advisors with broker-dealers differ from fee-only advisors as they often receive commissions from financial products they sell (whole life insurance, annuities, etc.), which can create conflicts of interest.
3. How does Regulation Best Interest (Reg BI) impact advice given by broker-dealers?
– Reg BI's vague term leaves room for interpretation, potentially allowing prioritization of the broker-dealers' interests over clients', and it doesn't mandate eliminating conflicts of interest.
4. Why consider a fee-only advisor over a broker-dealer when choosing a financial advisor?
– Fee-only advisors offer unbiased advice, as they don't receive commissions. They operate under the fiduciary standard providing integrity, transparency, and personalized service working in the best interest of the client.
Have more questions? Contact Us
Casey Smith, 
President, Wiser Wealth Management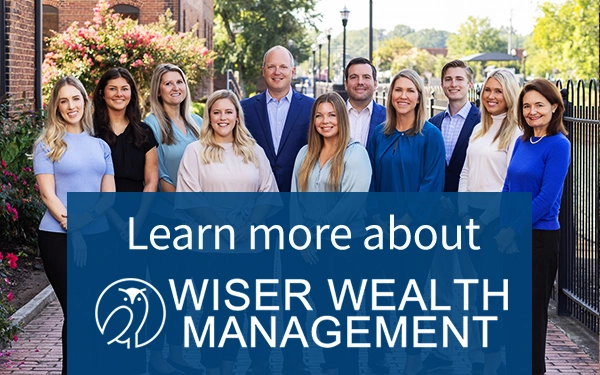 Is a high yield savings account right for you?
Casey Smith
Delta Pilots Guaranteed Variable Universal Life (GVUL) – What Action You Need to Take
Casey Smith
Share This Story, Choose Your Platform!
Wiser Wealth Management, Inc ("Wiser Wealth") is a registered investment advisor with the U.S. Securities and Exchange Commission (SEC). As a registered investment advisor, Wiser Wealth and its employees are subject to various rules, filings, and requirements. You can visit the SEC's website here to obtain further information on our firm or investment advisor's registration.
Wiser Wealth's website provides general information regarding our business along with access to additional investment related information, various financial calculators, and external / third party links. Material presented on this website is believed to be from reliable sources and is meant for informational purposes only. Wiser Wealth does not endorse or accept responsibility for the content of any third-party website and is not affiliated with any third-party website or social media page. Wiser Wealth does not expressly or implicitly adopt or endorse any of the expressions, opinions or content posted by third party websites or on social media pages. While Wiser Wealth uses reasonable efforts to obtain information from sources it believes to be reliable, we make no representation that the information or opinions contained in our publications are accurate, reliable, or complete.
To the extent that you utilize any financial calculators or links in our website, you acknowledge and understand that the information provided to you should not be construed as personal investment advice from Wiser Wealth or any of its investment professionals. Advice provided by Wiser Wealth is given only within the context of our contractual agreement with the client. Wiser Wealth does not offer legal, accounting or tax advice. Consult your own attorney, accountant, and other professionals for these services.
Sign up for our newsletter!
Our latest blogs, podcasts, and educational videos delivered to your inbox weekly.