The Difference Between Fee-only vs. Fee-based Financial Advisors
When it comes to managing your finances and planning for the future, seeking professional guidance is often a prudent choice. Financial advisors can provide valuable expertise, helping you navigate complex investment strategies, retirement planning, and more. However, not all financial advisors operate under the same principles or compensation models. In this blog, we will explore the key differences between fee-only and fee-based financial advisors and show you why you should never work with a fee-based advisor.
Fee-Only Financial Advisors
Wiser Wealth Management is a fiduciary, fee-only financial advisory firm. A fee-only financial advisor is a professional whose compensation is solely the fees they charge their clients. Moreover, they do not earn any commissions, sales incentives, or other forms of compensation based on the products or services they recommend or sell. This compensation structure allows fee-only advisors to maintain a high level of objectivity and prioritize their clients' best interests.
The Fiduciary Duty
A fiduciary duty is an ethical and legal obligation to act in the best interests of the client. Fee-only financial advisors, by virtue of their compensation structure, are usually fiduciaries. This means they are legally bound to put their clients' interests ahead of their own. In addition, they provide advice that is unbiased and transparent, which aligns with the client's goals and risk tolerance. Operating as a fiduciary ensures that the client's financial well-being is the advisor's top priority.
Fee-Based Financial Advisors
In contrast, fee-based financial advisors receive compensation from two sources: fees paid by clients and commissions earned from the sale of financial products. It's important to remember that while they may charge fees for certain services, they also have the potential to earn additional income by recommending or selling specific investment products, such as mutual funds or insurance policies. As a consequence, this compensation structure creates a conflict of interest. Since advisors may have the incentive to promote products that offer higher commissions, even if they are not the best fit for the client's needs. This is why you should beware of working with a fee-based advisor.
Conflict of Interest
The key distinction between fee-only and fee-based financial advisors lies in the potential conflict of interest. First, fee-only advisors have no financial incentive to recommend one investment product over another, as their compensation doesn't depend on the sale of such products. On the other hand, fee-based advisors may face conflicts of interest. As a result of the influence the financial products they recommend has on their compensation. This difference underscores the importance of understanding how your advisor receives compensation and whether they are acting as a fiduciary.
Transparency and Objectivity
Fee-only financial advisors are known for their transparency and objectivity. Since their income comes solely from client fees, there is no hidden agenda or bias in their recommendations. They can provide objective advice, free from any potential conflicts that may arise from commission-based compensation. This transparency builds trust and allows clients to make informed decisions with confidence.
Choosing the Right Advisor
Finally, choosing a financial advisor is a critical decision that can significantly impact your financial future. Understanding the differences between fee-only and fee-based financial advisors is important for making an informed choice. A fee-only financial advisor, operating as a fiduciary, offers a transparent and objective approach. They are solely compensated by client fees and have a legal obligation to act in the client's best interests. By prioritizing your needs and goals, a fee-only advisor, like Wiser Wealth Management, can provide unbiased guidance, to ensure that your financial well-being remains the primary focus.
Have more questions? Contact Us
Casey Smith
President of Wiser Wealth Management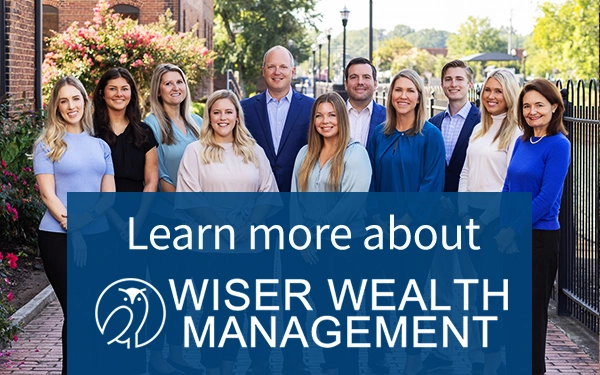 Share This Story, Choose Your Platform!
Wiser Wealth Management, Inc ("Wiser Wealth") is a registered investment advisor with the U.S. Securities and Exchange Commission (SEC). As a registered investment advisor, Wiser Wealth and its employees are subject to various rules, filings, and requirements. You can visit the SEC's website here to obtain further information on our firm or investment advisor's registration.
Wiser Wealth's website provides general information regarding our business along with access to additional investment related information, various financial calculators, and external / third party links. Material presented on this website is believed to be from reliable sources and is meant for informational purposes only. Wiser Wealth does not endorse or accept responsibility for the content of any third-party website and is not affiliated with any third-party website or social media page. Wiser Wealth does not expressly or implicitly adopt or endorse any of the expressions, opinions or content posted by third party websites or on social media pages. While Wiser Wealth uses reasonable efforts to obtain information from sources it believes to be reliable, we make no representation that the information or opinions contained in our publications are accurate, reliable, or complete.
To the extent that you utilize any financial calculators or links in our website, you acknowledge and understand that the information provided to you should not be construed as personal investment advice from Wiser Wealth or any of its investment professionals. Advice provided by Wiser Wealth is given only within the context of our contractual agreement with the client. Wiser Wealth does not offer legal, accounting or tax advice. Consult your own attorney, accountant, and other professionals for these services.
Sign up for our newsletter!
Our latest blogs, podcasts, and educational videos delivered to your inbox weekly.