Financial Freedom Requires a Team Effort
We have all heard the phrase "Teamwork Makes the Dream Work," but have you thought about how true it is in light of your family's financial freedom? A family's financial freedom cannot be achieved by one person. It requires a buy-in from the entire family unit. Everyone contributes some level of responsibility to ensuring the financial freedom of the family, especially the adults calling the plays.
Financial Decision Making in Households
It is natural for one person to take on the management of family finances, particularly for bookkeeping and paying out any cash flows. In previous years, this has typically been the role of a husband in married households; however, we are now seeing this role shift toward women. In many ways, women are becoming a larger voice in their family's financial decisions. Did you know that 31% of married women are the primary financial providers for their family? Since women are bringing more financial benefit to the family unit, it has made them more involved in the financial structuring and decision making within their respective households. This shift has created an environment for both spouses to take part in the financial success of the family.
Financial Planning for Married Couples
At Wiser, we require both parties to be present for any discussion of a married couple's financial planning. We require this to ensure that each party will be supportive of the mission and vision for financial success, particularly when that involves changing their lifestyle. It is hard to find success if one spouse takes the time and effort to create a plan only to then have to "sell" that plan to the other spouse. In general, having both people take ownership of any newly created financial plans leads to greater chances of success in execution. We exist to help couples understand and find their "why" behind financial planning. Every couple has a different expectation and goal for their life together, and both must be present to voice their ideas for financial planning to be a fruitful experience for the whole family.
Creating a Plan with Your Spouse
A plan is only as good as the people who are orchestrating it. You and your spouse are a team that have the same mission. We all want to have a successful launch and landing; when both of you work together to provide for your family, you can be destined for success. Here are some ways you can work together as a successful team:
Sit down and evaluate your cash flows as a family. How much are you spending on necessities each month? How much of your outflows could be limited to pay off your mortgage? What cash flows do you have coming up? Are you looking down a short road toward a kid's college education or a new car?
Schedule a time to speak with your financial advisor or schedule a consultation to find a financial advisor. In this meeting, be as transparent with them as possible so that they know how best to assist you on your path to financial freedom. Make sure to ask them how they can help you meet your financial goals. Come prepared with account values, insurance policy statements, mortgages, etc.
Feel empowered to take a path to financial freedom. At this point, your advisor should have given you a financial plan to run with that will strategically help you pay off debt, manage cash flows, find new insurance policies, allocate your investments in the best model for your individualized needs, etc.
Welcome the change. This could be a difficult lifestyle adjustment, but know that you are helping your future self feel at peace with your financial situation. Your future could be an unparalleled joy where you are no longer chained to your financial hardship but are encouraged by your financial freedom.
If you are prepared to embark on the journey of financial freedom with your life teammate, call Wiser Wealth Management. We will be honored to "quarterback" your financial management.
Have more questions? Contact Us
Michaela Dowdy
Financial Planning Associate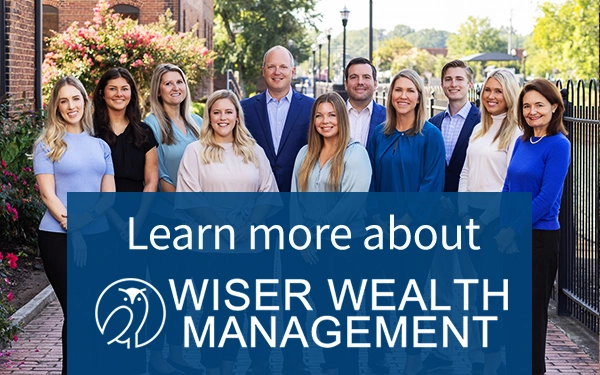 Is a high yield savings account right for you?
Casey Smith
Delta Pilots Guaranteed Variable Universal Life (GVUL) – What Action You Need to Take
Casey Smith
Share This Story, Choose Your Platform!
Wiser Wealth Management, Inc ("Wiser Wealth") is a registered investment advisor with the U.S. Securities and Exchange Commission (SEC). As a registered investment advisor, Wiser Wealth and its employees are subject to various rules, filings, and requirements. You can visit the SEC's website here to obtain further information on our firm or investment advisor's registration.
Wiser Wealth's website provides general information regarding our business along with access to additional investment related information, various financial calculators, and external / third party links. Material presented on this website is believed to be from reliable sources and is meant for informational purposes only. Wiser Wealth does not endorse or accept responsibility for the content of any third-party website and is not affiliated with any third-party website or social media page. Wiser Wealth does not expressly or implicitly adopt or endorse any of the expressions, opinions or content posted by third party websites or on social media pages. While Wiser Wealth uses reasonable efforts to obtain information from sources it believes to be reliable, we make no representation that the information or opinions contained in our publications are accurate, reliable, or complete.
To the extent that you utilize any financial calculators or links in our website, you acknowledge and understand that the information provided to you should not be construed as personal investment advice from Wiser Wealth or any of its investment professionals. Advice provided by Wiser Wealth is given only within the context of our contractual agreement with the client. Wiser Wealth does not offer legal, accounting or tax advice. Consult your own attorney, accountant, and other professionals for these services.
Sign up for our newsletter!
Our latest blogs, podcasts, and educational videos delivered to your inbox weekly.