Gold and Silver Hit Highs; Dollar Slips
Gold and silver are hitting all-time highs, while the dollar is struggling. Inflows into precious metals are hitting record numbers. This could be driven by a few things such as the weakness in the dollar, the fact it is a safe haven asset or simply because of the momentum picking up. Gold and silver first picked up strength and now momentum. This is most likely due to coronavirus, the uncertain future on its containment and how it will continue to affect the economy coupled with what will happen in November with the election.
As shown above, Gold, silver and Bitcoin had a great month in July. Gold closed above 1,900 for the first time since 2011 before eventually crossing 2,000 briefly for the first time in history. Bitcoin is starting a move after crossing 10,000 for the first time in over a year, while silver had its best month since 1979. Goldman Sachs analysts revised their 2020 outlook on gold to $2,300 an ounce while BofA analysts Michael Jalonen and Lawson Winder said "The size of major central bank balance sheets has been stable at 21 to 28% of GDP in the past decade just like the gold price. As central banks & governments double their balance sheets and fiscal deficits we up our 18 months gold target from $2,000 to $3,000/oz." UBS also feels it could stay at $2,000 by the end of September while JP Morgan believes the price currently is closer to its peak and should level out around the $2,000 mark.
Silver, gold, and now Bitcoin are seen as safe haven assets that investors flee to as a hedge when inflation is rising or when the market is falling. However, neither of this is happening as inflation is almost nonexistent and the market is continuing to rally. After a 30% drop on March 23rd, the market has quickly rebounded and S&P 500 is now up almost 2% for the year with no end in sight, carried by technology stocks.
On the other hand, the U.S. dollar has dropped to its lowest level since May 2018.
The Fed recently announced its plan to keep interest rates close or near zero for the foreseeable future. Last week, the dollar's trade index dropped to $93.04. This is used as a measure of the relative value to other currencies. We are closing Chinese consulates in the U.S., tariff talks are back on the table and discussions of banning one of China's most impressive companies, TikTok, all while there is still continued uncertainty on if Americans will be able to return to normalcy  this year. The extended unemployment benefits have not been expanded and discussions on the future of the new stimulus act are slowing.
As we have mentioned in our past blogs, it is almost impossible to time the market and past indicators are not always the best predictors of the future. Due to this, we cannot time when to get in and get out of market and what may always be the best asset to invest in. What we can control is remaining invested in long-term healthy assets classes through a diversified portfolio that is monitored and rebalanced. The economy is not the market and the market is not the economy. There will be more volatility until we get a vaccine and more people are able to return to work to support the economy and their families. It is important to remain invested and maintain a long-term focus while understanding how your investments fit into your overall financial plan.  Staying the course with your financial plan can help increase your probability of success in reaching financial goals.
Matthews Barnett, CFP®, ChFC®, CLU®
Financial Planning Specialist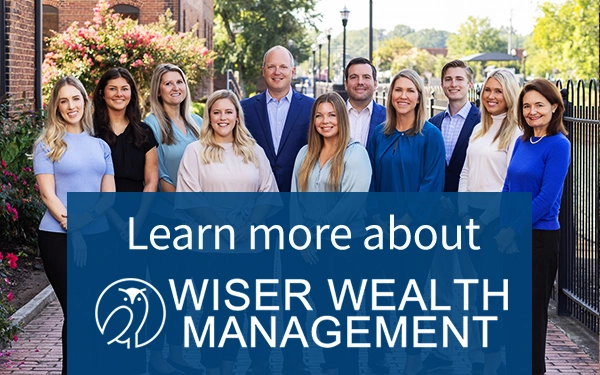 Is a high yield savings account right for you?
Casey Smith
Delta Pilots Guaranteed Variable Universal Life (GVUL) – What Action You Need to Take
Casey Smith
Share This Story, Choose Your Platform!
Wiser Wealth Management, Inc ("Wiser Wealth") is a registered investment advisor with the U.S. Securities and Exchange Commission (SEC). As a registered investment advisor, Wiser Wealth and its employees are subject to various rules, filings, and requirements. You can visit the SEC's website here to obtain further information on our firm or investment advisor's registration.
Wiser Wealth's website provides general information regarding our business along with access to additional investment related information, various financial calculators, and external / third party links. Material presented on this website is believed to be from reliable sources and is meant for informational purposes only. Wiser Wealth does not endorse or accept responsibility for the content of any third-party website and is not affiliated with any third-party website or social media page. Wiser Wealth does not expressly or implicitly adopt or endorse any of the expressions, opinions or content posted by third party websites or on social media pages. While Wiser Wealth uses reasonable efforts to obtain information from sources it believes to be reliable, we make no representation that the information or opinions contained in our publications are accurate, reliable, or complete.
To the extent that you utilize any financial calculators or links in our website, you acknowledge and understand that the information provided to you should not be construed as personal investment advice from Wiser Wealth or any of its investment professionals. Advice provided by Wiser Wealth is given only within the context of our contractual agreement with the client. Wiser Wealth does not offer legal, accounting or tax advice. Consult your own attorney, accountant, and other professionals for these services.
Sign up for our newsletter!
Our latest blogs, podcasts, and educational videos delivered to your inbox weekly.