Mary Ansley Southerland Interview
Mary Ansley Southerland joins the Wiser Roundtable podcast to discuss her career as CEO and co-owner of W.D. Little Mortgage. Throughout her years of experience working in the mortgage industry, she has become well-known and highly respected in the field. Mary Ansley is also the current President of the Marietta Rotary Club. On today's show, Mary Ansley and Casey discuss current interest rates during a pandemic, refinancing, conforming versus jumbo loans and reverse mortgages.
Listen on Apple Podcasts or watch on YouTube:
SUMMARY:
Over the past couple of months, interest rates have dropped significantly, and in some cases rates have reached close to 2.5%. It is important to remember that there are numerous factors that play a part in determining one's final interest rate. Some of these factors include credit score, equity position and the property itself. Although mortgages are necessary and largely inevitable, many people do not know what exactly is required to get one or where to even start the application process.
A common misconception is that banks are issuing the mortgage, when in fact this is not the case. The secondary mortgage market was put in place in the early 1980's in order to create liquidity in the market. Before the secondary mortgage market, banks were the ones lending out money for the long term, and thus, had taken on deposits that they were paying out more than they were making. This secondary mortgage market system allows people to invest money to make money, and with that, mortgage companies can use this money to lend to buyers to purchase homes.
Client Suitability
When it comes to determining the appropriate mortgage for a client, two things should be considered: the interest rate and the cost structure. With every loan, there are always additional costs included than the loan amount and interest. However, there are different options when choosing how these costs will be covered. Some examples of paying these costs are to pay in cash, add to the bottom line at closing or embed them into the interest rate. What separates W. D. Little from the companies on TV promising a "no closing fee mortgage" is the ability to assess an individual client's situation. Rather than simply running a basic credit report, W. D. Little takes into account anything from individual retirement plans to preparing to send children to college in order to determine the best interest rate for the client.
Conforming vs Jumbo Loans
One area of confusion related to the mortgage industry is the difference between conforming and "jumbo" loans, also known as portfolio loans. The conforming loan takes into account the maximum loan amount that the government (Freddie Mac/Fannie Mae) will buy in a particular area/marketplace. On the other hand, a portfolio loan excludes the Freddie Mac/Fannie Mae regulations and in turn, issues out private investment loans in order to fund mortgages. Of course, both types of loans have different requirements to apply.
Refinancing
Recently, refinancing has become a hot topic in many households, as many families have had time to consider the reasons for refinancing. Whether it is getting a lower interest rate which will lower their monthly payment or possibly the addition of a swimming pool or other household project. With work-from-home becoming more common, home improvements have skyrocketed and mortgage companies are able to issue loans to help fund most home improvement projects.
Reverse Mortgages
Reverse mortgages are a touchy subject for many reasons. Typically, this is a topic that comes up as one is nearing or new to retirement. With the help of a financial advisor, a reverse mortgage may be a feasible option. However, there are numerous considerations to consider before committing to a reverse mortgage. Mary Ansley reiterates that borrowing against your house is not a taxable event, a common misconception to some. It is also important to note that interest rates and fees are high for reverse mortgages, in some cases near 8%. When deciding to obtain a reverse mortgage, it is imperative that all parties are aware of such a decision. Failure to inform those closest to you, after agreeing to this type of loan, can cause a variety of headaches for those adversely affected. In the example Mary Ansley discusses in the interview, ultimately a daughter was forced to refinance her own home, in order to come up with the cash to save her father's home after his passing. This was due to the father's reverse mortgage that the daughter was unaware of prior to his death.
There are guidelines set in place before a client is approved and reaches the closing table. Some of these include a debt-to-income ratio of less than 45%, proof of cash to close,  and two-month bank statement history (commission salespeople must have at least a one to two years of income history). These requirements are necessary to protect the borrower and to help ensure investors will earn their money back.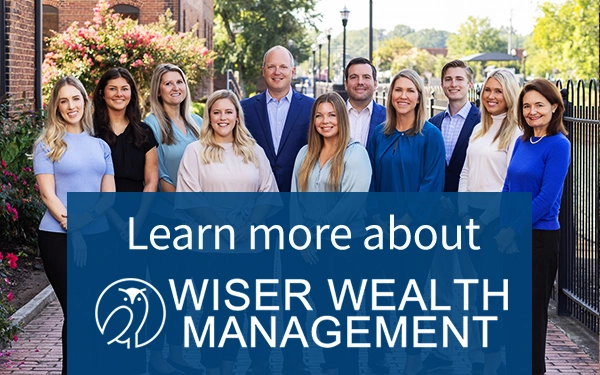 Share This Story, Choose Your Platform!
Wiser Wealth Management, Inc ("Wiser Wealth") is a registered investment advisor with the U.S. Securities and Exchange Commission (SEC). As a registered investment advisor, Wiser Wealth and its employees are subject to various rules, filings, and requirements. You can visit the SEC's website here to obtain further information on our firm or investment advisor's registration.
Wiser Wealth's website provides general information regarding our business along with access to additional investment related information, various financial calculators, and external / third party links. Material presented on this website is believed to be from reliable sources and is meant for informational purposes only. Wiser Wealth does not endorse or accept responsibility for the content of any third-party website and is not affiliated with any third-party website or social media page. Wiser Wealth does not expressly or implicitly adopt or endorse any of the expressions, opinions or content posted by third party websites or on social media pages. While Wiser Wealth uses reasonable efforts to obtain information from sources it believes to be reliable, we make no representation that the information or opinions contained in our publications are accurate, reliable, or complete.
To the extent that you utilize any financial calculators or links in our website, you acknowledge and understand that the information provided to you should not be construed as personal investment advice from Wiser Wealth or any of its investment professionals. Advice provided by Wiser Wealth is given only within the context of our contractual agreement with the client. Wiser Wealth does not offer legal, accounting or tax advice. Consult your own attorney, accountant, and other professionals for these services.
Sign up for our newsletter!
Our latest blogs, podcasts, and educational videos delivered to your inbox weekly.