How to Recover Financially after Divorce
On this episode of A Wiser Retirement™ Podcast, Casey Smith, and Missie Beach, CFP®, CDFA®, discuss how to recover financially after divorce.
Listen on Apple Podcasts or watch on YouTube:
When a couple decides to get divorced, an attorney is typically the first person to be contacted. While attorneys are well-trained in everything that has to do with the legal side of divorce, they're not always very aware of the financial implications of a divorce. 
For this reason, a financial advisor who is also a Certified Divorce Financial Advisor® can work alongside the attorney through the divorce. Prior to the divorce being finalized, a CDFA® professional will try to help minimize the back and forth between attorneys and clients. They also help ensure that the assets are divided evenly and can forecast the client's financial future while giving them an idea of what their normal will be. 
Many go into divorce thinking their life probably won't change much, but actually, it does change drastically. After divorce, you often have to start from ground zero, and it's up to you to create the life you want. Women who are or have been stay-at-home moms at the time of divorce often get too caught up with alimony. It's important to remember that child support is only for a determined amount of time, and will not last forever. Many women need to shift their focus to reinventing themselves, networking, and understanding that they are capable of building or rebuilding a career. 
Steps to Recover Financially After Divorce
Gather All Financial Information
Take inventory of what was received in the settlement. It's important to put together a binder with all that information. A lot of times things get divided but never executed, like 401Ks. A CDFA® professional helps with making sure that what the court said was supposed to have happened, actually did.
Create a Budget
In a divorce, women are often the ones who are in the dark in regard to the family's financial situation. Even if you're not planning on getting divorced, it's important to become familiar with the family's bank accounts. That way if a divorce is ever in sight, you know somewhat how to navigate your finances. Creating a budget after your divorce starts with cost cutting. For example, you could start by looking into your subscriptions, and canceling things that are not necessary anymore. 
Negotiate a Fair Settlement
In cases when clients reach out for help after the fact, unfortunately, it's usually too late and there's nothing that can be done. For this reason, even if you're going through an amicable divorce we counsel that you seek representation, and have a team of people you trust behind you that you trust and know are working in your best interest. For spouses of business owners, it is equally essential to have an attorney who understands business evaluations and can catch any occasional discrepancies, either by mistake or malicious intent.
Dealing with Debt
Debt is actually a major cause of divorce. Frequently, clients end up having to add high attorney fees to existing debt. If that's the situation you find yourself in, even if you cannot pay your debt off at the moment, create a debt-elimination plan. This will allow you to understand exactly how long it's going to take to clear it. Do not forget to separate your debt from your ex's. 
Most importantly, after becoming debt-free, build an emergency fund. Considering the emotional toll a divorce can take, after feeling more stable, you need to create a safety net. This will allow peace of mind, knowing that you are self-sufficient to take care of yourself during emergencies. 
Think of Your Future
After you have 3-6 months saved for emergencies, start thinking of your future. Start saving for retirement. While and if you can, max out your 401K and save as much as you can in your retirement accounts. This step takes wisdom and discipline, but if you got all the way here, you can go anywhere. 
Seek Financial Advice
Don't try to do this alone because if you're going through a divorce you already have too much to deal with. It is great to have a third party who can see things more clearly with financial expertise to guide you through this process. In conclusion, having someone to hold your hand during divorce can help minimize some of the hardships associated with it.
Download our eBook on "Top Reasons Most Financial Plans Fail"
TIMESTAMPS:
0:00 Intro
10:23 Gather All Financial Information
11:50 Create a Budget
13:17 Negotiate a Fair Settlement
19:46 Dealing with Debt
22:30 Think of Your Future
25:40 Seek Financial Advice
LINKS:
Learn more about Casey Smith and Missie Beach, CFP®, CDFA®.
CONNECT:
Twitter, Instagram, Facebook, LinkedIn, and YouTube.
Learn more about A Wiser Retirement™ podcast and access previous episodes.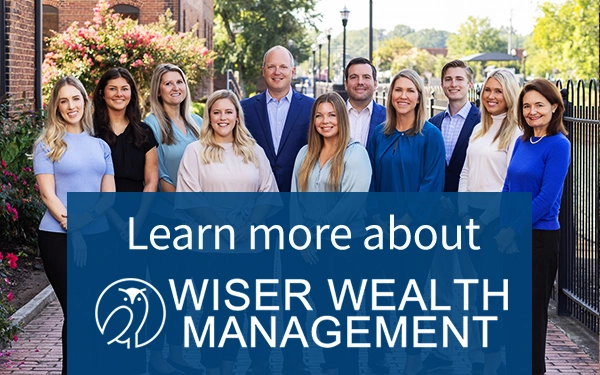 Share This Story, Choose Your Platform!
Wiser Wealth Management, Inc ("Wiser Wealth") is a registered investment advisor with the U.S. Securities and Exchange Commission (SEC). As a registered investment advisor, Wiser Wealth and its employees are subject to various rules, filings, and requirements. You can visit the SEC's website here to obtain further information on our firm or investment advisor's registration.
Wiser Wealth's website provides general information regarding our business along with access to additional investment related information, various financial calculators, and external / third party links. Material presented on this website is believed to be from reliable sources and is meant for informational purposes only. Wiser Wealth does not endorse or accept responsibility for the content of any third-party website and is not affiliated with any third-party website or social media page. Wiser Wealth does not expressly or implicitly adopt or endorse any of the expressions, opinions or content posted by third party websites or on social media pages. While Wiser Wealth uses reasonable efforts to obtain information from sources it believes to be reliable, we make no representation that the information or opinions contained in our publications are accurate, reliable, or complete.
To the extent that you utilize any financial calculators or links in our website, you acknowledge and understand that the information provided to you should not be construed as personal investment advice from Wiser Wealth or any of its investment professionals. Advice provided by Wiser Wealth is given only within the context of our contractual agreement with the client. Wiser Wealth does not offer legal, accounting or tax advice. Consult your own attorney, accountant, and other professionals for these services.
Sign up for our newsletter!
Our latest blogs, podcasts, and educational videos delivered to your inbox weekly.