How to Start and Grow a Business
On this episode of A Wiser Retirement Podcast, Casey Smith is joined by special guest Marty Paradise of Paradise Business Coaching, and they discuss how to start and grow a business and the importance of surrounding yourself with a good team.
SUMMARY:
How to Start and Grow a Business
Starting a business is exciting, but it can also be challenging that is why it is important to have resources around you. There are three really good people to always listen to when it comes to building a business they are Donal Miller, Dave Ramsey, and Michael Hyatt. They always have good bits of wisdom that can help you with understanding your business.
One book we use a lot here at Wiser is Marketing Made Simple by Donald Miller. It walks you through how to build a story brand as well as market to your customers in a valuable way. There is another book called Traction by Gino Wickman that details how to build a one page business plan. This can be really helpful when trying to start a business and get your thoughts organized.
Create a Business Plan
The first thing you should do when you're thinking about starting a new business is to create a plan. Having a plan in place will help keep you on track, and make sure your business plans align with your goals. If your business plan doesn't align with your life plan, it probably isn't a good venture for you to start.
The First Steps in Creating a Plan for Your Business
The first step in creating a plan is to understand the problem your business solves. Every business solves some sort of problem for the customer. If there is no problem to solve, people won't need your business. This is why it is important to be very clear on what problem your business is solving. In today's world, people don't really care about things unless it is directly affecting them, so you need to figure out how your business will help your potential customers.
The next step would be to figure out how your business will make money. The end goal of any business is to make a profit. You need to figure out how to do this. Small businesses don't have endless amounts of money, and it becomes easy to run out of money if you don't have a proper plan in place. To combat this, create a picture of how you want your business to look in 3 years. What is it going to take to get there? What needs to be prioritized first? Are there start up costs? These are all things that need careful consideration before you jump in head first.
You need to keep in mind that your new business has the potential of not working out. It's never fun to think you might fail, but if you keep putting money into something that is going to fail, that can be really scary. Start tracking your metrics early on so you can see how you're preforming and know if you need to pivot.
Airplane Framework
As we've mentioned many times before, it is always good to start with a plan. A framework Marty uses at his business coaching firm is the airplane framework. Essentially there are six parts of an airplane and each of them can correlate to a sector of business.
The cockpit represents leadership. Leadership is the most fundamental part of a business. You need to have a vision and paint a picture for where your business will go. You need to lead the way to this vision in order to reach your goals.
The right engine represents marketing. Marketing is important for any business in order to reach new customers.
The left engine is sales.
The body is overhead, which includes operations and people. Something to keep in mind is that when the body of a plane is too heavy, the plane doesn't fly – this is the same with overhead. If you take on too much too fast, your business could fail.
The wings are your products or services. If your product/services aren't good enough, it won't be able to sustain your overhead – same as if a planes wings are too small, it won't support the body.
The fuel tank is your cash flow or cash reserves. Just like a plane can't fly without fuel, a business can't operate without cash flow.
Separate Yourself from The Business
Something that is really important is that you need to be able to separate yourself from the business. Often, it can be hard to tear yourself away from the business or become less involved. Especially if you are a small business owner, you sometimes are the business. Create guidelines for yourself about what you do and don't want to do, and stick to them. Don't over-extend yourself, create a reliable team to get the most out of your business.
Creating Your Team
Most people who start businesses aren't entrepreneurs, but rather experts in their field. For example, chiropractors open their own offices, dentists open their own dentistry, etc. Think about what you're good at and what you're not. Hire people to join your team based on this so that you can separate yourself from the business. Hire the best people to do what you can't.
Along with this, there is also a problem with keeping people for too long. Sometimes you start out with a team that gets you from point a to point b, but that same team can't always get you from point b to point c. It is important as a business owner to know when to let people go. Always make sure you have the right people in the right positions.
Marketing
When we first started marketing here at Wiser, it was intimidating to see how much money was needed for marketing. There is always a scary feeling when you spend a lot of money on something because, what if it doesn't work? However, marketing is so large and widely used for a reason – because it works. Marketing is vital to help grow your business.
Download our white paper on "Your Path to a Lifetime of Financial Success"
TIMESTAMPS:
0:00 Intro
5:30 How to Start and Grow a Business
8:12 Create a Plan
11:03 Where to Start
27:10 Airplane Framework
42:15 Separate Yourself from The Business
44:10 Creating Your Team
49:40 Marketing
LINKS:
Learn more about Casey Smith and Marty Paradise
CONNECT:
Twitter, Instagram, Facebook, LinkedIn, and YouTube.
Learn more about A Wiser Retirement podcast and access previous episodes.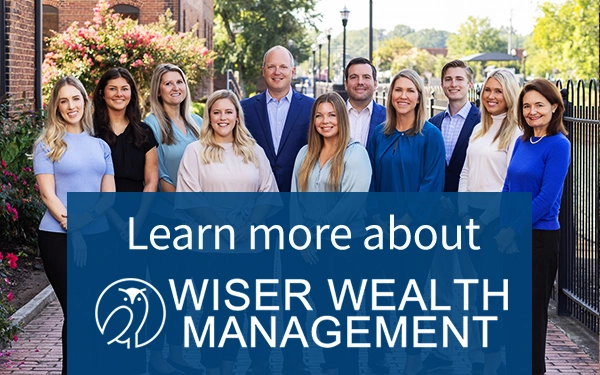 Share This Story, Choose Your Platform!
Wiser Wealth Management, Inc ("Wiser Wealth") is a registered investment advisor with the U.S. Securities and Exchange Commission (SEC). As a registered investment advisor, Wiser Wealth and its employees are subject to various rules, filings, and requirements. You can visit the SEC's website here to obtain further information on our firm or investment advisor's registration.
Wiser Wealth's website provides general information regarding our business along with access to additional investment related information, various financial calculators, and external / third party links. Material presented on this website is believed to be from reliable sources and is meant for informational purposes only. Wiser Wealth does not endorse or accept responsibility for the content of any third-party website and is not affiliated with any third-party website or social media page. Wiser Wealth does not expressly or implicitly adopt or endorse any of the expressions, opinions or content posted by third party websites or on social media pages. While Wiser Wealth uses reasonable efforts to obtain information from sources it believes to be reliable, we make no representation that the information or opinions contained in our publications are accurate, reliable, or complete.
To the extent that you utilize any financial calculators or links in our website, you acknowledge and understand that the information provided to you should not be construed as personal investment advice from Wiser Wealth or any of its investment professionals. Advice provided by Wiser Wealth is given only within the context of our contractual agreement with the client. Wiser Wealth does not offer legal, accounting or tax advice. Consult your own attorney, accountant, and other professionals for these services.
Sign up for our newsletter!
Our latest blogs, podcasts, and educational videos delivered to your inbox weekly.