Low Cost, Diversified, Long-Term Investing
It is important to understand the concept of long-term investing because it can help you grow and protect your portfolio. On this episode of A Wiser Retirement Podcast, Casey Smith and Brad Lyons, CFP® wrap up Q1 2022 by talking about why investing for the long-term is crucial to maintaining your portfolio. They talk about investing in emerging markets, reveal the fourth way to grow and protect your portfolio, and introduce our new theme for Q2 2022.
Listen on Apple Podcasts or watch on YouTube:
SUMMARY:
Invest for the Long-Term
Unfortunately, it's common to be your own worst enemy during times of crisis because emotions take over and a short-term solution seems to ease that worry. To avoid this, you should instead maintain a long-term focus. Since geo-political events or drops in the market are bound to happen, the portfolio is set up to withstand those types of events. Keep in mind, trading in the short-term can damage your portfolio. Try to worry less and invest for the long-term.
Why Invest in Emerging Markets?
As you begin to diversify your portfolio, it is important to include emerging markets in the mix. Emerging markets grow at very fast rates, and over time become developed markets. They also use natural resources as their biggest economic engine, meaning they have products and services that are exported throughout the world. This makes it a great opportunity for investors to profit.
Grow and Protect Your Portfolio
The fourth way to grow and protect your portfolio is by turning a blind eye to financial social media and news. It is important to keep in mind that most of it is noise and ultimately distracts you from reaching your financial goals. There is a lot of false information circulating out there that has no evidence of being factual. If you are looking to stay informed on global news, look for reliable sources.
Maintain Your Portfolio
Maintain your portfolio by only making changes to it when necessary. Don't make changes based on the news, social media, or emotions. Make changes when the fundamentals of the market have changed and ultimately require an adaptation. It is highly important to adapt to new market fundamentals, so your portfolio is up to date and working in your best interest.
Launching into Quarter Two
Retirement only happens once, so it is very important to prepare for it. Our theme for Quarter 2 of 2022 compares the journey of retirees and astronauts. Similar to astronauts, retirees need to prepare and once in a "retirement orbit" have to survive and maintain their lifestyle. To help retirees better prepare for retirement, we have developed a checklist that counts down from five called Your Pre-Retirement Checklist, which will soon be available on our website.
Download our white paper on "3 Ways to Grow and Protect Your Portfolio"
TIMESTAMPS:
0:00 Intro
1:18 Invest for the Long-Term
6:00 Invest in Emerging Markets
9:51 Grow and Protect Your Portfolio
15:40 Maintain Your Portfolio
18:06 Launching into Q2 2022
LINKS:
Learn more about Casey Smith and connect with him on Twitter.
Learn more about Brad Lyons.
Learn more about Matthews Barnett.
CONNECT:
Twitter, Instagram, Facebook, LinkedIn, and YouTube.
Learn more about A Wiser Retirement podcast and access previous episodes.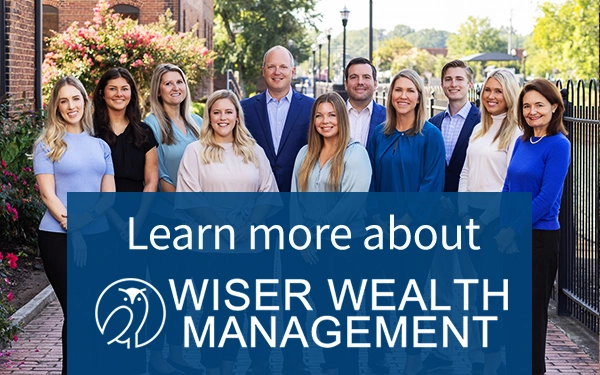 Share This Story, Choose Your Platform!
Wiser Wealth Management, Inc ("Wiser Wealth") is a registered investment advisor with the U.S. Securities and Exchange Commission (SEC). As a registered investment advisor, Wiser Wealth and its employees are subject to various rules, filings, and requirements. You can visit the SEC's website here to obtain further information on our firm or investment advisor's registration.
Wiser Wealth's website provides general information regarding our business along with access to additional investment related information, various financial calculators, and external / third party links. Material presented on this website is believed to be from reliable sources and is meant for informational purposes only. Wiser Wealth does not endorse or accept responsibility for the content of any third-party website and is not affiliated with any third-party website or social media page. Wiser Wealth does not expressly or implicitly adopt or endorse any of the expressions, opinions or content posted by third party websites or on social media pages. While Wiser Wealth uses reasonable efforts to obtain information from sources it believes to be reliable, we make no representation that the information or opinions contained in our publications are accurate, reliable, or complete.
To the extent that you utilize any financial calculators or links in our website, you acknowledge and understand that the information provided to you should not be construed as personal investment advice from Wiser Wealth or any of its investment professionals. Advice provided by Wiser Wealth is given only within the context of our contractual agreement with the client. Wiser Wealth does not offer legal, accounting or tax advice. Consult your own attorney, accountant, and other professionals for these services.
Sign up for our newsletter!
Our latest blogs, podcasts, and educational videos delivered to your inbox weekly.