Making Your Business Less Dependent on You
On this episode of A Wiser Retirement Podcast, Casey Smith is joined by special guests Robert Swarthout of Teton Crypto Capitol and Marty Paradise of Paradise Business Coaching. They discuss the ins and outs of making your business less dependent on you.
SUMMARY:
Making Your Business Less Dependent on You
When you own a business, you will quickly find out that you can't do everything and be everywhere. You only have so much time, and it is important make the most with the time you have. Your business can only grow as fast as the time put in, so finding the best use of your time is important. It is easy to become the main character of your business, but you need to let the people working for you do their job. It can be hard when you are used to doing everything a certain way, but at some point you have to learn to let go and let your employees help you.
Make a Chart to Help Maximize Time
A good place to start when trying to decide how to maximize your time is to create a chart. Write down everything that has to be done for your business to run, then assign who does what within that chart. From there, look at everything you do and decide what you can assign to someone else. This will help you figure out what areas you may need to hire people.
When creating your chart, keep in mind there are two types of work, strategical and tactical. Strategic work is the side of the business that typically the boss does. Tactical work is the work of the business that overtime you want to hand off to someone else. This could be things like accounting or marketing. Learning how to delegate some of these tasks is really important. With this, give people room to fail. When you first start handing things off, people won't do it the exact way you do, and that's okay! Learn to give new employees the room to learn and grow.
Write Down Your Processes
Something every business owner should do is write down your processes, because if you don't, it can be harder for your business to grow. You should always be working on your processes, as they may even change over time. Find or create a process that can be as repeatable as possible. This will make it easier when new people come in, because you can show them your processes and go from there. No matter how big your business is, it could contain thousands of people or just a handful, you should always have repeatable processes.
Once you find your processes, write it down. That way you can always reference it, and so can your employees. Along with this, find the right employees for your process or to make your process work. You always want to have the right people on your team, and this can help you with that.
Techniques for Delegation
Like before, create a chart to help with delegating tasks to people. Write down everything you do in any given week, then look at the list and decide what activities you spend too much time on that someone else could do. Get a hand on all the tasks you can give to someone else. Doing this will free up some of your time so that you can work on essential parts of running your business. Another way to look at this is to decide what you like doing the least and give that away. You can figure this out by looking at what you procrastinate the most on, then get rid of that thing.
What Should You Focus On?
Something that is really important for all business owners to focus on is developing a pulse for where your business is going. Really know the health of your business and be on top of your numbers. This way you can predict how you will perform in the future. Along with this you should be keeping tabs on your employees and their overall morale – especially in todays economy. Have meetings and give your employees confidence in the business they're working for. It is really important to allow employees to have a voice and to keep them energized. This will help keep the focus off the negative and keep mental health high. This will also help everyone stay on track for the same goals.
Download our white paper on "Your Path to a Lifetime of Financial Success"
TIMESTAMPS:
0:00 Intro
1:23 Making Your Business Less Dependent on You
7:00 Make a Chart
18:45 Create a Process
24:05 Techniques for Delegation
29:30 What Should You Focus On
LINKS:
Learn more about Casey Smith.
CONNECT:
Twitter, Instagram, Facebook, LinkedIn, and YouTube.
Learn more about A Wiser Retirement podcast and access previous episodes.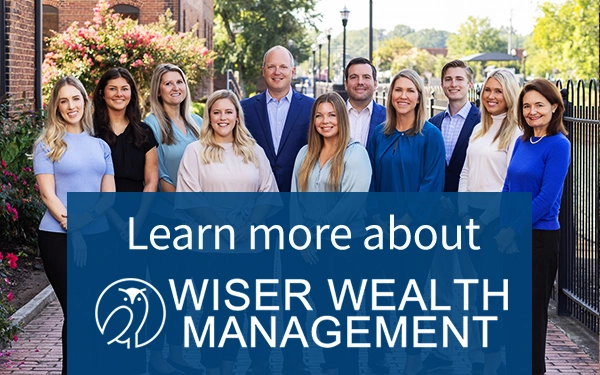 Is a high yield savings account right for you?
Casey Smith
Delta Pilots Guaranteed Variable Universal Life (GVUL) – What Action You Need to Take
Casey Smith
Share This Story, Choose Your Platform!
Wiser Wealth Management, Inc ("Wiser Wealth") is a registered investment advisor with the U.S. Securities and Exchange Commission (SEC). As a registered investment advisor, Wiser Wealth and its employees are subject to various rules, filings, and requirements. You can visit the SEC's website here to obtain further information on our firm or investment advisor's registration.
Wiser Wealth's website provides general information regarding our business along with access to additional investment related information, various financial calculators, and external / third party links. Material presented on this website is believed to be from reliable sources and is meant for informational purposes only. Wiser Wealth does not endorse or accept responsibility for the content of any third-party website and is not affiliated with any third-party website or social media page. Wiser Wealth does not expressly or implicitly adopt or endorse any of the expressions, opinions or content posted by third party websites or on social media pages. While Wiser Wealth uses reasonable efforts to obtain information from sources it believes to be reliable, we make no representation that the information or opinions contained in our publications are accurate, reliable, or complete.
To the extent that you utilize any financial calculators or links in our website, you acknowledge and understand that the information provided to you should not be construed as personal investment advice from Wiser Wealth or any of its investment professionals. Advice provided by Wiser Wealth is given only within the context of our contractual agreement with the client. Wiser Wealth does not offer legal, accounting or tax advice. Consult your own attorney, accountant, and other professionals for these services.
Sign up for our newsletter!
Our latest blogs, podcasts, and educational videos delivered to your inbox weekly.