Portfolio emergency procedures
In the same way that pilots are trained for emergencies, so has your financial advisor.  Let's review the portfolio emergency procedures with an example.  You are a passenger on a flight, rolling down the runway, preparing for takeoff, then slowly ascending up in the air and suddenly the right engine catches on fire! You feel panicked. Does anyone else notice this? Inside the cockpit, the pilot gets a right engine fire alarm. He verifies that it is a fire and calmly goes through a series of checklists that secure the engine and returns to the field for landing. As panicked as you felt, you were not alone. There was a professional overseeing your flight that was well trained, prepared and had been evaluated on how to handle such a situation.
The same is true with your retirement savings. Assuming you have a fiduciary advisor working in your best interest, he or she has built a financial plan with you. This plan includes events, just like today, happening in your portfolio. Portfolio modeling was done to see how your retirement plan could still survive with 20% or more in portfolio loss. Your risk tolerance was determined to see how you might react under such circumstances.
In jet training, there can be a period where new pilots want to hurry to fix that burning engine. There really is no hurry. The engine is designed to burn and even fall off. Care has to be taken not to shut down the good engine while safely securing the bad one. Shutting down the good engine will lead to a certain death for all.
New or even unsecure financial advisors will often tend to let the client sell out their entire portfolio in times of crisis. Maybe the advisor didn't plan properly, doesn't have the wisdom that experience in the market gives you or they are afraid of losing the account. In the end, we all work for the client and will bend to their desires, but the best fiduciary advisors should fully inform the client that liquidating portfolios and trying to time the bottom, top or middle of the markets is very similar to shutting off that good engine. Securing both engines certainly will put the fire out fast and all is calm for a moment, but then you realize that you now have no chance of achieving the original plan.
Here are my portfolio emergency procedures:
START
Take a deep breath
Review my retirement plan, what has changed? Make adjustments as needed.
Can I take advantage of this situation while others are fearful?

Yes – Buy more with cash on hand, up my 401(k) contributions, add money to a Roth or IRA.
No – Continue to 4

Rebalance the portfolio – After a big sell off, take the gains in bonds and reinvest in stock.
END here unless you are in a panic then continue to 6.
Turn off all financial news television; they only add to the panic.
Am I still panicking?

Read a Random Walk Down Wall Street by Burton Malkiel.

Reassess: Does panic persist?

Yes – If selling would make me feel better, sell just 5% or less of my stock allocation and add to cash, repeat weekly until panic stops.
No – Great, now focus on what really matters.
END
Casey Smith
Posted 4/6/2020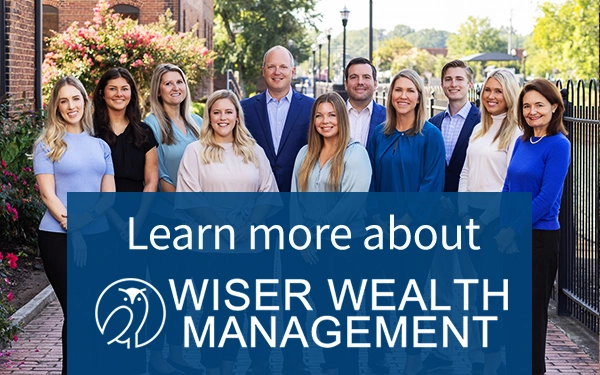 Is a high yield savings account right for you?
Casey Smith
Delta Pilots Guaranteed Variable Universal Life (GVUL) – What Action You Need to Take
Casey Smith
Share This Story, Choose Your Platform!
Wiser Wealth Management, Inc ("Wiser Wealth") is a registered investment advisor with the U.S. Securities and Exchange Commission (SEC). As a registered investment advisor, Wiser Wealth and its employees are subject to various rules, filings, and requirements. You can visit the SEC's website here to obtain further information on our firm or investment advisor's registration.
Wiser Wealth's website provides general information regarding our business along with access to additional investment related information, various financial calculators, and external / third party links. Material presented on this website is believed to be from reliable sources and is meant for informational purposes only. Wiser Wealth does not endorse or accept responsibility for the content of any third-party website and is not affiliated with any third-party website or social media page. Wiser Wealth does not expressly or implicitly adopt or endorse any of the expressions, opinions or content posted by third party websites or on social media pages. While Wiser Wealth uses reasonable efforts to obtain information from sources it believes to be reliable, we make no representation that the information or opinions contained in our publications are accurate, reliable, or complete.
To the extent that you utilize any financial calculators or links in our website, you acknowledge and understand that the information provided to you should not be construed as personal investment advice from Wiser Wealth or any of its investment professionals. Advice provided by Wiser Wealth is given only within the context of our contractual agreement with the client. Wiser Wealth does not offer legal, accounting or tax advice. Consult your own attorney, accountant, and other professionals for these services.
Sign up for our newsletter!
Our latest blogs, podcasts, and educational videos delivered to your inbox weekly.