Profiting from technology
Americans of every generation have increased adoption rates of new technologies for communication. Due to the coronavirus pandemic, we are utilizing new apps even more via cell phones, tablets and laptops.  Adding technology investments to a portfolio can be a way to potentially higher long-term returns.
Those who were already high on the adoption curve are finding this new environment to be highly efficient, while those who were a little further behind the curve may find it new and exciting thus climbing up the curve rapidly. The coronavirus pandemic has forced us to change the way we interact with one another and conduct our affairs. The pandemic has caused many to shelter in place and limit our social interactions. Instead of simply accepting the fact that we are separated for an undetermined period of time and unable to interact and conduct business – we have adapted to our new environment by adopting new technologies. We have decided that in today's modern world, people will remain connected regardless of the circumstance and there is no reason not to find a way to profit from it as well.
These technologies are a disruptive agent in our economy and as new technologies are discovered and applied, they too will beget even newer technologies. While we take advantage of new forms of communication, we can also take advantage of this phenomenon in our portfolios. Over the past 5 years, the Information Technology sector rewarded investors with a 17.8% annualized return rate vs. the broader S&P 500 returning 6.9% annualized for the same time period.
Adding technology investments to a portfolio can be a way to potentially higher long-term returns. Tactical allocations properly applied to a portfolio is an excellent way to take advantage of the long-term structural trends in our economy. The question is what is the most efficient way to do this?  There are hundreds of technology companies and technology mutual funds plus dozens of technology-focused indexed ETFs to choose from and they are not all are created alike. Within the sector, there are different sub-groups of companies to choose from including the Semiconductors, Technology Hardware & Equipment and Software & Services. Choosing the right investment vehicle is important in order to get the right exposure to the sector at the right price.
ETFs are a great way to achieve sector exposure, as they invest in the entire index rather than attempt to pick and choose today's winners. We would suggest looking for a broad-based index of technology companies, yet one that still reflects the concentrated nature of the sector itself. The index should have companies of all market capitalizations and all sub-groups represented. Once an index is selected, the investment in the index should have a low tracking error to its index, a high average daily trade volume for liquidity and a low cost. A sampling of technology focused ETFs is shown below.
All information is as of March 31, 2020.
Vanguard's Information Technology ETF, symbol VGT, is a good choice. It is ranked at or near the top of most of the criteria and has also had tremendous performance relative to the S&P 500 index. YTD through April 30, 2020, VGT has outperformed the S&P 500 index by 9 percentage points.All information is as of March 31, 2020.
The Information Technology sector is the largest sector of the S&P 500 with a 25.5% weighting as of March 31, 2020. This means that those with an allocation to an S&P 500 fund have a quarter of their investment in technology companies. If you haven't looked recently, many of today's technology companies are household names. The same way car, pharmaceutical and energy companies were the household names of yesteryear. The go-go years of the internet bubble are no longer representative of the technology companies today. Instead, think of Microsoft, Apple, Intel and Cisco. Many of these companies offer products and services we use on a daily basis to enhance our lives. Why not also profit from them?
Some Wiser Wealth Management clients' portfolios may have or have had any one or more of the investments named in this article.
Brad Lyons, CFP®
Posted 5/6/2020
There are no warranties implied.
Wiser Wealth Management Inc., or subsequently "Wiser Wealth" is a registered investment adviser located in Marietta, Georgia. Wiser Wealth may only transact business in those states in which it is registered, or qualifies for an exemption or exclusion from registration requirements. Wiser Wealth's web site is limited to the dissemination of general information pertaining to its advisory services, together with access to additional investment-related information, publications, and links. Accordingly, the publication of Wiser Wealth's web site on the Internet should not be construed by any consumer and/or prospective client as Wiser Wealth's solicitation to effect, or attempt to effect transactions in securities, or the rendering of personalized investment advice for compensation, over the Internet. Any subsequent, direct communication by Wiser Wealth with a prospective client shall be conducted by a representative that is either registered or qualifies for an exemption or exclusion from registration in the state where the prospective client resides. For information pertaining to the registration status of Wiser Wealth, please contact the state securities regulators for those states in which Wiser Wealth maintains a registration filing. A copy of Wiser Wealth's current written disclosure statement discussing Wiser Wealth's business operations, services, and fees is available at the SEC's investment adviser public information website – www.adviserinfo.sec.gov or from Wiser Wealth upon written request. Wiser Wealth does not make any representations or warranties as to the accuracy, timeliness, suitability, completeness, or relevance of any information prepared by any unaffiliated third party, whether linked to Wiser Wealth's web site or incorporated herein, and takes no responsibility therefor. All such information is provided solely for convenience purposes only and all users thereof should be guided accordingly.
This website and information are provided for guidance and information purposes only.  Investments involve risk and unless otherwise stated, are not guaranteed.  Be sure to first consult with a qualified financial adviser and/or tax professional before implementing any strategy.  This website and information are not intended to provide investment, tax, or legal advice.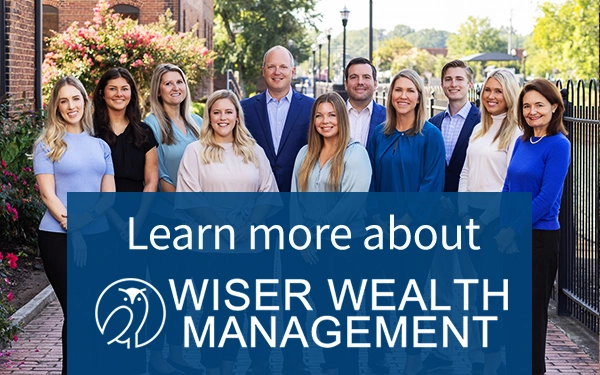 Share This Story, Choose Your Platform!
Wiser Wealth Management, Inc ("Wiser Wealth") is a registered investment advisor with the U.S. Securities and Exchange Commission (SEC). As a registered investment advisor, Wiser Wealth and its employees are subject to various rules, filings, and requirements. You can visit the SEC's website here to obtain further information on our firm or investment advisor's registration.
Wiser Wealth's website provides general information regarding our business along with access to additional investment related information, various financial calculators, and external / third party links. Material presented on this website is believed to be from reliable sources and is meant for informational purposes only. Wiser Wealth does not endorse or accept responsibility for the content of any third-party website and is not affiliated with any third-party website or social media page. Wiser Wealth does not expressly or implicitly adopt or endorse any of the expressions, opinions or content posted by third party websites or on social media pages. While Wiser Wealth uses reasonable efforts to obtain information from sources it believes to be reliable, we make no representation that the information or opinions contained in our publications are accurate, reliable, or complete.
To the extent that you utilize any financial calculators or links in our website, you acknowledge and understand that the information provided to you should not be construed as personal investment advice from Wiser Wealth or any of its investment professionals. Advice provided by Wiser Wealth is given only within the context of our contractual agreement with the client. Wiser Wealth does not offer legal, accounting or tax advice. Consult your own attorney, accountant, and other professionals for these services.
Sign up for our newsletter!
Our latest blogs, podcasts, and educational videos delivered to your inbox weekly.