Steps You Can Take to Retire Early
At the start of the episode, Casey Smith takes a few minutes to talk with Amy Rambo, a travel advisor at Blue Pineapple Travel. They talk about traveling in retirement and mention some of the benefits of hiring a travel advisor to help plan your next trip. Casey is joined by Missie Beach, CFP®, CDFA®, for the remainder of the episode to talk about steps you can take to retire early.
Listen on Apple Podcasts or watch on YouTube:
 SUMMARY:
Financial Success and Bucket-list Travels
If you are a frequent listener of the Wiser Retirement™ Podcast then you've heard the phrase "financial success is intentional", before. While our objective is to guide people to financial success, many of our clients have already achieved it. These are people who have worked hard, saved and invested, and now are ready to make some of their dreams come true.
For some, traveling is one of those dreams. However, planning a visit to your dream destination for the first time can seem like a daunting task. This is where working with a travel advisor can help make your dreams a reality. The Blue Pineapple Travel is a travel agency located in Marietta, GA. They help people plan all types of trips. They do everything from planning, to booking flights, booking hotels, and advising on places to go and things to see. Their expertise in traveling can help you travel hassle-free and worry-free.
Early Retirement
While most people choose to retire at the typical age for retirement and then pursue their dreams, there are many who choose to retire early to have a chance to experience a longer retirement phase. The early retirement wave is becoming increasingly stronger, but is it doable with minimal preparation? The answer is, definitely not. Here are some steps you can take to retire early.
Make a Plan
Put a plan in place and be intentional with it. There are so many variables when it comes to retirement, especially early retirement. Unfortunately, living life spontaneously money-wise, will not get you there. For this reason, you should develop a retirement plan that outlines your financial goals, including how much money you need to save, how much you should be investing, and what kind of retirement accounts you should have.
Set a Realistic Retirement Goal
When planning for retirement, it is important to determine what your goals are. For example, figure out how much money you will need to retire comfortably, and decide when you want to retire. Consider your lifestyle, health, and other factors that may affect your retirement plans. The earlier you retire, the more money you will need to have. There isn't a set amount of money you have to have in order to retire. This number varies from person to person.
Get Rid of All Debt
Get rid of any existing debt before you even start thinking about retiring. Debt is a real threat when it comes to long-term planning. Pay off your car, mortgage, and student loans, then remain debt-free. This will reduce your monthly expenses and allow you to save more money.
Increase Your Savings
To retire early, you'll need to save more than the average person. Look for ways to increase your income and reduce your expenses to save more money. It's important to remember that retirement is all about cash flow. If you free up your monthly budget from those hefty debt payments, that means you have extra money to put into your savings account.
Invest Wisely
Invest your savings in a diversified portfolio of stocks, bonds, and other assets that provide growth and income potential. Do not forget about compound interest, and if applied to debt, it can ruin you financially. However, when applied to savings over a long period of time, it will provide you with a comfortable retirement.
Consider a Side Hustle
If you have a passion for something, but you're not able to make a living off it full-time, turning it into a side hustle can help you earn extra income. It can then be used to save for retirement or pay off debt. Allowing yourself to reach your goals sooner.
Live Below Your Means
"You're too rich to be this poor." Many people have healthy salaries, but don't know how to control their expenses. These people are great professionals, but can't see the long-term picture, and despite having a large income, end up living paycheck to paycheck. Those who are truly wealthy have learned to live on much less than the deposit they receive each month in their bank accounts.
Consider Downsizing
Downsizing can be a good strategy. However, it doesn't always help you save money. It is often not going to be any less expensive to move to a different place if you stay in the same area. On the contrary, relocating to a different region where the cost of living is cheaper and you can buy a smaller property for much less than what your current property is worth, can be a good strategy to help increase cash flow.
Consult a Financial Advisor
A financial advisor can help you develop a retirement plan that is tailored to your goals and circumstances. The software most people use to calculate a retirement plan, can be used by anyone, but it is not magic. The knowledge offered by a financial advisor is what works the magic. This is why working with a fee-only fiduciary financial advisor will help to optimize your retirement plan and make sure you can live comfortably and worry-free during your retirement years.
Keep in mind that retiring early requires dedication, sacrifice, and careful planning. By following these steps, you can increase your chances of retiring early and living the retirement lifestyle you desire.
Download our eBook on "Buyer Beware: Why do they keep trying to sell you that annuity?"
TIMESTAMPS:
0:00 Intro
0:45 Financial Success and Bucket-list Travels
10:40 Early Retirement
13:22 Make a Plan
14:20 Set a Realistic Retirement Goal
16:30 Get Rid of All Debt
19:15 Increase Your Savings
21:05 Invest Wisely
26:20 Consider a Side Hustle
27:45 Live Below Your Means
30:20 Consider Downsizing
32:38 Consult a Financial Advisor
LINKS:
Learn more about Casey Smith and Brad Lyons, CFP®
CONNECT:
Twitter, Instagram, Facebook, LinkedIn, and YouTube.
Learn more about A Wiser Retirement™ podcast and access previous episodes.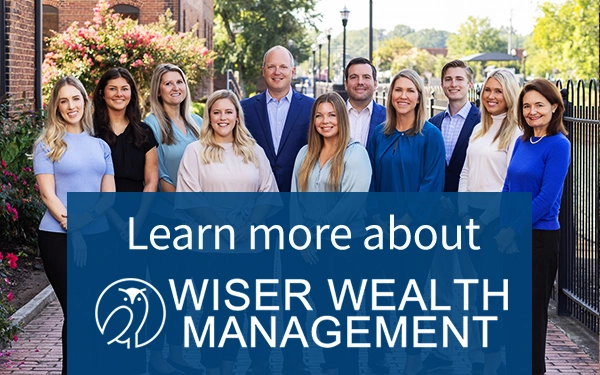 Share This Story, Choose Your Platform!
Wiser Wealth Management, Inc ("Wiser Wealth") is a registered investment advisor with the U.S. Securities and Exchange Commission (SEC). As a registered investment advisor, Wiser Wealth and its employees are subject to various rules, filings, and requirements. You can visit the SEC's website here to obtain further information on our firm or investment advisor's registration.
Wiser Wealth's website provides general information regarding our business along with access to additional investment related information, various financial calculators, and external / third party links. Material presented on this website is believed to be from reliable sources and is meant for informational purposes only. Wiser Wealth does not endorse or accept responsibility for the content of any third-party website and is not affiliated with any third-party website or social media page. Wiser Wealth does not expressly or implicitly adopt or endorse any of the expressions, opinions or content posted by third party websites or on social media pages. While Wiser Wealth uses reasonable efforts to obtain information from sources it believes to be reliable, we make no representation that the information or opinions contained in our publications are accurate, reliable, or complete.
To the extent that you utilize any financial calculators or links in our website, you acknowledge and understand that the information provided to you should not be construed as personal investment advice from Wiser Wealth or any of its investment professionals. Advice provided by Wiser Wealth is given only within the context of our contractual agreement with the client. Wiser Wealth does not offer legal, accounting or tax advice. Consult your own attorney, accountant, and other professionals for these services.
Sign up for our newsletter!
Our latest blogs, podcasts, and educational videos delivered to your inbox weekly.