Tips to Grow and Scale Your Small Business with Marty Paradise
On this episode of A Wiser Retirement™ Podcast, Casey Smith is joined by guest Marty Paradise from Paradise Business Coaching, to discuss smart ways to grow and scale a small business without increasing the burden on the business owner.
Listen on Apple Podcasts or watch on YouTube:
SUMMARY:
When it comes to businesses, big or small, they generally share many similar goals. Some of these can include preparing strong leadership, driving revenue, increasing profit, and contributing to society. The difference in the pursuit of those key elements by a big or small company is the scale in which they do it. Since small businesses often have fewer resources available, they sometimes don't have as many options to operate as a larger company would. In this episode we will focus on three key things that can help a small business owner grow and scale their business.
1. Have a Vision and a Clear Mission
A simple yet clear analogy is to think of your business as a bus. You start by designing your bus and planning your dream destination. Then, you proceed to choose the people who you think are valuable to help you get to your destination. Each person has a different role and responsibility in helping the bus function properly along the way. Once the business model or the vision has been determined, it's important to break down your goals by years. In other words, you determine different "pitstops" throughout the way. This includes both your short-term and long-term goals. As you reach each one of them, make adjustments, fix what's broken, and keep going. The important thing is to stay true to the path you chose. Having a vision and a mission that is clear and constantly discussed helps employees visualize it as well, which allows owners and employees to work every day with a purpose in mind.
2. Create Powerful Systems
A great deal of business owners have the desire to grow their business but feel like they are not able to because they are on the verge of burning out from the weight of carrying the whole business on their shoulders. It's almost impossible to scale if every single aspect of the company depends on the owner. Creating systems enables others to complete tasks with better accuracy and efficiency, allowing the owner to step away from certain aspects of the business while giving attention to more important matters. Creating processes is essential to scaling a business. It's important to understand that while setting processes is crucial, fixing them has the same importance. Part of the reality of owning a business is understanding that systems will break. However, being able to quickly fix and improve them is a key to success. 
3. Promote a Shift in Leadership Mindset
Ultimately, a business leader's main responsibilities should be leading their employees, managing the business as a whole, and holding people accountable. The owner of the business should, with time, shift from working in the business to working on the business. Sometimes it helps to remove yourself from your business, so you can see it from the outside. This practice can help you clear your mind and see aspects that might not be so clear when seeing it up close on a daily basis. 
TIMESTAMPS:
0:00 Intro
11:45 Have a Vision and a Clear Mission
18:30 Create Powerful Systems
29:30 Promote a Shift in Leadership Mindset
LINKS:
Learn more about Casey Smith.
CONNECT:
Twitter, Instagram, Facebook, LinkedIn, and YouTube.
Learn more about A Wiser Retirement™ podcast and access previous episodes.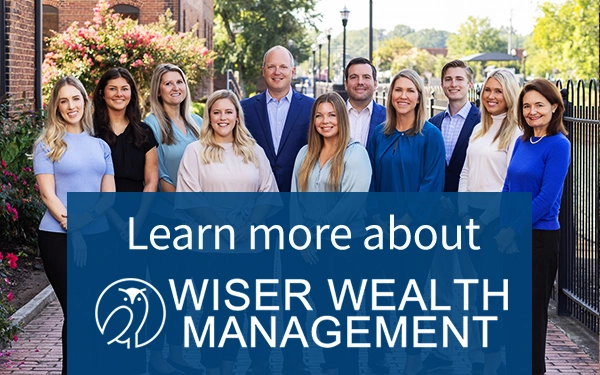 Share This Story, Choose Your Platform!
Wiser Wealth Management, Inc ("Wiser Wealth") is a registered investment advisor with the U.S. Securities and Exchange Commission (SEC). As a registered investment advisor, Wiser Wealth and its employees are subject to various rules, filings, and requirements. You can visit the SEC's website here to obtain further information on our firm or investment advisor's registration.
Wiser Wealth's website provides general information regarding our business along with access to additional investment related information, various financial calculators, and external / third party links. Material presented on this website is believed to be from reliable sources and is meant for informational purposes only. Wiser Wealth does not endorse or accept responsibility for the content of any third-party website and is not affiliated with any third-party website or social media page. Wiser Wealth does not expressly or implicitly adopt or endorse any of the expressions, opinions or content posted by third party websites or on social media pages. While Wiser Wealth uses reasonable efforts to obtain information from sources it believes to be reliable, we make no representation that the information or opinions contained in our publications are accurate, reliable, or complete.
To the extent that you utilize any financial calculators or links in our website, you acknowledge and understand that the information provided to you should not be construed as personal investment advice from Wiser Wealth or any of its investment professionals. Advice provided by Wiser Wealth is given only within the context of our contractual agreement with the client. Wiser Wealth does not offer legal, accounting or tax advice. Consult your own attorney, accountant, and other professionals for these services.
Sign up for our newsletter!
Our latest blogs, podcasts, and educational videos delivered to your inbox weekly.