What Could Happen if You Don't Prepare for Retirement
On this episode of A Wiser Retirement Podcast, Casey Smith, Matthews Barnett, CFP®, ChFC®, CLU®, and Brad Lyons, CFP® wrap up this season of the podcast by talking about the three main ways to prepare for retirement. They also reveal our theme for the new season of the podcast starting in July!
SUMMARY:
Are investments flawed?
People often think investments are flawed because they decrease over time. However, this decrease should not be viewed as a flaw, but rather a feature of an investment product. It is important to stay calm and remember that with every down comes an up. Every decline is unique, and you'll feel each one differently. Stay invested and assess your risk tolerance early to avoid the worries.
Eliminate Debt Prior to Retirement
As you prepare for retirement, it is important to eliminate all debt. This includes credit card debt, auto loans, or student loans. Start by using the snowball method and pay off the small balances first. Then, pay off the large balances. For assistance with eliminating debt, feel free to contact us at [email protected] to receive our debt elimination spreadsheet.
Beware of Credit Cards
Credit card companies often advertise debt as a positive thing and offer incentives to carry debt. Unfortunately, these sophisticated marketers are in it for themselves. In reality, it is not healthy to have a lot of debt. In our society, people often acquire debt due to the worry of having a low credit score. Credit scores are one of the biggest lies constructed by the financial services industry. Credit scores, in fact, have nothing to do with wealth. So, next time you receive a flier in the mail from a credit card company, ignore it and instead focus on creating better financial habits for the future.
Delay Social Security
A great way to prepare for retirement is to stay in the work force longer. This would allow you to delay social security. Every year you delay retirement from age 67 to 70, you can receive an eight percent increase in social security plus an additional six percent for inflation. If you're worried about a laborious job, look for work-from-home jobs. These types of jobs are less strenuous and allow you to keep your mind active while enjoying the financial benefits of a job.
Work on Saving More for Retirement
If you have your debt paid off, focus on saving your money. Gather the people you provide for and discuss proper spending habits to build a budget that is adequate for your family by prioritizing saving. It is important to save beyond your needs and actively address your financial situation. Prepare for anything and save as much as possible!
New Podcast Season Theme
Our theme for the podcast starting July 2022 will be all about legacy planning. To help retirees leave a meaningful legacy we have developed a step by step guide called, 7 Steps to Leave a Financial Legacy, which will soon be available on our website.
This will be your last chance to download, Your Pre-Retirement Checklist!
Download our white paper on "Your Pre-Retirement Checklist"
TIMESTAMPS:
0:00 Intro
2:15 Assess Your Risk Tolerance
8:15 Are investments flawed?
12:15 Eliminate Debt
14:57 Beware of Credit Cards
17:10 Delay Social Security
18:39 Work on Saving More
22:14 New Podcast Season Theme
LINKS:
Learn more about Casey Smith and connect with him on Twitter.
Learn more about Brad Lyons.
Learn more about Matthews Barnett.
CONNECT:
Twitter, Instagram, Facebook, LinkedIn, and YouTube.
Learn more about A Wiser Retirement podcast and access previous episodes.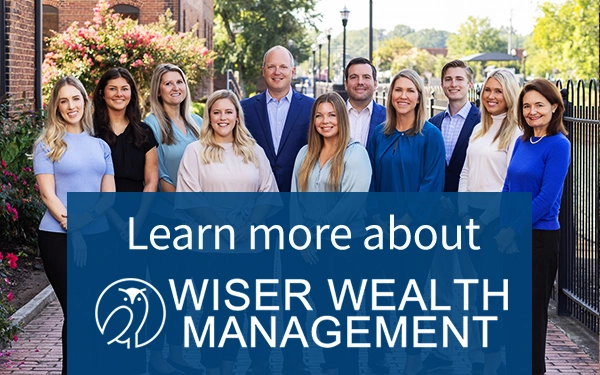 Share This Story, Choose Your Platform!
Wiser Wealth Management, Inc ("Wiser Wealth") is a registered investment advisor with the U.S. Securities and Exchange Commission (SEC). As a registered investment advisor, Wiser Wealth and its employees are subject to various rules, filings, and requirements. You can visit the SEC's website here to obtain further information on our firm or investment advisor's registration.
Wiser Wealth's website provides general information regarding our business along with access to additional investment related information, various financial calculators, and external / third party links. Material presented on this website is believed to be from reliable sources and is meant for informational purposes only. Wiser Wealth does not endorse or accept responsibility for the content of any third-party website and is not affiliated with any third-party website or social media page. Wiser Wealth does not expressly or implicitly adopt or endorse any of the expressions, opinions or content posted by third party websites or on social media pages. While Wiser Wealth uses reasonable efforts to obtain information from sources it believes to be reliable, we make no representation that the information or opinions contained in our publications are accurate, reliable, or complete.
To the extent that you utilize any financial calculators or links in our website, you acknowledge and understand that the information provided to you should not be construed as personal investment advice from Wiser Wealth or any of its investment professionals. Advice provided by Wiser Wealth is given only within the context of our contractual agreement with the client. Wiser Wealth does not offer legal, accounting or tax advice. Consult your own attorney, accountant, and other professionals for these services.
Sign up for our newsletter!
Our latest blogs, podcasts, and educational videos delivered to your inbox weekly.