Whole Life Insurance vs. Term Life Insurance
Deciding whether or not to purchase life insurance can seem intimidating, especially when you're not sure what kind you really need. Walking into a conversation with an insurance salesperson with an idea of the differences between options can help you make the best decision for your financial situation. To start, yes, the names do give away the meaning. Essentially, it is as simple as that. "Whole life" insurance is in place for the insured's "whole Life" provided premiums are paid, while "Term life" insurance is only in effect for a specified "term" of years. But let's break down the finer distinctions to help you choose between them:
Coverage Duration
Whole life insurance offers coverage for the entire lifetime of the insured individual, provided the premiums are paid. Term life insurance provides coverage for a specific period of years such as 10, 20, or 30 years. Once the period lapses, the coverage ends.
Cost of Premiums
Premiums for whole life insurance are typically higher due to the fact they cover the entire lifetime of the insured and build up cash value. Term life insurance premiums are usually lower since they're only for the specified years of coverage, and the policy does not build cash value.
Cash Value
Whole life policies accumulate cash value over time, which can be borrowed against or withdrawn by the policyholder. The cash value grows at a guaranteed rate determined by the insurance company; however, this rate is typically lower than what an investor would receive from investments outside of an insurance product. Term life insurance policies do not build cash value since they are only intended to provide a death benefit during the term of coverage and then lapse.
Death Benefit
Whole life policies provide a death benefit to the beneficiaries of the policy at the death of the insured, no matter when it occurs during the insured's lifetime. Term life policies pay out the death benefit if the insured passes away during the specified term of the policy. If the term expires and the insured is still living, there is no death benefit payout.
Flexibility
Whole life insurance policies offer more flexibility and options regarding the ability to adjust coverage. You can increase or decrease death benefits, and access the cash value for loans or policy adjustments. Of course, these features come with a cost. Term life policies are easy to understand and provide coverage for a known period without many customizable options. One option a term policy may offer is the ability to convert it to a permanent whole life policy.
Affordability
Whole life insurance is typically more expensive because of the lifetime coverage and cash value component. Term Life Insurance is usually more affordable, especially for individuals in great health and younger ages since it offers coverage for a limited period. The longer you delay purchasing a term policy, the more expensive it becomes.
Most individuals only need insurance for a specified term. Typically, that is during working years to replace their income due to a premature death. Permanent (whole life) insurance is for more complex estate planning solutions. It can help with estate tax mitigation or if there is a definitive need for income for a beneficiary. Choosing between whole life insurance and term life insurance depends upon unique circumstances and goals. The bottom line is that waiting only increases premiums as you age. And, finally, never buy life insurance from someone who claims to be your financial advisor as that creates a conflict of interest.
Have more questions? Contact Us
Missie Beach, CFP®, CDFA®
Senior Financial Advisor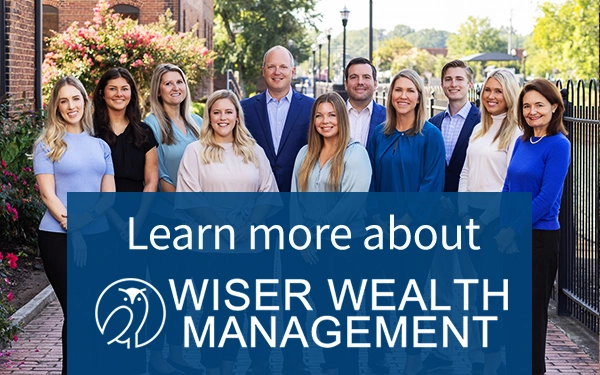 Share This Story, Choose Your Platform!
Wiser Wealth Management, Inc ("Wiser Wealth") is a registered investment advisor with the U.S. Securities and Exchange Commission (SEC). As a registered investment advisor, Wiser Wealth and its employees are subject to various rules, filings, and requirements. You can visit the SEC's website here to obtain further information on our firm or investment advisor's registration.
Wiser Wealth's website provides general information regarding our business along with access to additional investment related information, various financial calculators, and external / third party links. Material presented on this website is believed to be from reliable sources and is meant for informational purposes only. Wiser Wealth does not endorse or accept responsibility for the content of any third-party website and is not affiliated with any third-party website or social media page. Wiser Wealth does not expressly or implicitly adopt or endorse any of the expressions, opinions or content posted by third party websites or on social media pages. While Wiser Wealth uses reasonable efforts to obtain information from sources it believes to be reliable, we make no representation that the information or opinions contained in our publications are accurate, reliable, or complete.
To the extent that you utilize any financial calculators or links in our website, you acknowledge and understand that the information provided to you should not be construed as personal investment advice from Wiser Wealth or any of its investment professionals. Advice provided by Wiser Wealth is given only within the context of our contractual agreement with the client. Wiser Wealth does not offer legal, accounting or tax advice. Consult your own attorney, accountant, and other professionals for these services.
Sign up for our newsletter!
Our latest blogs, podcasts, and educational videos delivered to your inbox weekly.