Crypto Special: Why Crypto is So Confusing to the Average Investor
On this special crypto episode of A Wiser Retirement™ Podcast, Casey Smith and Robert Swarthout discuss some of the reasons why Crypto is so confusing to the average investor and why people may opt for other investment options.
Listen or Watch:
SUMMARY:
Lack of Knowledge Leads to False News
In this modern day and age, we all rely on media channels to feed us news and current information. Unfortunately, the news that often makes the headlines is negative and/or inaccurate. People try to explain new information, but a lot of times fail to first understand it themselves. Thinking back on the first years of the internet, the late 90s, the internet was this obscure, niche technology that not everyone needed access to. When the media would bring up the subject, they couldn't quite explain it. The same is happening with Crypto. Media channels don't quite understand Crypto, but they know it's out there and that it's becoming increasingly popular, so they have to talk about it. Therefore, they often talk about it in a way that is difficult for average investors to understand.
Crypto as a Part of Your Daily Life
A few other reasons why individual investors struggle with Crypto are, they can't touch it, it currently doesn't pay income, and they don't use it every day. We all can adapt to new things as long as it starts becoming part of our daily lives. Most Americans don't understand the purpose of crypto, especially because until now, it hasn't affected their daily lives. However, crypto is slowly changing the plumbing of the financial system. Once that is well established, then we might start seeing real changes in our daily lives.
Lack of Regulations Cause Skepticism
Another reason why investors are skeptical about crypto is the lack of regulations. Once regulations are implemented, we will have a more clear path forward. Having more regulations combined with a neutral narrative from the news streams in regard to crypto would probably double its market capital within a short timeframe. Unfortunately, the United States has a very large crypto market capital and is very negative about the subject. Therefore, we end up having more influence on the matter than one would think. As with many other matters in the U.S., crypto has become a political matter. There has been talk that the U.S. will probably not get any clear regulations until there's a new administration in place.
Just recently (mid-April 2023), Coinbase sued the SEC for not responding to their request for rule-making from last Summer. When you ask an agency for rulemaking they have a timeframe to respond, and the SEC is outside of this timeframe. Previously, Coinbase had a different attitude toward the SEC, they were willing to cooperate with whatever was necessary. However, since realizing that the SEC doesn't have the same attitude toward crypto, they are now willing to "throw the first punch." Since regulators are acting so much outside of what is reasonable, having a somewhat offensive tactic makes sense when it comes to cryptocurrencies. One thing is certain, we need regulations to understand what kind of metrics need to be put in place.
Why Crypto is So Confusing to the Average Investor
We can talk all day about how so many of the regulations we do have in place now are unfair and seem to be there to put extra weight and pressure on the crypto market, discouraging investors to chose this channel. Additionally, the lack of knowledge from media streams on the subject demotivates Americans to invest in crypto. However, we know that crypto has not only survived through all the initial difficulties, but it is growing and reaching new levels.
Download our eBook: "Buyer Beware: Why do they keep trying to sell you that annuity?"
TIMESTAMPS:
01:05 Lack of Knowledge Leads to False News
06:10 We Can All Get Used to New Things as Long as They Become Part of Our Daily Lives
11:40 Lack of Regulations Cause Skepticism
LINKS:
Learn more about Casey Smith, President of Wiser Wealth Management.
Learn more about Robert Swarthout, Founder, CEO & Portfolio Manager of Teton Crypto Capital.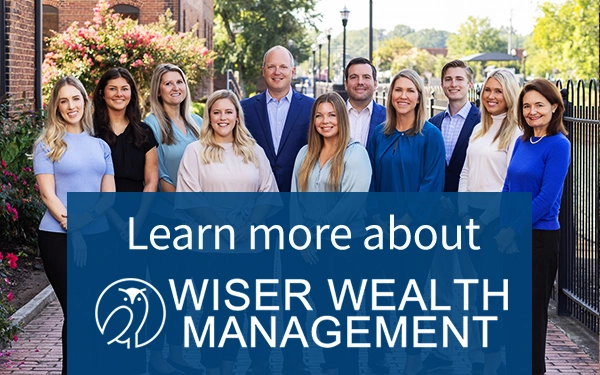 Is a high yield savings account right for you?
Casey Smith
Delta Pilots Guaranteed Variable Universal Life (GVUL) – What Action You Need to Take
Casey Smith
Share This Story, Choose Your Platform!
Wiser Wealth Management, Inc ("Wiser Wealth") is a registered investment advisor with the U.S. Securities and Exchange Commission (SEC). As a registered investment advisor, Wiser Wealth and its employees are subject to various rules, filings, and requirements. You can visit the SEC's website here to obtain further information on our firm or investment advisor's registration.
Wiser Wealth's website provides general information regarding our business along with access to additional investment related information, various financial calculators, and external / third party links. Material presented on this website is believed to be from reliable sources and is meant for informational purposes only. Wiser Wealth does not endorse or accept responsibility for the content of any third-party website and is not affiliated with any third-party website or social media page. Wiser Wealth does not expressly or implicitly adopt or endorse any of the expressions, opinions or content posted by third party websites or on social media pages. While Wiser Wealth uses reasonable efforts to obtain information from sources it believes to be reliable, we make no representation that the information or opinions contained in our publications are accurate, reliable, or complete.
To the extent that you utilize any financial calculators or links in our website, you acknowledge and understand that the information provided to you should not be construed as personal investment advice from Wiser Wealth or any of its investment professionals. Advice provided by Wiser Wealth is given only within the context of our contractual agreement with the client. Wiser Wealth does not offer legal, accounting or tax advice. Consult your own attorney, accountant, and other professionals for these services.
Sign up for our newsletter!
Our latest blogs, podcasts, and educational videos delivered to your inbox weekly.