Does October Effect Really Exist?
There are many adages in the financial services industry relating to the stock market. As I described in my blog post, Sell in May and Go Away, these phrases may be catchy, but they are not always completely accurate. One such adage that typically resurfaces in the fall is "the October effect". This implies that historically October can be a "scary" time for markets. What is actually true is that September is the worst month historically when speaking about returns and more often October actually accounts for the end of bear markets rather than the start of them. Admittedly though, October has included some of the worst times in the stock market such as the Panic of 1907, Black Tuesday and Black Thursday of 1929, as well as Black Monday 1987. And although returns might not be the worst in October, it is a very volatile month. As shown below from a chart on MarketWatch, the standard deviation of daily changes in the Dow Jones Industrial Average is actually the highest during October at over 1.4% compared to the 1.1% average.
While the month may be the most volatile, it usually finds a way to recover. The average returns since 1928 are actually worse in February, May, and September with October still having .5% average one month returns. Also, we are currently coming off two of the best quarters since the great recession and although there is uncertainty leading into the election, along with uncertainty of continued pandemic spread, moving into October does not mean the market will totally drop.
During October in an election year, investors' emotions can easily get the best of them as they struggle with the idea of sticking to the fundamentals of investing based on risk tolerance and rebalancing. Considering an election year as a whole, data from 1992-2020 shows the average net fund flows were $176 billion to money markets and $76 billion towards equity funds, but that number swaps the year following elections when things settle down and $168 billion flows into equity funds and only $36 billion to money markets.
After the political uncertainty of elections is over, business leaders are able to adapt and move forward under the new or current party. Analysts are also able to start getting a better handle on companies as well as the economic environment and things begin to be priced into the market.
It may be tempting, but ultimately it is too difficult to time the market just right to get out in order to miss the volatility of October, especially with an election and a pandemic, but get back in when others are not.
So far, the first week of this month things are going ok. What is important is to continue to stay investing in long term healthy assets classes based on your risk tolerance. And if you are still working, continue to dollar cost averages into retirement accounts with weekly, biweekly, or monthly investments.
Matthews Barnett, CFP®, ChFC ®, CLU®   Financial Planning Specialist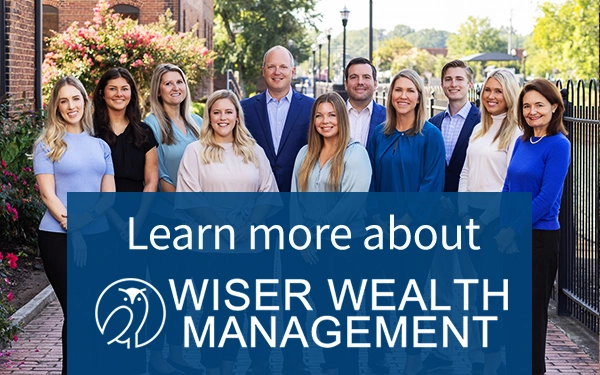 Share This Story, Choose Your Platform!
Wiser Wealth Management, Inc ("Wiser Wealth") is a registered investment advisor with the U.S. Securities and Exchange Commission (SEC). As a registered investment advisor, Wiser Wealth and its employees are subject to various rules, filings, and requirements. You can visit the SEC's website here to obtain further information on our firm or investment advisor's registration.
Wiser Wealth's website provides general information regarding our business along with access to additional investment related information, various financial calculators, and external / third party links. Material presented on this website is believed to be from reliable sources and is meant for informational purposes only. Wiser Wealth does not endorse or accept responsibility for the content of any third-party website and is not affiliated with any third-party website or social media page. Wiser Wealth does not expressly or implicitly adopt or endorse any of the expressions, opinions or content posted by third party websites or on social media pages. While Wiser Wealth uses reasonable efforts to obtain information from sources it believes to be reliable, we make no representation that the information or opinions contained in our publications are accurate, reliable, or complete.
To the extent that you utilize any financial calculators or links in our website, you acknowledge and understand that the information provided to you should not be construed as personal investment advice from Wiser Wealth or any of its investment professionals. Advice provided by Wiser Wealth is given only within the context of our contractual agreement with the client. Wiser Wealth does not offer legal, accounting or tax advice. Consult your own attorney, accountant, and other professionals for these services.
Sign up for our newsletter!
Our latest blogs, podcasts, and educational videos delivered to your inbox weekly.