Estate Planning with Megan Flores
Attorney Megan Flores joins the podcast to discuss estate planning.  The team discusses wills, trusts, health care directives, and power of attorney.  Megan is a member of GDCR's Trust & Estates and Tax and Business Transactions and Corporate Law practices. With more than a decade of experience, Ms. Flores provides comprehensive legal counsel on tax, how to engage in estate planning and estate administration matters to individuals and families, as well as privately held businesses.
Listen on Apple Podcasts or watch on YouTube:
SUMMARY
Why engage in estate planning?
Megan and the GDCR Law firm are trusted partners of Wiser Wealth Management.  Megan and her team advise clients on wills, trusts, healthcare directives, and power of attorney.  Estate planning is a difficult topic for some people to discuss and address but it is an important part of retirement planning.
What is the purpose of a will?
If you pass away without a will, the law in Georgia supplies a will for you.  In the state of Georgia, your spouse shares your estate with your children.  Up to 2/3 of the estate goes to the children, while 1/3 goes to the spouse.  Most people, especially with adult children, want their spouse to receive 100% of their estate.  For this to occur, the individual must have a will.
If an individual has minor children and both parents pass away and have assets of more than $15,000, without a will the courts will appoint a conservator to manage the inheritance.  The conservatorship process is ongoing until the child reaches the age of 18.  A conservator must report to the court annually and show how the money is being used with a detailed accounting for the court to review.  The conservators are limited in the investments they can make on the child's behalf.  Wills are in place to avoid the conservator process with the state.
What is the purpose of a power of attorney?
There are two documents related to power of attorney.  A financial power of attorney is named to manage your finances if you can't manage them for yourself.  An advanced directive for healthcare is also known as a living will.  You can name an agent to make healthcare decisions for you if you cannot make them for yourself.  If you don't have these documents in place, you must go back to the court seeking to appoint a guardian and/or conservator.
Should people use online services to create these legal documents?
When using online services to create legal documents, you are getting a cookie-cutter or template document.  It is up to the individual to determine if the content of the template is appropriate or needed.  It sometimes creates unnecessary expenses and complications if the language of the template is altered by a non-lawyer.
What is a will?
A will dispose of your property at your death.  It is also used to name guardians and can also be used to name conservators.  It also names an executor whom you trust to manage your assets and debts at death.  Executors tend to be short-term roles (less than 2 years).  The will also states who receives your property (beneficiaries).
What is a trust?
In the will, you can provide for the creation of a trust.  This is a relationship where you name a trustee who is in charge of managing the money that you set out in the trust for the benefit of the beneficiaries.  Trusts are also used in estate planning for more complicated reasons.
A revocable living trust is a trust that can serve as a will substitute.  It contains all the language a will would have but it can help avoid probate.  If you re-title assets in the name of the trust you can avoid probate.  Fortunately, Georgia is not a state that is overly burdensome when it comes to probate.  For clients that have real estate in other states, Megan recommends a revocable trust so that probate can be avoided in the other states.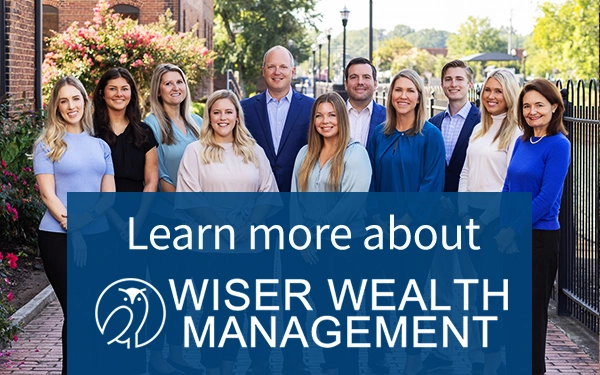 Is a high yield savings account right for you?
Casey Smith
Delta Pilots Guaranteed Variable Universal Life (GVUL) – What Action You Need to Take
Casey Smith
Share This Story, Choose Your Platform!
Wiser Wealth Management, Inc ("Wiser Wealth") is a registered investment advisor with the U.S. Securities and Exchange Commission (SEC). As a registered investment advisor, Wiser Wealth and its employees are subject to various rules, filings, and requirements. You can visit the SEC's website here to obtain further information on our firm or investment advisor's registration.
Wiser Wealth's website provides general information regarding our business along with access to additional investment related information, various financial calculators, and external / third party links. Material presented on this website is believed to be from reliable sources and is meant for informational purposes only. Wiser Wealth does not endorse or accept responsibility for the content of any third-party website and is not affiliated with any third-party website or social media page. Wiser Wealth does not expressly or implicitly adopt or endorse any of the expressions, opinions or content posted by third party websites or on social media pages. While Wiser Wealth uses reasonable efforts to obtain information from sources it believes to be reliable, we make no representation that the information or opinions contained in our publications are accurate, reliable, or complete.
To the extent that you utilize any financial calculators or links in our website, you acknowledge and understand that the information provided to you should not be construed as personal investment advice from Wiser Wealth or any of its investment professionals. Advice provided by Wiser Wealth is given only within the context of our contractual agreement with the client. Wiser Wealth does not offer legal, accounting or tax advice. Consult your own attorney, accountant, and other professionals for these services.
Sign up for our newsletter!
Our latest blogs, podcasts, and educational videos delivered to your inbox weekly.