Financial Planning in Your 40s
On this episode of A Wiser Retirement Podcast, Casey Smith, Brad Lyons, CFP®, and Missie Beach, CFP®, CDFA® discuss financial planning in your 40s, financial mistakes 40-year-olds often make, and ways to start preparing themselves for retirement.
SUMMARY:
Financial Planning in Your 40s
When you get to your 40s, life often starts to get really crazy. Things can really start unraveling, and life starts coming at you fast. In the heat of all this, managing your finances can easily be forgotten or even put on pause. If this sounds familiar you, it's time to start thinking about your finances again. Statistically, people are making more money in their 40s, but there are also more things competing for your dollars. Because of this, it is important to assign each dollar a purpose. Stop trying to keep up with the Joneses, don't spend excessively, and definitely don't take on new debt in your 40s. Make goals for your finances and spend your money intentionally.
Get Your Finances Organized
When it comes to handling your finances, it is important to have a plan. This helps you make sure that every dollar you have has a purpose and works towards a goal, whatever that may be. The first step to setting up a plan is getting your finances organized. A big hurdle for a lot of people in their 40s is consolidating old accounts. This could be anything like abandoned 401ks from previous employers to little accounts you have opened along the way. Whatever it is, consolidating all of these into one account will save you a lot of stress and time in the future. It is a lot easier to manage your finances when you can see it all laid out on one computer screen.
Time is starting to move faster than you think. Once you hit your 40s, you only have about 20 years remaining until you retire. This may seem like a lot of time, but when you think about it, you only have 20 years left to really set yourself up for your retired years. It is important to work really hard during this time so that you won't have to when retirement comes.
IRS Increases 401k Contribution Limit
It was recently announced that next year, 2023, the IRS is going to increase the amount of pre taxed money you can put in your 401k. Currently the limit you can into your 401k a year is $20,500, however in 2023 that number is going to increase to $22,500. That's $2,000 extra you can save every year. If you're over the age of 50, you will be able to put $30,000 into your 401k a year. This is really important because it will help you save even more for retirement if you choose to max out your 401k.
Stay Out of Debt
As mentioned, your 40s is often your highest earning years. Because of this, a lot of people decide to upgrade their housing during this time. If you decide to go out and buy a new house in your 40s, you need to think about the mortgage cost. If you go for a 30 year mortgage, you wont have your house paid off by the time you retire. To combat this, don't take out a 30 year loan, instead opt for a 15 year loan so that you will have the house paid off when retirement comes.
When you're in retirement, cash flow is really important. You aren't working anymore so you have to be really smart with the money you saved up for this time. If you have debt hanging over your head, it becomes a lot harder to manage in retirement. Debt has become so normalized that people don't even realize the weight it can carry over them. Becoming debt free will help you in retirement.
Add to an HSA
What is an HSA? An HSA, or a health savings account, needs to be coupled with an HDHP account. The money you put in to it gets a tax deduction, and once it's in the account, the funds can stay in there and roll into the next year. It is also the only account that is triple tax advantaged. This isn't a use it or lose it account, which makes it a really good way to save money – especially since the funds inside gain interest each year and isn't taxable when taken out. So, once you retire you can use this account for any medical expenses you may have.
Money Mistakes to Avoid in Your 40s
There are a lot of mistakes you can make in your 40s. We've talked about debt a lot, but you really don't want to get complacent with your debt. Don't just look at it as another payment, but really make a plan for how you are going to get your debt paid off as fast as you can. Even zero interest loans can be dangerous if you take on too much. Take your 40s to get out of debt and don't take on new debt.
Another thing that could be a mistake is doing too many home improvements. Too many people look at their primary home as an investment when it shouldn't be thought of as that. If you do too many improvements because you want to sell it for more, it can turn out being more burden than it's worth. You also need to look at the value of the neighborhood you are living in. If you do all these remodels but your neighborhood houses are selling for a lot lower than yours, you'll never get the price you want.
One thing too many people forget to do is start saving early for their kids college. College can sneak up on you, and you don't want to rob your retirement fund to send your child to college. A lot of people get overwhelmed because college is so expensive. It is important to save any amount you can, even if it's not a big number, because any number will help. If you start saving early it will help even more. What you definitely shouldn't do is take money out of your retirement fund for college. If you do this, you may be struggling the rest of your life to gain that money back.
Download our white paper on "Your Path to a Lifetime of Financial Success"
TIMESTAMPS:
0:00 Intro
1:20 Financial Planning in Your 40s
8:12 The Plan Comes First
10:30 The IRS Increases 401k Contribution Limit
13:50 Stay Out of Debt
20:25 Add to an HSA
22:45 Money Mistakes to Avoid
LINKS:
Learn more about Casey Smith, Brad Lyons, CFP, and Missie Beach, CFP®, CDFA®.
CONNECT:
Twitter, Instagram, Facebook, LinkedIn, and YouTube.
Learn more about A Wiser Retirement podcast and access previous episodes.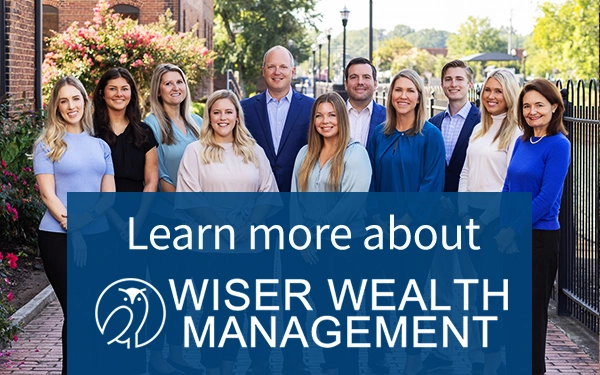 Share This Story, Choose Your Platform!
Wiser Wealth Management, Inc ("Wiser Wealth") is a registered investment advisor with the U.S. Securities and Exchange Commission (SEC). As a registered investment advisor, Wiser Wealth and its employees are subject to various rules, filings, and requirements. You can visit the SEC's website here to obtain further information on our firm or investment advisor's registration.
Wiser Wealth's website provides general information regarding our business along with access to additional investment related information, various financial calculators, and external / third party links. Material presented on this website is believed to be from reliable sources and is meant for informational purposes only. Wiser Wealth does not endorse or accept responsibility for the content of any third-party website and is not affiliated with any third-party website or social media page. Wiser Wealth does not expressly or implicitly adopt or endorse any of the expressions, opinions or content posted by third party websites or on social media pages. While Wiser Wealth uses reasonable efforts to obtain information from sources it believes to be reliable, we make no representation that the information or opinions contained in our publications are accurate, reliable, or complete.
To the extent that you utilize any financial calculators or links in our website, you acknowledge and understand that the information provided to you should not be construed as personal investment advice from Wiser Wealth or any of its investment professionals. Advice provided by Wiser Wealth is given only within the context of our contractual agreement with the client. Wiser Wealth does not offer legal, accounting or tax advice. Consult your own attorney, accountant, and other professionals for these services.
Sign up for our newsletter!
Our latest blogs, podcasts, and educational videos delivered to your inbox weekly.