How Each Generation Views Money
How Each Generation Views Money
Each generation has its own quirks and stereotypes that set it apart from other generations. Gen Z is known for its adaptability to technology. Millennials are known for prioritizing experiences. Gen X is known for shifting societal normalities. Baby Boomers are known for goal-centric loyalty in the workplace. We all have moments that define and shape how we view life and some are so large that they impact an entire generation. We have broken down how each generation views money and how it has impacted their spending habits. 
How Gen Z View Money
Gen Z viewed The Great Recession from their parents' struggles and watched millennials scrape by to pay student loans. This has caused them to be apprehensive about spending money and more prone to savings. A defining factor of Gen Z is the rise of technology. It has placed a wealth of information at their fingertips from both generations young and old. Childhood innocence has been stripped and replaced with the harsh reality that the world isn't always rosy. With that, Gen Z has been on high alert to be successful with 35% of Gen Z having businesses established or plans enacted.
You may think Gen Z is too young to already have such ideas being brought to fruition but because of the internet, they have been able to fine-tune their skills and begin researching financial planning. 64% of Gen Z talk to others about financial planning, but 84% still rely on their parents and family for their most current financial information. Their Gen X/Millennial parents have led the charge in encouraging them to invest. Gen Z is fearless to begin investing with over half already holding some form of investment. The largest concern most Gen Zs have is not knowing where to start investing and not understanding tax planning.                       
How Millennials View Money
Millennials are not unscathed by technology either as Millenials have been one of the more impactful generations with technology as it was a rising phenomenon targeted towards their generation. With this, millennials find a majority of their news and information on the internet, which has led to social media being one of the largest contributors to their expenditures. Millennials emphasize experiences and travel. Yet – the largest stipulation to millennials is not their drive to experience life, but their exuberant amount of debt. Millennials went to college and graduated during The Great Recession which caused many of them to have large student loans. This has now caused them to be entrapped in their debt. Those that can invest, are most likely to focus on the investment philosophy that encourages the betterment of the world and not just themselves. They find a purpose behind social mission and contribution. The good news is that affluent millennials trust their financial advisors. That being said – you do not have to be affluent to seek out financial guidance. 
How Gen Xers View Money
Gen Xers are in their largest earning years currently with all being between the ages of 42-57. Yet 42% of Gen Xers feel stressed about their finances, unlike only 23% of boomers that do. This can be attributed to the fact that many Gen Xer's median household incomes are less than half of boomers. Gen Xers have also felt out of control of their debt with over 60% feeling lost in their debt management. They were hit hard during the recession as it wiped out a majority of their savings and caused many to lose their jobs while having to provide for their families. This has led to their savings rates being much lower now in comparison to the boomers. Most Gen Xers have less than $50,000 in savings, and many do not believe social security will be available to them in retirement. 
How Baby Boomers View Money
Baby Boomers are known for being fiscally conservative and confident in their financial knowledge. 83% of boomers are at least somewhat confident about managing their finances. When it comes to learning about finances, they tend to stick to reading and talking with others for guidance. As the world has shifted, baby boomers have had to face the music of learning in the digital age, which has caused them to have a number one concern: how do I keep my financial information safe online? Especially since banks, financial planning firms, and other corporations have moved to paperless systems, it can be difficult for the avid newspaper reader to adjust to accessing the information on the web. As most boomers have reached retirement age, over 70% anticipate or currently fund their retirement with their social security funds and pension incomes, while the generations after them are frightened by the lack of guaranteed income in retirement. 
Why Each Generation Has a Different Outlook
Ultimately, every generation has its benefits and setbacks. Whether it be a war, recession, or pandemic, it is looking past the historical events and on toward the future. No matter your generation or current financial portfolio status, you can live a happy retirement or plan towards a savings goal. Wiser is here to assist you at every stage and with every generation to help you understand the why behind your finances and get you on track.
Have more questions? Contact Us
Michaela Dowdy
Financial Planning Associate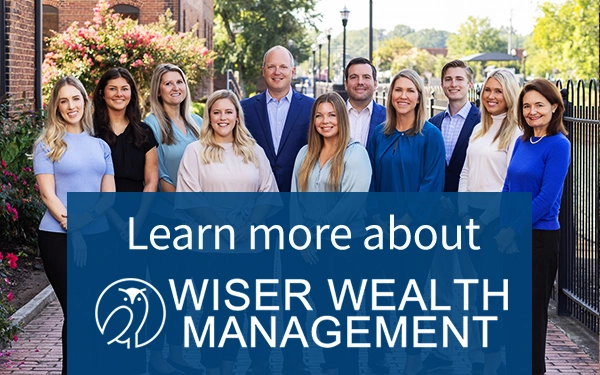 Share This Story, Choose Your Platform!
Wiser Wealth Management, Inc ("Wiser Wealth") is a registered investment advisor with the U.S. Securities and Exchange Commission (SEC). As a registered investment advisor, Wiser Wealth and its employees are subject to various rules, filings, and requirements. You can visit the SEC's website here to obtain further information on our firm or investment advisor's registration.
Wiser Wealth's website provides general information regarding our business along with access to additional investment related information, various financial calculators, and external / third party links. Material presented on this website is believed to be from reliable sources and is meant for informational purposes only. Wiser Wealth does not endorse or accept responsibility for the content of any third-party website and is not affiliated with any third-party website or social media page. Wiser Wealth does not expressly or implicitly adopt or endorse any of the expressions, opinions or content posted by third party websites or on social media pages. While Wiser Wealth uses reasonable efforts to obtain information from sources it believes to be reliable, we make no representation that the information or opinions contained in our publications are accurate, reliable, or complete.
To the extent that you utilize any financial calculators or links in our website, you acknowledge and understand that the information provided to you should not be construed as personal investment advice from Wiser Wealth or any of its investment professionals. Advice provided by Wiser Wealth is given only within the context of our contractual agreement with the client. Wiser Wealth does not offer legal, accounting or tax advice. Consult your own attorney, accountant, and other professionals for these services.
Sign up for our newsletter!
Our latest blogs, podcasts, and educational videos delivered to your inbox weekly.